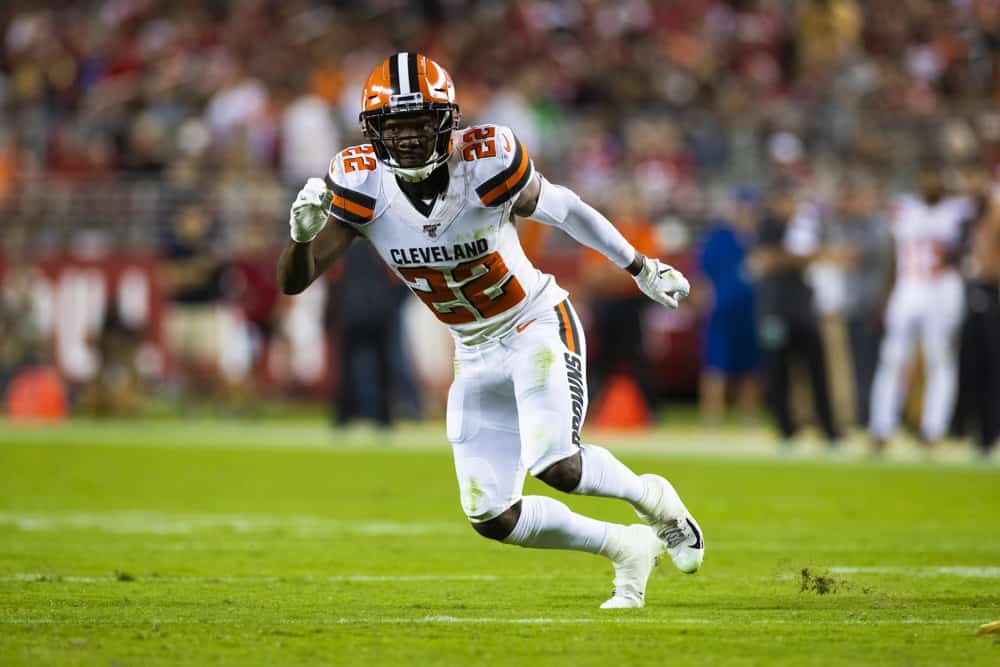 The Cleveland Browns have already made some big moves in free agency, but also lost some pieces.
The organization will be in search of some new faces at the safety position after Monday's departures.
Both Eric Murray and Juston Burris have announced they are signing with other organizations.
This happened just hours after the Browns released veteran safety Morgan Burnett.
The Browns are left without much help at the safety position after the first day of free agency.
Where Did They Go?
Murray was limited to just nine game with the Browns last season, but quickly worked his way up the depth chart.
He finished the season with one sack, one quarterback hit, and 24 combined tackles.
There was a chance he'd end up as the starting safety in 2020 if he decided to stay in Cleveland.
Former Browns' S Eric Murray reached agreement with the Houston Texans on a three-year deal worth up to $20.25 million, per source.

— Adam Schefter (@AdamSchefter) March 17, 2020
However, it's hard to pass up on three years $20.25 million, so it appears the Browns were just outbid here.
The organization has other areas of concern and Murray is coming off a season where he was limited to nine games (four starts), so the Browns didn't feel like they could match that.
Losing Burris just adds insult to injury for Cleveland.
Burris is coming off a 2019 campaign where he recorded two interceptions, one sack, and 32 combined tackles through 14 games with the Browns.
Juston Burris is going to the Panthers 2-yr, $8 million, per source.

— Adam Schefter (@AdamSchefter) March 16, 2020
He wasn't going to be the starter in Cleveland and isn't expected to start for Carolina, but losing Burris does hurt.
Burris played well with the Browns last season and it doesn't appear that it would've cost the team much in terms of salary to keep him around.
Nonetheless, both players have decided to move on and sign with other organizations.
Why Cut Morgan Burnett?
Last off-season, the Browns decided to sign Morgan Burnett to a two-year deal worth $7.5 million.
He was limited to eight games in 2019 due to an Achilles injury.
The 31-year-old veteran still had another year left on his deal, but the Browns were able to save money by letting him go.
The #Browns safeties are dropping like flies..

-Eric Murray to HOU
-Juston Burris to CAR
-Damarious Randall free agent
-Morgan Burnett released today

Only safeties on roster:
Sheldrick Redwine, Montrel Meander and J.T. Hassell.

— Off The Gridiron (@OffTheGridiron_) March 17, 2020
Having Burnett on the roster would be $4.7 million against the current cap space.
By cutting him, he will only count as $1.325 million in dead cap space due to his signing bonus.
Burnett was a veteran player coming off a significant injury, so it's not surprising to see him let go by the organization, but it leaves the team in a bad spot.
Who Remains at Safety?
J.T. Hassell and Sheldrick Redwine appear to be the two best options at safety left on the Browns roster.
Hassell signed with the Browns last season as an undrafted free agent and played in four games with the team.
He finished the 2019 campaign with seven combined tackles during his limited playing time.
Redwine was a fourth-round pick by Cleveland during the 2019 NFL Draft.
He played in 12 games (started five) for the Browns injury-riddled secondary in 2019.
It wasn't an awful year for Redwine as he finished the 2019 season with 42 combined tackles.
The Browns were able to get the most out of Redwine, but clearly need to make upgrades this off-season.
Neither of these players should be starting for the Browns in 2020, so there will need to be improvements whether it's from free agency or trades.
It is early into the off-season, but improving the secondary needs to be a main focus of the organization this summer.