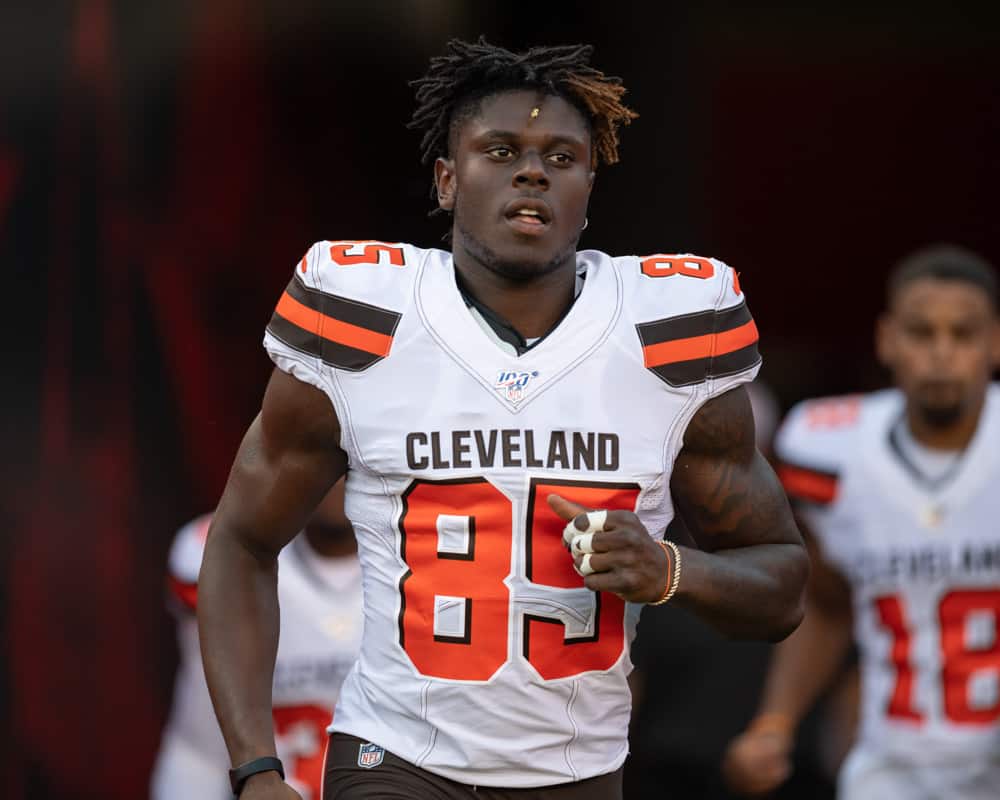 The Cleveland Browns made a big splash to open free agency by signing tight end Austin Hooper, Jack Conklin, and Case Keenum.
The Browns agreed with Hooper on a 4-year 44 million dollar contract, making him the highest-paid tight end in the league.
Once the news came in of the signing of Hooper, many Browns fans turned their focus to the future of David Njoku.
One fan tweeted:
"David Njoku

was underutilized and now probably wants to be traded more then ever"
But, it seems Njoku isn't upset at all over the signing of Hooper.
In fact, he is embracing the challenge and responded to the fan.
Nahhhh man cmon I love competition. We'll push each other and get better together🦾 https://t.co/nmAoz5cgl5

— Chief David Njoku (@David_Njoku80) March 16, 2020
Kevin Stefanski's Offense
Reminder that #Browns coach Kevin Stefanski employed two-plus tight ends more than any team in the NFL last season with the #Vikings.

Austin Hooper + David Njoku can coexist in Cleveland.https://t.co/CPDHqP434B https://t.co/R3N5L00G8Z

— Marc Sessler (@MarcSessler) March 16, 2020

Hooper played in 13 games last year and had 75 receptions, 787 receiving yards, and 6 touchdowns.
Kevin Stefanski has recently talked about the importance of the tight end in his offense.
#Browns Kevin Stefanski on the importance of the tight ends in his offense pic.twitter.com/E1Xh3TVNYu

— Fred Greetham (@FredGreetham) February 25, 2020
The Browns were among the bottom in the league in targeting tight ends in 2019.
They tied for 4th-fewest in the NFL, according to ESPN Stats and Information.
That is expected to change under new head coach Kevin Stefanski.
In 2019, Kevin Stefanski had 2 tight ends on the field in 57 percent of his plays while the offensive coordinator of the Minnesota Vikings.
That was the highest rate in the NFL.
Btw, with Stefanski as OC, Vikings had two TEs on the field 57% of the time, highest rate in the NFL. @ESPNStatsInfo https://t.co/SCMVFmF5G3

— Jake Trotter (@Jake_Trotter) March 16, 2020

The Browns have yet to make a decision on picking up Njoku's fifth-year option, but have indicated that they "have big plans for him."
"We view David Njoku as a talented pass catcher who will take a step forward this year," Andrew Berry at the Combine. Njoku caught five passes in 2019.

— Jeff Schudel (@jsproinsider) February 25, 2020

Njoku is seeking a bounce-back year after fracturing his wrist in week 2 last season.
He returned from injury later in the year only to find himself being a healthy scratch for many of the final games of the 2019 season.
Njoku played in the final game of the year, but was only in the game for 4 snaps.
He finished 2019 with only 5 catches, 41 yards, and 1 touchdown.