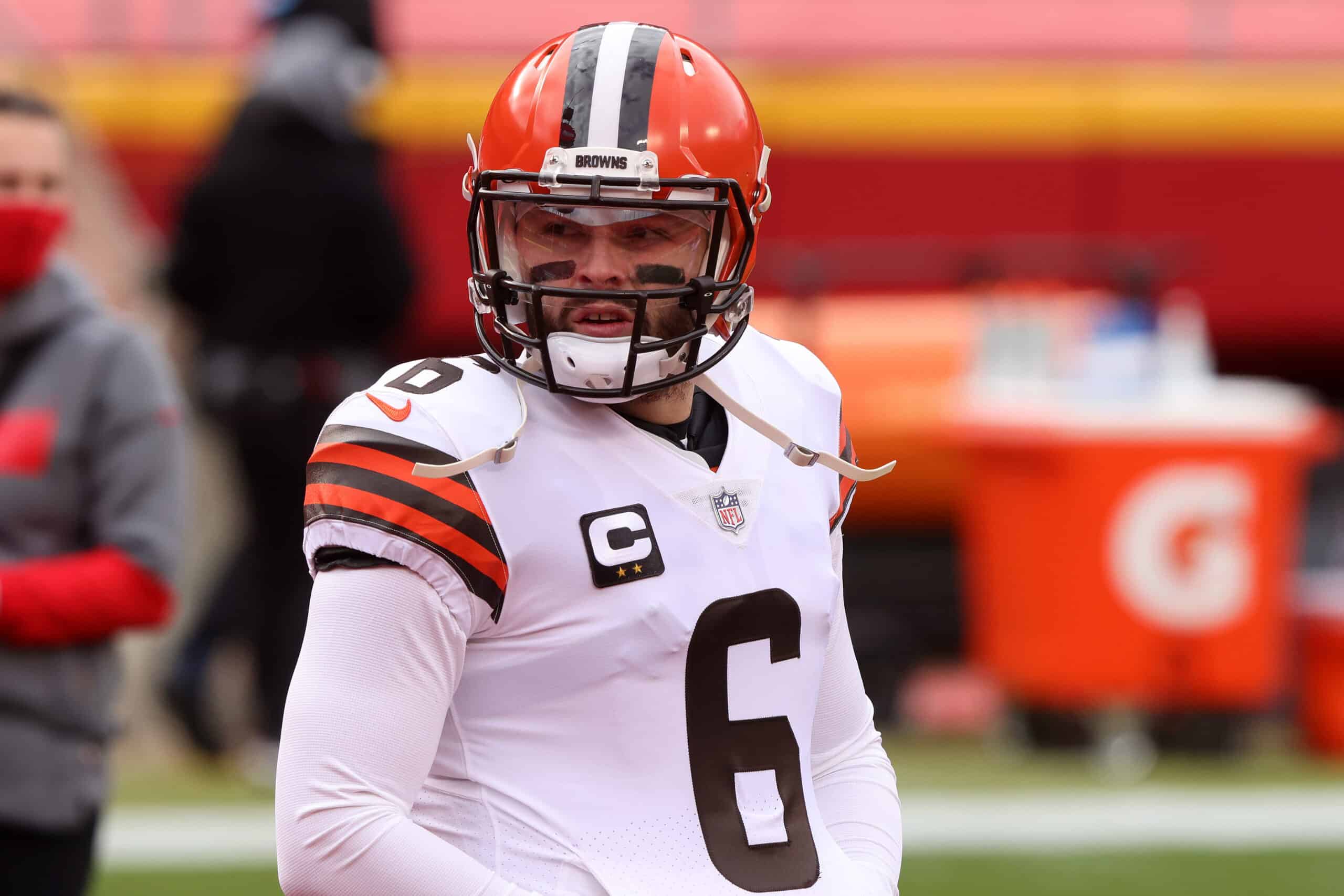 ESPN just published the results of their 2021 Quarterback Council rating of NFL quarterbacks.
For those unfamiliar with the council, 8 ESPN analysts and 2 outside sources rank quarterbacks in 12 distinct categories.
Categories range from arm strength to field vision, with each participant offering a top-10 list for each.
NFL Quarterback Council 2021 – Ranking the top 10 QBs in arm strength, accuracy, decision-making, rushing ability, more – ESPN https://t.co/oeJmXt6UWd #NFL #Football #NFLNews #Superbowl

— Sports News & Videos (@robinsportsnews) August 23, 2021
Baker Mayfield of the Cleveland Browns received votes in almost every category.
But ESPN better brace for some serious social media backlash from the Cleveland faithful over their final results.
The ESPN council rated Mayfield in the top 10 in just one category, arm strength.
And he was under-rated there, too.
Here is a breakdown of the categories and some comments made by the council.
Mayfield Grabs 10th in Arm Strength
If there is one thing even Baker Mayfield's biggest critics can agree on, it is that he has a cannon for an arm.
Throughout his college and professional career, he showed that arm strength was never an issue.
In fact, during the 2020 season, Mayfield threw what is probably the longest pass in NFL history.
It was the Browns' Week 14 "instant classic" battle versus the Baltimore Ravens.
Baker Mayfield's end of the half hail mary attempt last night was the longest NFL pass attempt PFF has ever charted 🚀 👀 pic.twitter.com/lsRWDiwCjT

— PFF (@PFF) December 15, 2020
Mayfield threw a Hail Mary pass from his own 40-yard line through the end zone.
One defender ran into the goal post trying to catch up to it.
According to Pro Football Focus, it was the longest pass in air yards they ever recorded.
ESPN's council mentions the pass, but still found 9 passers they feel have stronger arms.
Biggest Diss: Compete Level 
ESPN's council judged quarterbacks on their competitive drive and leadership.
They further described their criteria with this:
Who has the most desire to win? It also speaks to a quarterback's command of his offense and his ability to deliver in the clutch. You can never count out (these) players."
Mayfield didn't have many game-winning drive opportunities and that might have hurt his results.
No one gets hype for their teammates like Baker 😂 @bakermayfield @JKShuttlesworth @Browns

(h/t @SportsBoyTony) pic.twitter.com/Elxi61PQON

— The Checkdown (@thecheckdown) August 23, 2021
But can anybody question Baker Mayfield's competitiveness and leadership?
Not Mina Kimes, one of ESPN's participating analysts who called Mayfield's omission the biggest surprise in this category.
"I would've put Baker Mayfield in the top 10 here. It's a bit clichéd at this point to talk about his moxie, but his competitive spirit is undeniable — and it has powered some pretty strong performances late in games, especially of late." said Kimes.
This might have been a bigger surprise than Mayfield's arm strength ranking.
Categories Mayfield Deserves Recognition
Twenty-three quarterbacks received votes for toughness, showing a disparate view on how to define it.
The top 5 are also running quarterbacks who tend to take way more hits than others.
And working behind the best offensive line might have kept Mayfield upright more than some others.
But his 2 straight seasons without missing a game and playing through his rib injuries should count for something.
Asked if he thought he could play through his rib injury Sunday at Pittsburgh, Browns' QB Baker Mayfield responded: "Oh, yeah. Mama didn't raise no wuss."

— Adam Schefter (@AdamSchefter) October 12, 2020
Likewise, few quarterbacks throw as well as Mayfield on the run.
He undoubtedly would be mentioned as a top play-action passer if that was a category.
But he didn't rate top 10 as a scrambling passer, either.
And some fans might take umbrage at the Giants' Daniel Jones finishing ahead of Mayfield on the run.
Baker Misses The Cut On Accuracy and Touch 
Cleveland Browns fans got to watch Mayfield play every week.
And they certainly have memories of their favorite quarterback threading needles and dropping dimes.
Mayfield was the most accurate deep ball passer in the league last season.
But to be honest, we can probably conjure up memories of less accurate dump offs and short throws.
PLAYMAKER ALERT – 4th down – what a pass – what a catch!!! Mayfield to Hooper #CLEvsKC | #NFL | #Browns |#NFLTwitter | #ChiefsKingdom | #NFLPlayOffs | #SportsTalkLine pic.twitter.com/pwVcIrTaIg

— 🏈 🗳️ Steven Van Over (@StevenVanOver) January 17, 2021
And Mayfield's most memorably-accurate passes won't elicit talk of his touch.
One of the best Mayfield passes I remember is a touchdown to Jarvis Landry versus the Giants.
Another is the reaching snag by tight end Austin Hooper in the AFC Divisional Round game.
Both were great passes, but neither scored enough points for accuracy or touch to satisfy the ESPN council.
Tougher Arguments For The Other Categories
The other 6 categories are not the strongest points on Baker Mayfield's resume.
He improved from the pocket last year, but he needs to continue that progress to make this list.
Mechanics, field decision, decision making, second-reactions, and rushing can use work, too.
Back in July, ESPN asked a collection of 50 GMs, scouts, coaches, and retired players who the best quarterback is.
.@TheRealTRizzo "I'm ready to sign @bakermayfield to a six year extension." pic.twitter.com/r1ejXM0nSb

— ESPN Cleveland (@ESPNCleveland) August 17, 2021
Mayfield earned some nods, but did not make the top 10 there, either.
But one AFC scout said he can see Mayfield improving to a Dak Prescott level sooner than later.
Interestingly enough, ESPN's own attempt at an objective analysis of players gives Mayfield his due.
Mayfield finished 2020 with the 10th-best adjusted QBR in ESPN's Season Leaders board.