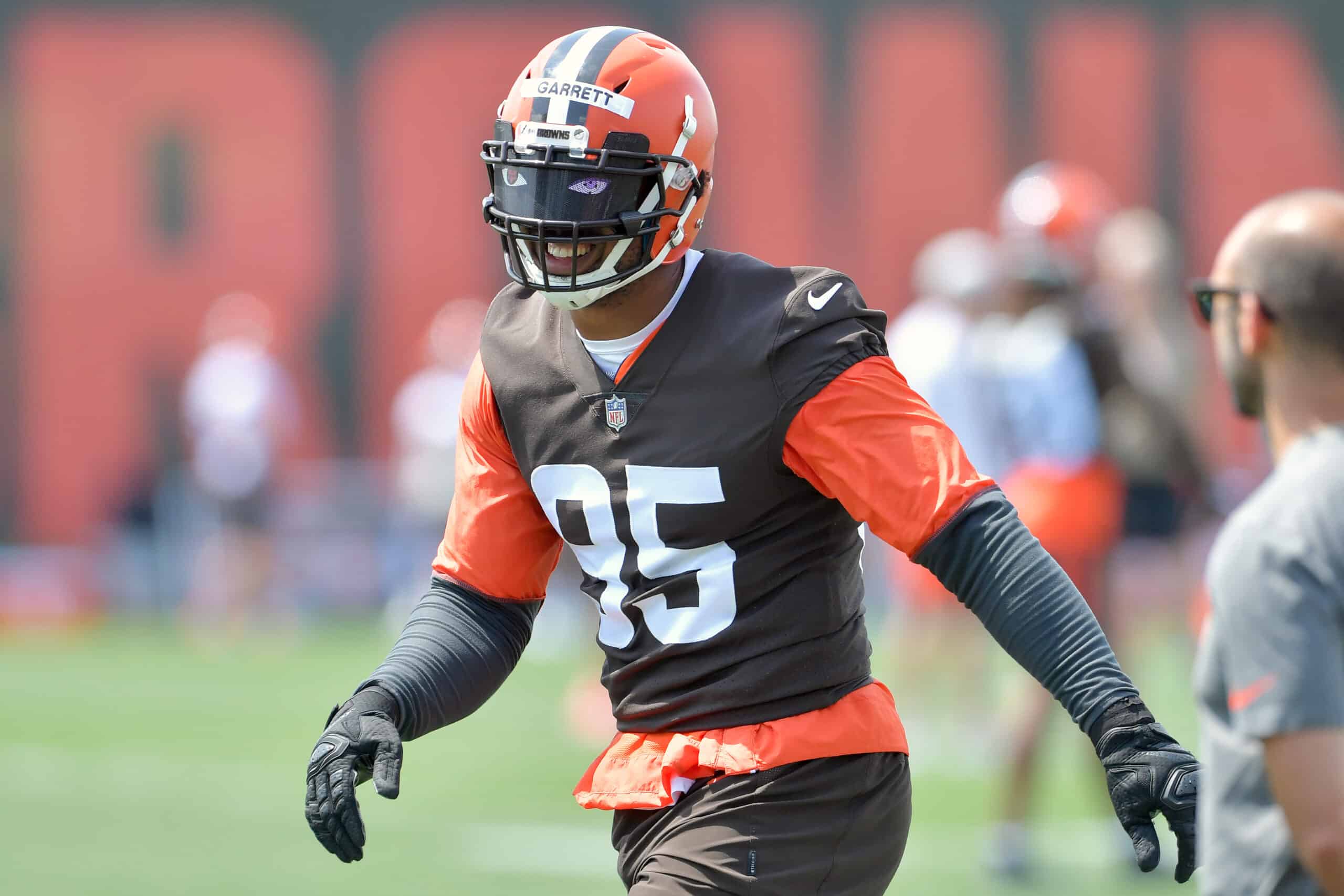 Defensive end Myles Garrett is the highest rated Cleveland Browns player ever on the NFL's Top 100 list.
NFL players ranked the two-time Pro Bowler as the league's 16th best player ahead of the 2021 season.
Garrett, 25, was not shy about who he believes is the NFL's best edge defender.
"Me," Garrett said. "Silly question."
Garrett is the NFL's highest-ranked defensive end and among the league's highest-rated edge rushers.
Pittsburgh Steelers outside linebacker T.J. Watt is the only edge rusher ranked higher than Garrett.
Here's how their 2020 regular-season stats compare:
Garrett: 14 games played, 48 total tackles, 10 tackles for a loss, 18 quarterback hits, 12 sacks, four forced fumbles, two fumble recoveries and zero interceptions.
Watt: 15 games played, 53 total tackles, 23 tackles for a loss, 41 quarterback hits, 15 sacks, two forced fumbles, zero fumble recoveries and one interception.
The NFL Network is set to unveil the order of its top 10 players at 4 p.m. ET Saturday.
— Cleveland Browns (@Browns) August 22, 2021
Here is a look at a few other edge rushers who ranked in the NFL Top 100 (team, position, player and ranking):
Chicago Bears outside linebacker Khalil Mack: 23rd
Los Angeles Chargers defensive end Joey Bosa: 32nd
Denver Broncos outside linebacker Bradley Chubb: 40th
Tampa Bay Buccaneers outside linebacker Lavonte David: 43rd
New Orleans Saints defensive end Cameron Jordan: 46th
Green Bay Packers outside linebacker Za'Darius Smith: 51st
Tampa Bay Buccaneers outside linebacker Jason Pierre-Paul: 59th
Washington Football Team defensive end Chase Young: 61st
New Orleans Saints outside linebacker Demario Davis: 64th
Free-agent outside linebacker K.J. Wright: 67th
Cincinnati Bengals defensive end Trey Hendrickson: 73rd
New York Giants defensive end Leonard Williams: 84th
Tampa Bay Buccaneers outside linebacker Shaquil Barrett: 88th
Philadelphia Eagles defensive end Brandon Graham: 99th
The NFL Network has conducted its NFL Top 100 list since 2011.
Cleveland Browns tight end David Njoku explained what it's like trying to block Garrett in practice.
"You get drafted in the first round and you think you're hot s**t," Njoku said. "You're going against another first-rounder, and he almost picked me up from the ground, and I was like, 'Alright, I think it's time to start learning how to really block.' You know what I mean because I can't get embarrassed like that again."
NFL players ranked Garrett as the league's 80th best player ahead of the 2020 season.
Njoku complimented Garrett's speed, strength, quickness and flexibility.
Teammate Jarvis Landry also complimented Garrett.
"I mean, he does what he wants," Browns receiver Jarvis Landry said of Garrett. "When he puts his hand in the ground, he's coming after you."
Several other Browns players made the NFL's Top 100 list: running back Nick Chubb ranked 26th, quarterback Baker Mayfield ranked 71st and Landry ranked 94th.
Garrett had double-digit sack totals for the third consecutive season.
In 2020, Garrett earned a first-team All-Pro selection with 12 sacks, 18 quarterback hits, 48 tackles, 10 tackles for a loss, four forced fumbles and two fumble recoveries.
"He's that guy that can just take over a game if you're not double teaming him, if you're not sliding the protection to him, it can be a very long day for your offense," Landry said of Garrett.
Several other NFL players praised Garrett's play and athleticism.
"He's an incredible player," Tennessee Titans quarterback Ryan Tannehill said. "He's got every tool you look for in a pass rusher."
Despite both playing for Texas A&M, Tannehill said Garrett didn't let up when the two Aggies went head to head.
Garrett had two tackles, a sack and a quarterback hit in the Week 12 win against the Titans.
"He just kept coming," Tannehill said.
Garrett played from 2014-2016 for the Aggies while Tannehill played from 2008-2011.
"Myles Garrett, man, (he's) a freak," Philadelphia Eagles defensive end Graham said. "A freak of nature."
Graham further explained what Garrett does to opposing offenses.
"That boy, he's terrorizing people," Graham said.
Miami Dolphins defensive end Emmanuel Ogbah was in awe of Garrett's vertical leap.
In the offseason, Garrett successfully landed a 58-inch box jump.
"That's incredible. He's what, like 275-280 (pounds)?" Ogbah said. "Jumping like that, I wish I could do that."
Green Bay Packers linebacker Za'Darius Smith said he's watched Garrett play basketball in the offseason.
"I like his game," Smith said. "He's a big guy. (An) upside guy too with that speed to power that…you can't stop that. You just can't."
Garrett has since "retired" from playing offseason basketball.
Earlier in the offseason, a series of videos showed Garrett shooting, dribbling and dunking over helpless defenders on the hardwood.
Remaining Top 100 Players of 2021 episode schedule:
4 p.m. ET, Saturday, Aug. 28: No. 10-1
6 p.m. ET, Saturday, Aug. 28: Reaction show