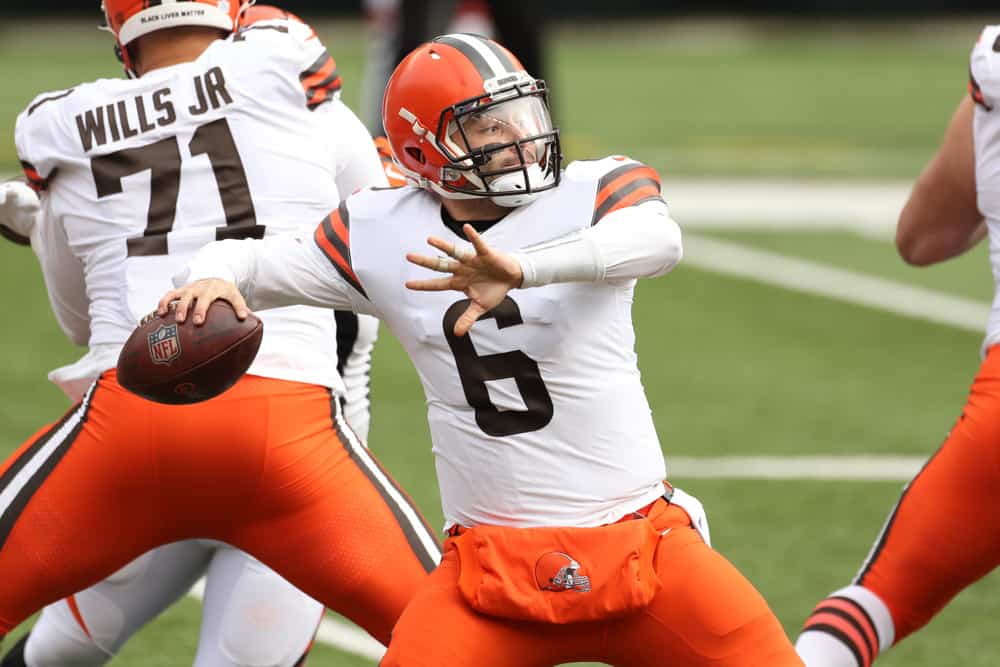 By now everyone knows the Cleveland Browns lost a dramatic game on Monday night to the Baltimore Ravens.
But you may not know that QB Baker Mayfield's incomplete Hail Mary pass at the end of the second quarter is actually a record breaker.
It was the longest throw in NFL history.
Baker Mayfield's end of the half hail mary attempt last night was the longest NFL pass attempt PFF has ever charted 🚀 👀 pic.twitter.com/lsRWDiwCjT

— PFF (@PFF) December 15, 2020
Pro Football Focus (PFF) Began Measuring in 2017
This is the fourth season that PFF has been collecting data in this category.
Mayfield was standing on the Browns' 40 yard line when he lofted the ball into the air.
He overthrew the pass and it traveled out of the end zone.
It is the longest pass recorded by distance traveled in the air in a game.
Here are the specifics:
Pass from release point to end zone: 61.0 yards.
Travel from goal line to catch point:  9.5 yards.
Total flight:  70.5 yards.
Patrick Mahomes Threw A 78 Yard Hail Mary On Pro Day
There are no statistical measures for Pro Day Hail Mary passes.
But if there were, Patrick Mahomes would own the record.
Check out his 78 yard Hail Mary from his 2017 Pro Day.
Wes Welker of New England Patriots fame was present in his capacity as receivers coach for the San Francisco 49ers.
"At the end of it, everybody was applauding. I was like, 'Man, do people normally applaud at a pro day?' One of the scouts was like, 'I've been a scout for 30-plus years. I've never seen everybody applaud after a workout.' And it was just scouts."
Mayfield's Miscues Have Been Few
Baker Mayfield has been playing lights-out football since November.
He racked up a no-interception November through 4 games.
And he tied Otto Graham's 1951 record for 4 TD passes in the first half of the Titans game.
He topped it off with a stellar performance in defeat against the Ravens.
Mayfield's Pick 6 against the Ravens did not stop him from regrouping and leading his team back into that game.
What's Next for Mayfield and the Browns
He needs solid performances against the Giants, Jets, and Steelers to close out the season.
The Browns are still in the hunt for a wildcard spot, but the AFC is so tight they can't afford to lose.
Defensively the Giants are a tough team so he needs to continue his clean play.
Mayfield's maturity is largely due to better decision making and consistent coaching; both are things he didn't have last season.