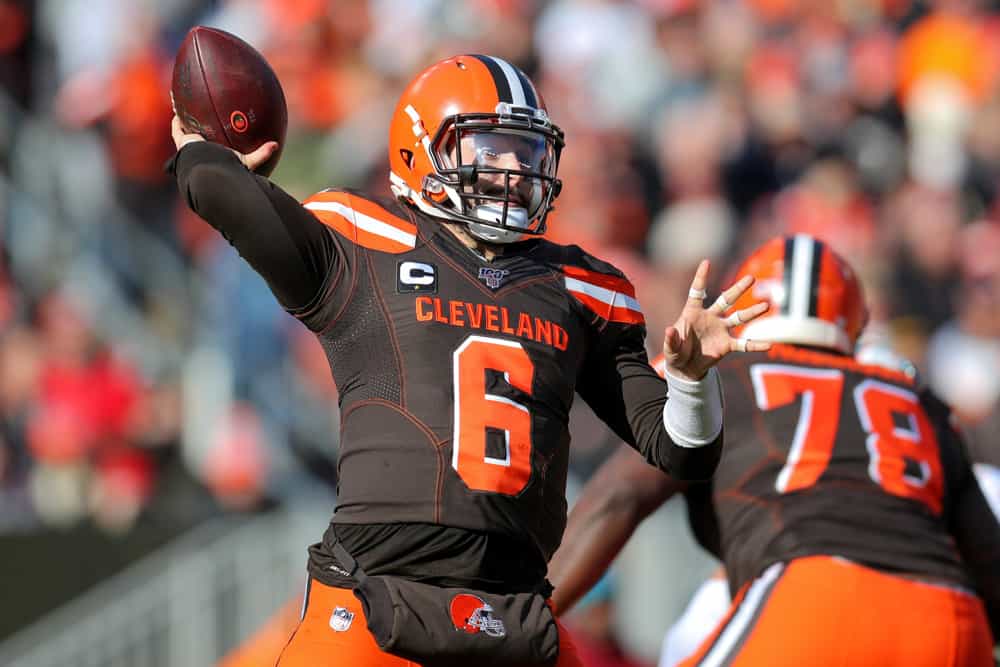 The Cleveland Browns were hyped as a deep playoff threat in 2019, but finished the season at a disappointing 6-10 record.
There were many reasons why the Browns struggled last season, but one of the biggest issues was the regression of quarterback Baker Mayfield.
The Browns have now stacked their offense even more in 2020, so this is looking like a make-or-break season for Mayfield.
Can Mayfield excel in 2020?
J.J. Zachariason, editor-in-chief for the fantasy analytics website NumberFire.com certainly thinks so.
He expects Mayfield to benefit from Stefanski's offense.
Zachariason projects Mayfield to have career-best 3,904 yards on 527 pass attempts (second-most) and 26 touchdowns (second-most) while also tying for a career-low 14 interceptions.
I'm bored so here a quick reminder that Baker Mayfield is insanely talented. pic.twitter.com/mAwAoWNPfN

— daniel (@PrimeCinci) April 13, 2020
Mayfield's 2019 Season
Baker Mayfield is heading into his third season in the NFL, but is already one of the league's most highly scrutinized players.
His rookie campaign was solid, but everything came to a crashing halt in 2019.
Mayfield threw for 3,827 passing yards, 22 touchdowns, and 21 interceptions through 16 games with Cleveland last season.
He threw the second-most interceptions in the league behind Tampa Bay Buccaneers quarterback Jameis Winston who managed to throw 30 picks.
Mayfield's quarterback rating was a solid 93.7 as a rookie, but dropped to 78.8 during his sophomore campaign.
To be fair, Mayfield was sacked 15 more times in 2019 than his rookie campaign.
The coaching staff didn't do him any favors, so hopefully things are looking up in 2020.
What Has Changed Since Last Season?
The biggest changed is that Kevin Stefanski is taking over as head coach in Cleveland.
Stefanski did a fantastic job turning around the Minnesota Vikings offense.
He turned their team into a ground and pound offense that limited turnovers.
He's given a dream team with running backs Kareem Hunt and Nick Chubb in Cleveland.
The Browns also added Pro Bowl tight end Austin Hooper and right tackle Jack Conklin through free agency.
This offense is absolutely stacked with Odell Beckham Jr. and Jarvis Landry at wide receiver as well.
There are no more excuses for the Browns after the departure of head coach Freddie Kitchens and Todd Monken this offseason.
Baker Mayfield's best plays from his unforgettable debut game vs the Jets.

— Everything Cleveland (@EverythingCLE_) April 9, 2020
Can Mayfield Turn it Around in 2020?
Mayfield has all the tools and weapons around him to have a successful season in 2020.
Last season, Mayfield reached the red zone 78 times, but was only able to get six points on those drives 58% of the time.
The Browns offense should be converting much more often especially with all the talent they have on offense.
Having Stefanski by his side should make Mayfield a better quarterback, but we'll see what happens.
Mayfield's rookie campaign was solid, but the team wasn't ready to make a playoff push in 2018.
Stefanski should provide the Browns with a much better well-balance offense compared to the trainwreck that was the 2019 season.
Mayfield has all the right pieces to have a career year, but it's his turn to make the proper adjustments and show the skeptics he can be a reliable quarterback.