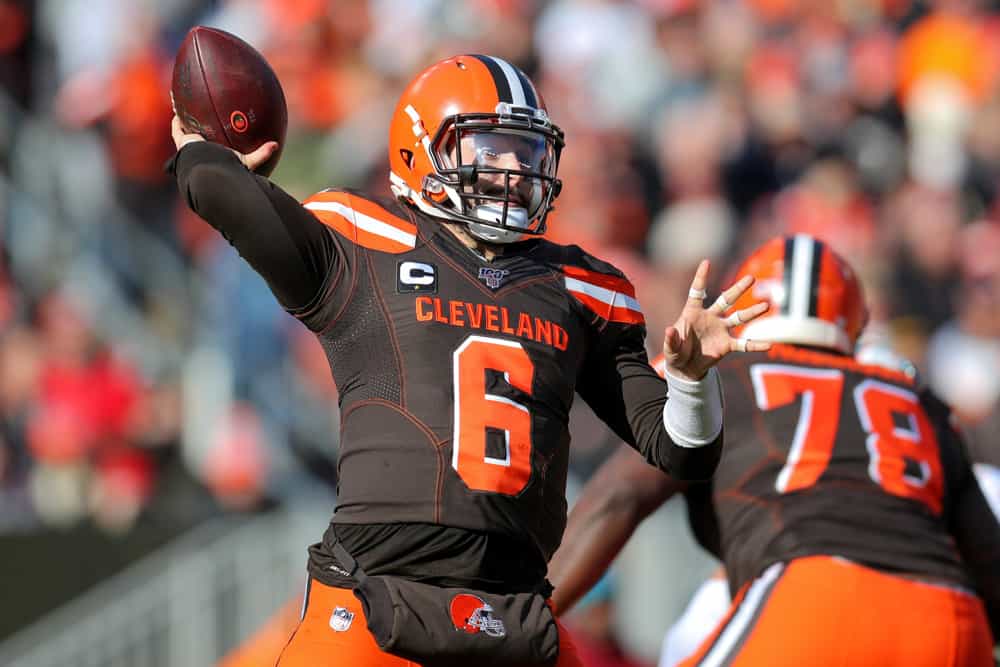 It is hard to find anyone in the Cleveland Browns organization who doesn´t believe in Baker Mayfield.
And with good reason.
Jimmy and Dee Haslam stacked the deck in Mayfield´s favor.
By all accounts, Kevin Stefanski blew the Haslams away with more than just a great offensive plan.
It was a great offensive plan tailored to Baker Mayfield.
Andrew Berry on Baker Mayfield: "Still have a lot of belief in Baker as a quarterback and what he can become in the NFL." — "We're really excited about his future and really excited about what Stefanski is going to do with him." #Browns

— Camryn Justice (@camijustice) February 5, 2020
But Stefanski didn´t stop there.
He brought in a top quarterbacks coach in Alex Van Pelt.
Van Pelt is an excellent teacher and drew raves from none other than Aaron Rodgers.
The quarterback guru identified a basic flaw he says will help Mayfield immediately.
But the fact he has been a fan of Mayfield since his college playing days might be just as important.
Kevin Stefanski will have "detailed plan" to help Baker Mayfield make a jump in Year 3 » https://t.co/24tzBgIj9c pic.twitter.com/zYXaa6WRkm

— Cleveland Browns (@Browns) January 19, 2020
Bill Callahan fell into the Browns' lap when he turned down the Giants and his former boss Jason Garrett.
With Callahan coaching Stefanski´s zone-blocking scheme, Mayfield will find things easier all around.
Stefanski has an offense designed to let Mayfield use his strengths to attack defenses.
But what happens if Mayfield has trouble picking up the nuances?
Is this a make-or-break year for Baker Mayfield?
Under Pressure
There is no Browns player under more pressure than Baker Mayfield.
When the team signed Case Keenum, Andrew Berry was quick to pronounce him as a perfect backup quarterback.
Nothing in Keenum´s recent history suggests fans should expect him to walk in as a starter.
Keenum rejected the notion of a quarterback competition in his introductory presser.
CASE KEENUM called out Mary Kay for asking questions that would stir up controversy during his call with Cleveland reporters! 😂

After she asked the question, he specifically asked her for her name!

It's like he's been here for years!

Heard on @923TheFan @casekeenum #Browns

— DynastyCLE (@DynastyCLE) March 25, 2020
But it is hard to ignore Keenum´s more distant history.
Keenum landed in Minnesota after 5 seasons.
Injuries forced him into a starting role early in the season.
All Keenum did was lead the team to a 13-3 record and an NFC Championship appearance.
He gave most of the credit to his quarterback coach, Kevin Stefanski.
Mayfield will be the starting quarterback going into camp.
#Browns QB Case Keenum says although his role is to support Baker Mayfield, he'll be ready to play; believes he still has a lot to offer on and off the field

— Daryl Ruiter (@RuiterWrongFAN) March 25, 2020
Keenum has a level disposition and is satisfied to help Mayfield thrive.
But Mayfield knows Keenum will always be ready if he needs to step in.
There was no such concern last season with Garrett Gilbert backing him up.
Does Mayfield Have to Come Out Clicking?
How bad would things have to get for Stefanski to replace Mayfield?
As much as Stefanski designed his offense for Mayfield, Mayfield still has to learn it.
Van Pelt wants his quarterback to change his footwork.
New Browns OC Van Pelt to change Baker Mayfield's footworkhttps://t.co/Dtwy54Oe0j pic.twitter.com/KyPFiimD13

— Around The NFL (@AroundTheNFL) February 19, 2020
It sounds simple, but Mayfield probably hasn´t thought about his footwork in years.
Like Phillip Rivers´ throwing motion, some things look ugly but are better left alone.
Time will tell if Mayfield can adapt his footwork while learning a whole new playbook.
There is potential for a shortened preseason which could impact Mayfield´s readiness.
Alex Van Pelt came off strongly in his press conference. He emphasized footwork and technique when he spoke on Baker Mayfield. Explained how he could help Baker improve with both. Acknowledged the disparity between Baker with play action and without. Detail oriented. Love it.

— Nick Karns (@karnsies817) February 19, 2020
Will Mayfield´s future be determined by early-season wins and losses?
Probably not.
Progress will be the key.
Stefanski fancies himself a teacher and teachers look for incremental improvements.
The only way Stefanski benches Mayfield early is if Mayfield rebels against the coaching.
Defining a "Break" Season
Browns fans were disappointed in the Browns and Mayfield in 2019.
But Mayfield put up one of the best statistical seasons by a Browns quarterback since 1999.
Other than Derek Anderson´s 2007 season, Mayfield can probably claim the best.
But a repeat of that effort won´t be enough.
Baker Mayfield 2018: has one of the best rookie seasons of all time. Wins the Browns the most games they won the 3 previous years combined.

Baker Mayfield 2019: has a bad season due to multiple variables.

People: I just don't think he has it.

So quick to change up lol

— Browns Time (@DevotedBrownie) March 26, 2020
Mayfield is set up to throw out of play-action and designed rollouts, two areas he excels in.
He is surrounded by Pro Bowl and potential Pro-Bowl skill players.
Berry added Austin Hooper to play opposite David Njoku.
Odell Beckham Jr, Jarvis Landry, Kareem Hunt, and Nick Chubb are back.
His offensive line will improve.
The Browns are fully committed to Baker Mayfield as their starting quarterback, but the new regime doesn't want to coddle him. https://t.co/ysPO7EY66O

— toddporter (@toddporter) March 24, 2020
Fans expect playoff football to return to Cleveland.
A winning record and signs of an offense coming together late could be enough.
Kevin Stefanski and his crew are patient teachers.
But Mayfield still has to worry about the Haslams.
Patience is Not a Haslam Virtue
Nobody knows what will be enough for the Haslams to keep the faith in Mayfield.
They were as quick as anyone to blame John Dorsey and Freddie Kitchens for 2019.
But a similar season under Stefanski could turn them against their quarterback.
Expectations are high all around.
Baker Mayfield ➡️ OBJ
We should see a lot of this from the Browns this season. #Browns pic.twitter.com/lVxpUgDCar

— Ohio Sports Highlights/News (@OHSHighlights) March 26, 2020
But the Browns owners are not as quick to shrug off mediocrity as are their fans.
Cleveland drafted 11 quarterbacks since 1999.
History has not been kind to them.
There are several scattered on rosters around the league.
But few Browns draft busts started more than a handful of NFL games after Cleveland.
Fortunately, Baker Mayfield is set up to succeed.
And this season is far more likely to make him than break him.