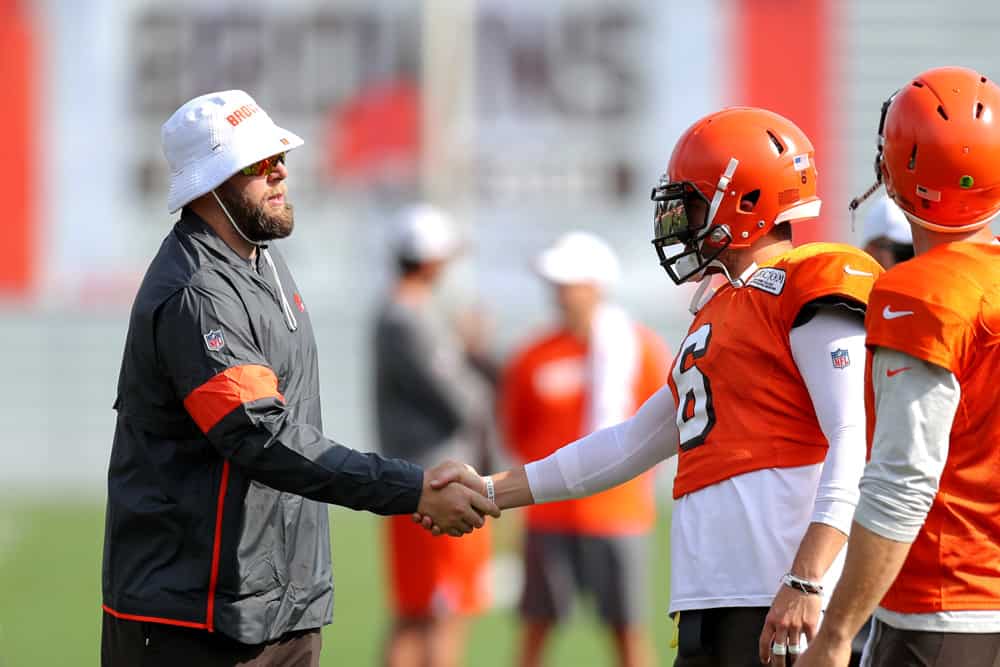 When a season that began with high expectations and a ton of hope comes crashing down, questions are going to be asked.
After Sunday's demoralizing loss to the lowly Cardinals, one significant question is, "What happened to Baker Mayfield?"
By the end of the 2018 season, Mayfield and the Browns generated excitement throughout the NFL.
The brash rookie quarterback was leading a long-suffering team out of the depths and toward the promised land.
Only two games remain in 2019 and Mayfield's play this year has left many scratching their heads.
With so much offensive talent, how is it that Mayfield's play has regressed significantly in 2019?
Enter Ryan Lindley.
Who is Ryan Lindley?
Ryan Lindley played quarterback in college for San Diego State University.
He played well enough in college that he became a 6th round pick of the Arizona Cardinals in 2012.
After two years with the Cardinals, Lindley was released.
For the next few years, Lindley had brief stints with the Chargers, Cardinals (again), Patriots, and Colts.
Then, after spending a year out of football, he joined the Ottawa Redblacks of the Canadian Football League in 2017.
During his year with the Redblacks, Lindley did not play often and was released in March of 2018.
With his playing days behind him, Lindley joined the coaching profession.
He went back to San Diego State and became a graduate assistant for parts of 2017 and 2018.
In October of 2018, the Browns coaching shake-up moved Freddie Kitchens to interim head coach.
One of Kitchens' first moves was to hire Lindley for the recently vacated running backs coach position.
Ken Zampese 
At the same time, Mayfield was thriving under then quarterbacks coach Ken Zampese.
By the time Zampese joined the Browns last year, he had spent 20 years as an NFL coach.
Zampese's resume includes a who's who of notable NFL quarterback legends.
Brett Favre, Matt Hasselbeck, Kurt Warner, and Carson Palmer have all received tutelage from Zampese.
In 2018, Zampese took Mayfield under his wing and helped place him on the cusp of greatness.
Mayfield completed the 2018 campaign throwing for 3,725 yards, 27 touchdowns (a rookie record), and 14 interceptions.
His throwing percentage was 63.8% and his QBR 93.7.
Under Zampese's direction, Mayfield's potential would be fully realized in 2019.
Then, the 2018 season ended and the bottom fell out.
Zampese out, Lindley In
By now most people know the story.
After the 2018 season, Interim Coach Gregg Williams was let go despite leading the team to a 5-3 record.
Interim offensive coordinator Freddie Kitchens was named the head coach.
Kitchens had received a lot of credit for reviving the Browns offense in 2018 and was rewarded thusly.
Surprisingly, Kitchens did not to retain Zampese.
In a highly questionable move, Kitchens tapped Lindley for the position despite Lindley's inexperience.
Even a coach with an NFL playing background usually climbs a specific ladder of coaching responsibilities.
Typically, he will begin as an intern or quality control coach, learning the basics of offense and defense.
Then comes assistant position duties such as assistant line coach.
Next is head position coach, followed by a coordinator and, for those chosen few, head coach.
Depending on ability, this progression could take years.
Lindley skipped a few of the normal steps in the ladder.
He went from rarely used backup professional quarterback to NFL quarterbacks' coach in less than a year.
Then, he was thrust into the position of caretaker for one of the best young quarterbacks in the league.
Ryan Lindley is Browns QB Coach Here's a look at his extensive coaching background @ColinCowherd @JoyTaylorTalks @JamesHarrison pic.twitter.com/SQ1P5S8xnz

— Mr. Got Game ™ (@TerranceKywan) December 16, 2019
Ken Zampese was the QB coach last year when Baker broke the rookie touchdown record. This year it's Ryan Lindley, the guy James Harrison said didn't earn it, but got the position because they were friends. pic.twitter.com/hJerQkuKSX

— Susan (@freddieisnotit) December 17, 2019
Mayfield's 2019 Regression
Unfortunately, with two games left to play this season, Mayfield's numbers have dropped dramatically from 2018.
Currently, Mayfield has thrown for 3,109 yards, 15 touchdowns, and 16 interceptions.
His throwing percentage is 59.2% and his QBR 77.6.
Even with game-breaking threats such as Jarvis Landry and Odell Beckham Jr, Mayfield has struggled.
Of course, it would not be accurate to put all of Mayfield's 2019 struggles on Lindley.
However, he is the coach who is supposed to teach Mayfield the intricacies of the position.
It is clear that both Kitchens and Lindley were not the best candidates to lead the Browns.
Bob Wylie, former Browns offensive line coach, said credit for the 2018 season should have gone elsewhere.
Whewwwww Bob wylie was spot on with Freddie kitchens pic.twitter.com/IKW2AJOrd5

— 🇺🇸 (@JordanLostInRD1) December 16, 2019
Specifically, to Williams and the assistants.
One of the assistants mentioned by Wylie was Zampese.
Wylie explained it was Zampese who handled the base passing game and third-down (calls).
He was also responsible, of course, for the day-to-day coaching of Mayfield.
However, Zampese returning in 2019 was not to be.
"Baker (Mayfield) likes Freddie," Wylie said.  "There's a good relationship there even though Kenny Zampese did all the coaching there.  Baker likes Freddie, so that had to (factor) into the decision (of Kitchens being hired as head coach)."
Once the 2019 season ends, Browns fans have to hope that a more qualified mentor can come in and replace Lindley.
Otherwise, there is no reason to expect different results in 2020.