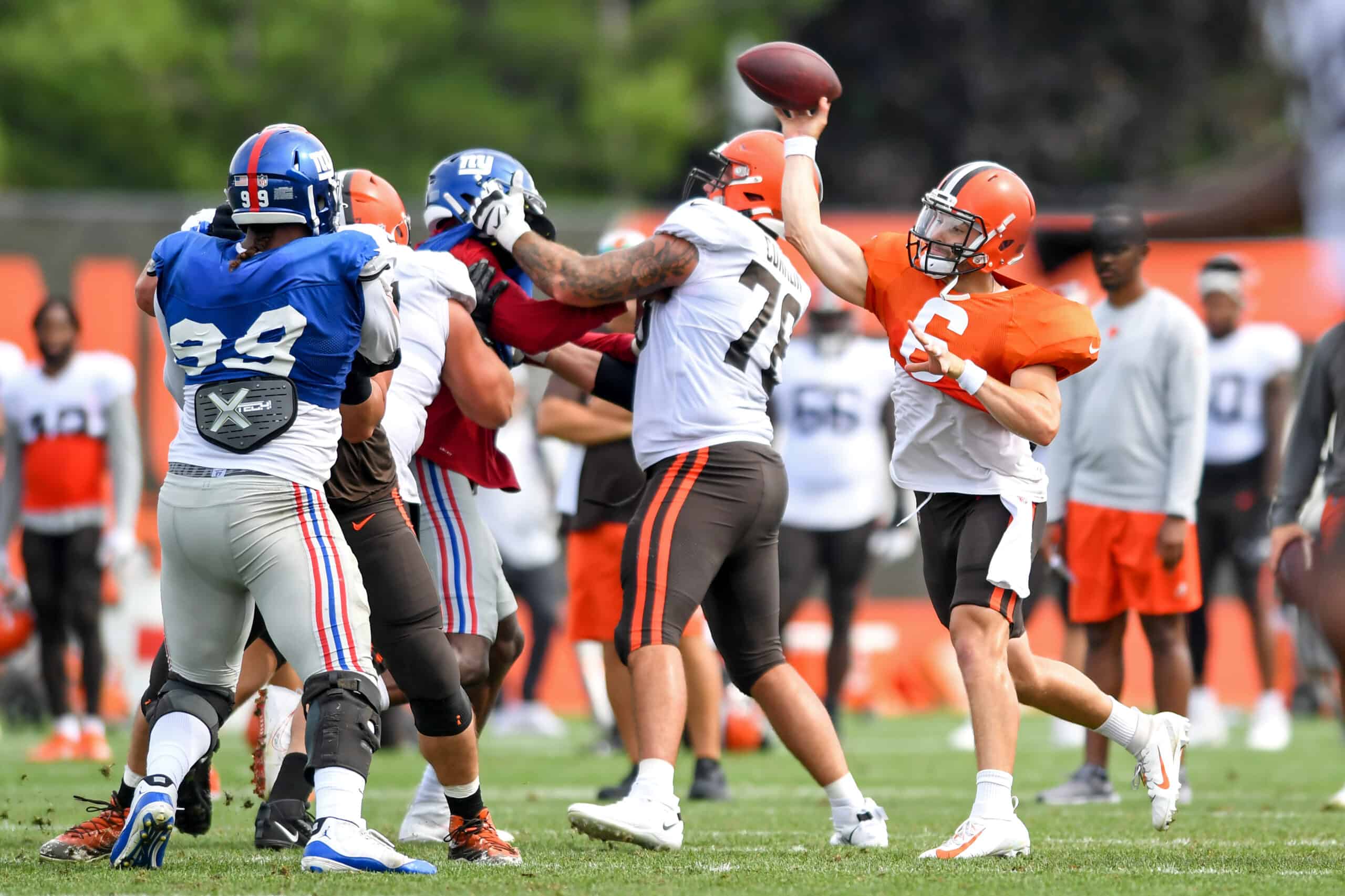 Remember all of that talk from Cleveland Browns Coach Stefanski about treating the Giants as guests during the joint practice sessions?
Well, it seems that some of those positive affirmations did not completely materialize.
There are reports that a fight broke out during Friday's joint practice session.
This session was expected to be lighter and focus on red zone work.
Those involved were cornerback Troy Hill and wide receiver Sterling Shepard.
#Giants WR Sterling Shepard and #Browns CB Troy Hill squared up and were ready to throw punches after joint practices ended today. Looks like John Ross stepped in and got Shepard out of there. This is the last few seconds of it.

(🎥 @clevelanddotcom)pic.twitter.com/HqZqsANL56

— Ari Meirov (@MySportsUpdate) August 20, 2021
Photos of #Giants WR Sterling Shepard and #Browns CB Troy Hill going at it today, via @clevelanddotcom. Both players squared up, Shepard was able to duck a punch, and then a teammate got Shepard out of there. pic.twitter.com/nOlAEEdgA3

— Ari Meirov (@MySportsUpdate) August 20, 2021
Not sure yet what preceded this, but here's a photo of Browns CB Troy Hill winding up and throwing a punch at Giants WR Sterling Shepard (credit Ron Schwane/AP).

Not sure how wild it was, but teammates are standing there watching and not much reacting. pic.twitter.com/l4neq15HBm

— Art Stapleton (@art_stapleton) August 20, 2021
Not Much Known Yet
There is little information beyond what has appeared on social media.
In the photos, Hill looked to be ready to punch Shepard.
Shepard's teammate, wide receiver John Ross, appeared to physically lift Shepard away from the conflict.
Other teammates on both sides did not show much reaction.
Stefanski Did Not See It
During his scheduled post-practice press conference, Coach Stefanski admitted the intensity was higher today.
The temperature outside is hotter, and the red zone work had guys in more confined spaces.
A reporter mentioned the fight to him later on, and he said he did not know it happened.
He called it "news to me".
Prior to the Giants arrival, Stefanski told the team to "leave the boxing gloves in storage."
When asked earlier this week if fights at joint practices are a foregone conclusion, he answered:
"I would not say that it is inevitable. I think it is incumbent upon both teams and the veterans on those teams to make sure that they understand that this is a work trip. We have two days of practice versus the Giants, we are playing them on Sunday and both teams are looking forward to getting some good work in."
This comes on the heels of the Giants teammates fighting each other at practice on August 3.
There will be much more to report on this story as more details become available.