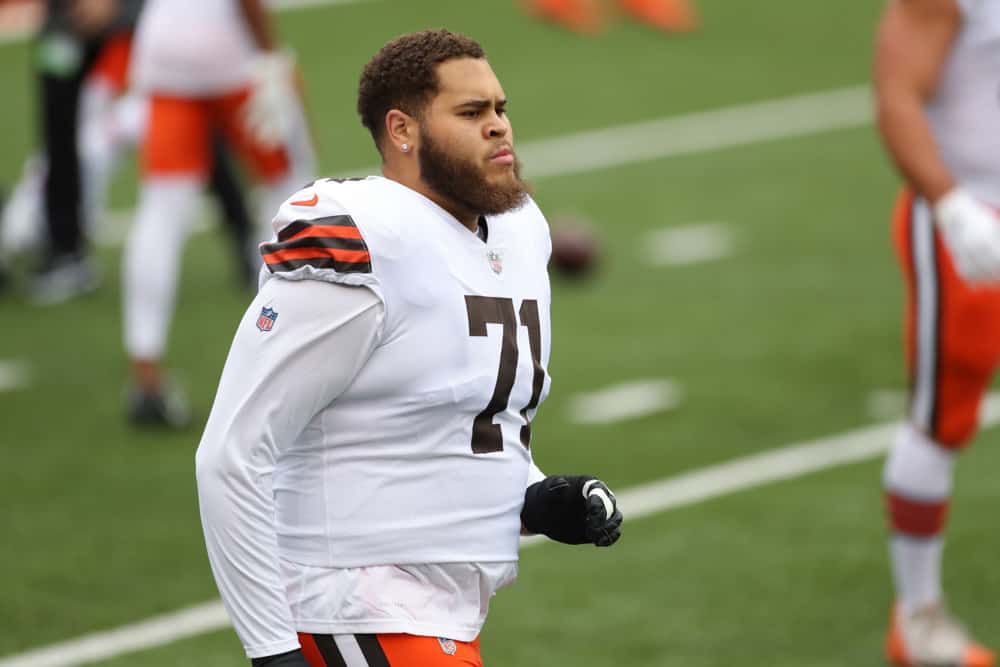 Cleveland Browns second-year left tackle Jedrick Wills Jr. says he's more comfortable heading into the 2021 season compared to a year ago.
Wills, 22, spoke with media members on Thursday about his transition from playing right tackle at Alabama to left tackle for the Browns.
"Looking at it a year ago, I thought I was trash compared to this year watching film," Wills said. "It's a brand new game when you turn on the film this year."
While Wills allowed only four sacks in 2020 (tied for 19th in the NFL), he was tied for first in the league with 11 penalties.
Specifically, Wills mentioned how he's had to work to change his stance, footwork, hand usage and head tilting.
"I would say the best way to put it is you wake up one day, and you're just automatically left-handed and you've been right-handed your whole life because that was pretty much how I felt whenever I had to make that transition," Wills said.
Wills said he believes he's more advanced compared to his rookie season.
"The game is a whole lot slower than it was last year," Wills said.
Wills said he arrived at training camp weighing 313 pounds after weighing 328 at the end of last season.
On Thursday, Wills said he currently weighs about 315-316 pounds with 18% body fat.
In his rookie year, Wills started both of the Browns' playoff games.
However, Wills lasted one snap in the playoff game against the Kansas City Chiefs due to a high ankle sprain.
"It was tough. I went back to the locker room," Wills said. "They were doing everything they could. I got about four different tape jobs, tried to juice it up a little bit."
Wills said he watched the rest of the playoff game on his cell phone, adding that it took him about two months to rehab his injured ankle.
"I'm very excited for that first game that we have this year," Wills said of the Browns' Sept. 12 game against the Chiefs.
Last season, Wills started every regular-season game other than the Week 16 road game against the New York Jets, which he missed due to an illness.
On Thursday, Wills said he rolled his ankle during practice the day before.
However, Wills said he planned to participate in the joint practices against the New York Giants.
"At offensive line, no matter what happens, we could play with three or four dislocated fingers and still have the same job," Wills said. "So, just trying to name ourselves as the toughest people on the field and put everybody on our backs."
Pro Football Focus ranked the Browns offensive line as the NFL's best for the 2020 season.
It's safe to say the Browns offensive line is vital to the team's success in the 2021 season.