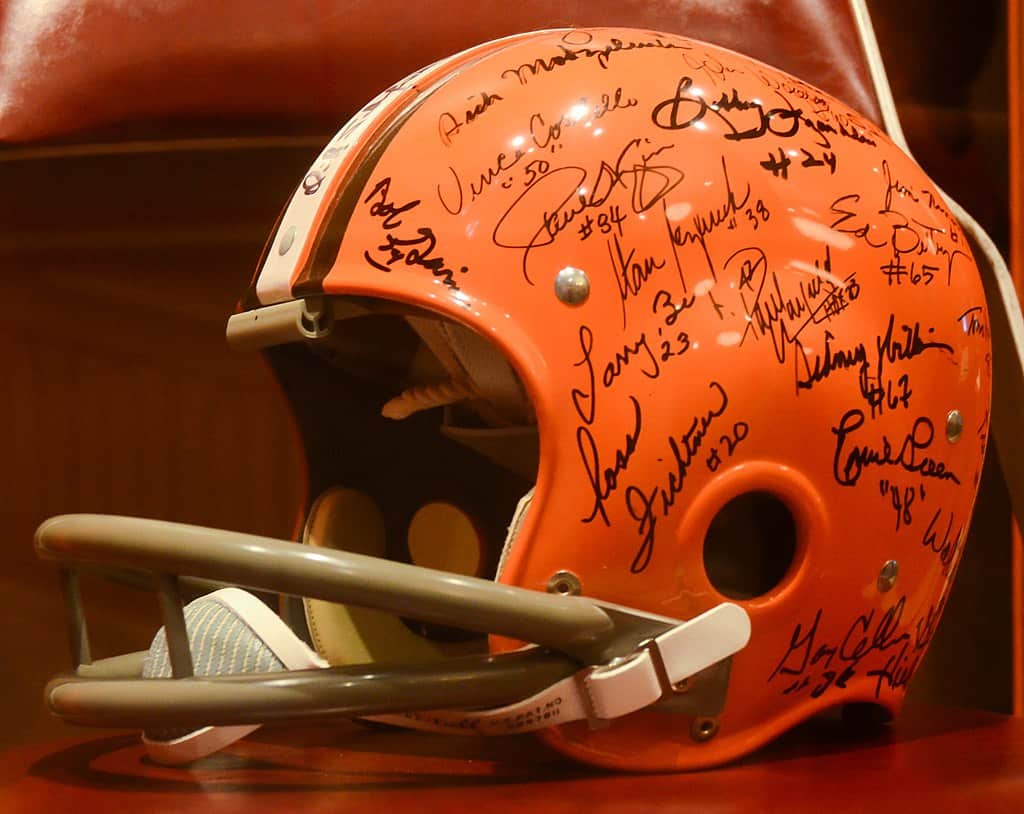 In the long, storied history of the Cleveland Browns, many colorful and talented athletes have starred at receiver.
Beginning with the team's foundation years of the 1940s and 50s, Cleveland boasted Dante Lavelli and Mac Speedie.
The go-go 1980's (when the Browns went to three AFC Championship games) had Brian Brennan, Webster Slaughter, and Reggie Langhorne.
In the present-day iteration of the team, the Browns have perennial Pro Bowlers in Odell Beckham Jr. and Jarvis Landry.
A period of team history not to be overlooked is the Browns of the1960s and early 70s.
During this particular period, the Browns won their final NFL Championship in 1964 and went to the playoffs on six other occasions.
These Cleveland teams represented the last few seasons of running back Jim Brown's career.
However, both Paul Warfield and Gary Collins also kept opponents honest at the receiver position.
Jim Brown throws a TD to Gary Collins.#Browns pic.twitter.com/C4qQNj8yla

— Old Time Football 🏈 (@Ol_TimeFootball) April 30, 2020

In fact, Collins frequently pulled double duty as a punter for the team.
Though he is not always mentioned in the pantheon of Browns greats outside of Cleveland, Collins deserves recognition for his contributions to the team.
BROWNS ALL TIME GREAT RECEIVER, GARY COLLINS pic.twitter.com/8Js6MZZYZT

— David Burkey (@DavidBurkey2) December 24, 2017
Here is a closer look at the life and career of Gary Collins.
From Williamstown to Maryland
Gary James Collins was born in Williamstown, Pennsylvania on August 20, 1940.
In high school, he attended Williamstown High School and played for the school's football team.
Collins' frame, which eventually blossomed to 6'4", 215 pounds, was perfect for his receiver position.
Not only could he out run, out leap, and outperform against most opponents, Collins could also punt the ball well, something he had done since he was eight.
After a high profile career in high school, Collins went out-of-state to attend the University of Maryland.
At Maryland, Collins quickly established himself as one of the best receivers in the nation.
During his three years as a starter for the Terrapins (1959-1961), Collins racked up 74 catches for 1,182 yards.
He could also be counted on to play the defensive side of the ball as well.
In a game against the University of North Carolina one year, Collins made three straight tackles to shut down a Tar Heels scoring opportunity.
Then, he turned right back around and caught the game-winning pass.
During a game against Wake Forest, Collins blocked a field goal try and intercepted a pass to seal a victory over the Demon Deacons.
The highlights continued against North Carolina State when Collins intercepted a pass, punted a ball to within six inches of the goal line, and also blocked a punt which ended in a Terps touchdown.
In 1961, Collins led Maryland in a rare upset of Penn State 21-17.
During the game, Collins had six catches and a touchdown.
He also punted six times for a 46.5 yard average.
It's worth noting that Collins played in the game while extremely ill.
"I was sicker than a dog in that game," Collins recalled in 2011. "I'd go onto the field, do something, and then come out and barf. Afterward, a Penn State player told me, 'You're a good player, but do us a favor and quit all of that acting on the sideline.' "
That same season of 1961, Collins' weekly performances were enough to land him on the list of Heisman Trophy finalists.
He would end up finishing eighth in the final balloting.
During his time in Maryland, Collins' coach, Tom Nugent, sang his praises.
"…the finest player I've ever coached," said Nugent at the time.  "He produces in the clutch and has never failed me whenever I asked him to do something special."
That 'something special' drew the attention of pro scouts and Collins would soon be on his way to the NFL.
Collins Becomes a Brown
The Browns didn't waste time selecting Collins in the 1962 draft, taking him with their fourth pick of the first round.
However, he didn't find out he was drafted until he was told by a Maryland staff member.
Collins was also drafted by the Boston Patriots and used that information as leverage to sign with Cleveland.
He eventually signed a two-year deal worth $50,000.
The team drafted him to play receiver but also told him he could punt.
A little known fact, during his rookie training camp, Collins competed against John Havlicek for a roster spot.
Collins won the position battle and Havlicek eventually went on to become a Hall-of Fame player for the Boston Celtics.
Young'uns FYI: Havlicek last cut Of '62 Browns as WR (Gary Collins) after being HS QB. Phenomenal athlete. You have NO idea. Study up.

— Bob Ryan (@GlobeBobRyan) April 8, 2017
As a rookie, Collins primarily saw playing time as a punter, though he ended the year with 11 catches and two touchdowns.
Cleveland finished the 1962 season a disappointing 7-6-1 and longtime head coach Paul Brown was surprisingly fired.
With Brown out of the picture, offensive assistant Blanton Collier stepped in to coach the team.
Is anyone going to make a significant push to @ProFootballHOF for @Browns Gary Collins and Blanton Collier. Collins on All-Decade Team and look at Collier's record. By the way, Clay Matthews should be a shoo-in! @TonyGrossi pic.twitter.com/hWpc9WfC2H

— Jim Clark (@JimClarkPBP) August 3, 2019
The Browns Return to the Playoffs and Collins Makes a Prediction
In 1963, Collier put Collins in the starting lineup, a move that paid huge dividends.
As the Browns improved to 10-4 that year, Collins led the team with 43 receptions, 674 yards, and 13 touchdowns (which led the NFL).
His touchdown stat broke the team record of nine that had previously been set by Lavelli.
During the 1964 season, everything clicked for the Browns.
Collins came back down to Earth with 35 catches, 544 yards, and eight scores, but he more than did his part to help the team.
@thiswascle A handoff to Jim Brown or pass to Gary Collins,were 2 strong options for Browns Frank Ryan in '64.#NFL pic.twitter.com/86zKhQ4Bvz

— Tom's Old Days (@sigg20) December 4, 2015
Cleveland finished 10-3-1 that season and faced the mighty Baltimore Colts in the NFL Championship game.
Before the game, Collins made waves when he told media members that the Browns would upset the Colts.
This was rather a bold prediction as Baltimore was favored by anywhere from seven to 27 points.
In a 2016 interview with Fox Sports, Collins explained that Collier was not exactly happy with Collins' unorthodox prediction.
"They interviewed me that Wednesday or so, and I said we were going to win," Collins told FOX Sports. "I predicted it and I got hell from my head coach, but I said, 'Well, why the hell are we playing the game if you don't feel like that?'

"He paused and he said, 'Yeah, you've got a point, but you didn't have to say it publicly,'" Collins continued of Collier, who coached the Browns from 1963-70. "But I said it, I meant it and I'm still not sorry."
Thankfully, Collins backed up his confident stance and then some.
After both teams entered halftime knotted at 0-0, the Browns exploded in the second half.
Cleveland quarterback Frank Ryan found Collins for no less than three touchdowns that day.
All three scores were huge plays as Collins scored on receptions of 18, 42, and 51 yards.
The Browns ended up blanking the Colts 27-0 for their last NFL Championship.
OTD 1964
° 1964 NFL CHAMPIONSHIP °
Touchdown underdogs at home, #Browns roast the Colts in Cleveland, 27-0, for their 4th NFL title. End Gary Collins leads the way with 3 TD grabs. pic.twitter.com/wF6bSR9Nqt

— Kevin Gallagher (@KevG163) December 28, 2018
Based on his performance that day, Collins was named the game's MVP and was also rewarded with a brand new Corvette.
"We just had a perfect game," Collins told Fox Sports in 2016, noting that the defense also held Baltimore to less than 200 yards of offense. "I think our defense, mentally, only made four or five mistakes the whole game. Offensively, we had no holding penalties, the passes we threw were all positive, and every time I punted in that game — I think I punted three times — it was always with the wind."
After the game, each member of the Browns was awarded with an $8,300 check for their share of the championship bonus.
Collins was also busy making commercials due to his new found fame, including earning $5,000 for making a Mobile Gas commercial.
In 1965, Collins hauled in 51 passes for 900 yards and 10 touchdowns.
Collins' 46.7 yards per punt also led the league that season and he was voted to his first Pro Bowl.
Once again, Cleveland returned to the NFL Championship game.
This time, however, the Browns lost to the Green Bay Packers 23-12.
1966 saw the Browns dip to 9-5 and miss the playoffs.
However, Collins continued to display his receiving skills.
He ended the '66 season with a career-high 58 receptions for 984 yards and 12 TDs.
He was also voted to his second Pro Bowl in two years.
In 1967 and 1968, Collins performance fell from his usual standard.
During the '67 season, he had 33 catches for 506 yards and seven scores.
In '68, while Cleveland returned to the NFL Championship game (but lost to Baltimore 34-0), Collins had the worst season of his career.
That year, Collins hauled in only nine catches for 230 yards.
Both Collins and the Browns played well in 1969.
Cleveland finished 10-3-1 and played the Minnesota Vikings in the NFL Championship game.
The Browns came up short in the game 27-7.
For his part, Collins rebounded from his two year low and ended the season with 54 receptions, 786 yards, and 11 TDs.
Collins' Time in Cleveland Comes to an End
Collins played his final two seasons as a pro in 1970 and 1971.
During the '70 season, Collins had only 26 catches for 351 yards and four scores.
The Browns struggled as a whole that year, finishing at 7-7.
During his final season of 1971, Collins had the third lowest reception total of his career with 15 grabs, 231 yards and three touchdowns.
Cleveland returned to the playoffs, but lost once again to the Colts 20-3 in the Divisional Playoff game.
After the '71 season Collins announced that he would retire unless he was traded to either the Washington Redskins or the New York Jets.
Neither team was able to work out a deal and Collins announced his retirement from the NFL.
However, he didn't stay retired long.
In 1974, the upstart World Football League began and Collins joined the Florida Blazers team as a player and coach.
Florida Blazers vs Birmingham Americans (WFL 1974) pic.twitter.com/tsWRLO56aC

— 𝙃𝙚𝙡𝙢𝙚𝙩 𝘼𝙙𝙙𝙞𝙘𝙩 (@HelmetAddict) December 20, 2016
He then retired for good after the '74 season.
In Retirement…
Collins ended his pro football career with enough accolades to make anyone stand up and take notice.
As a Brown, Collins had 335 receptions, 5,299 receiving yards, and 70 touchdowns.
He also finished with a hefty 41.0 yards per kick average as a punter.
During four of Collins' seasons, he scored 10 or more touchdowns.
He was named to the NFL's 1960s All-Decade Team, made two Pro Bowls (1965 and 1966), and was named All-Pro three times (1965, 1966, 1969).
Collins also leads Cleveland in career receiving touchdowns with 70.
A member of the NFL's 1960s All-Decade team, he still holds the #Browns franchise record for receiving touchdowns #HBD Gary Collins pic.twitter.com/dRXzt938Uc

— Seb ⚔️🏈⚾️⚽️🐏🇨🇦 (@CJ28MTL) August 20, 2017
After leaving the game of football, Collins eventually married in 1980 and had two children.
At various times in the past 40+ years, Collins has been a college football coach, worked as an insurance agent, and did some broadcasting.
He is currently living the good life in Hershey, Pennsylvania.
And, despite all he accomplished in 10 years as an NFL player, you won't catch Collins tooting his own horn.
"I don't wake up in the morning and think, 'Geez, I was a really good football player, and we shut out the Colts for the NFL championship, and I ought to be in the Hall of Fame,'" Collins said in 2011. "All of that ego stuff is gone."