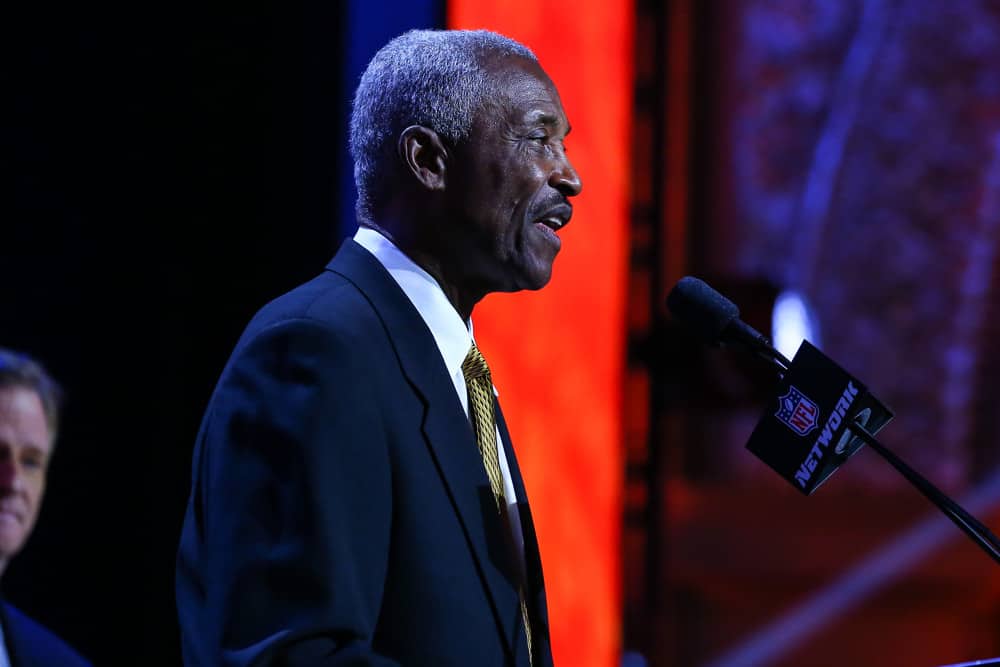 When the Cleveland Browns franchise began play in 1946, they were loaded with talent.
Quarterback Otto Graham paced the team along with running back Marion Motley and receivers Mac Speedie and Dante Lavelli.
This unit rolled through the 1940's and early 50's, winning numerous championships and never posting a losing record.
However, even though Jim Brown led Cleveland to new heights from the mid-to-late 50's, the receiver position lacked consistency.
By the mid 1960's, Lavelli and Speedie had long since retired and the Browns were stuck at mediocre.
With defenses keying on Brown, Cleveland missed the postseason from 1959-1963.
That changed when the franchise re-loaded with talent by focusing on pass catchers in the 1962 and 1964 NFL drafts.
In 1962, Cleveland selected Maryland receiver Gary Collins with the fourth pick in the draft.
Then, in 1964, the Browns nabbed local product Paul Warfield from Ohio State with the 11th pick.
Collins and Warfield would guide the Browns to multiple championship game appearances, including the '64 title.
LTD Ultimate Legend Paul Warfield:https://t.co/tgJLjB8STT
. pic.twitter.com/2hjcH6LhpQ

— Muthead (@Muthead) July 14, 2018

Warfield would eventually make a name for himself as one of the best at his position as well as a trailblazer for future receivers.
His game was predicated on big plays that called on his speed, jumping ability, and elusiveness.
Warfield's accomplishments were numerous, and he would later find himself voted into the NFL Hall of Fame.
This is the story of the life and out-sized career of Paul Warfield.

Native Son
Paul Dryden Warfield was born in Warren, Ohio on November 28, 1942.
Warfield's athletic talents were evident by the time he entered high school.
As a freshman at Warren G. Harding High School, Warfield competed in baseball, track and field, and football.
However, he did not plan on playing on the gridiron in high school.
If not for a chance meeting, Warfield wouldn't have become the legend he is known for today.
As he was getting ready to leave middle school, Warfield's football coach made all his players meet with the new football coach at Harding High.
In an interview with the Browns Club 46 in 2019, Warfield said the encounter affected him greatly.
"It was a life-changing experience," Warfield said. "In 15 minutes of listening to this new head coach, I got the feeling that one would have watching a television promotion. And it really stuck with me."
So, Warfield continued to play the sport in high school, and he quickly saw the benefits of his decision.
As a running back and defensive back for the Panthers, Warfield was a menace.
After joining the varsity team as a sophomore, Warfield tore through the competition in his junior and senior years.
As a junior in 1958, he scored 92 points during the season.
That season was highlighted by a 6-0 upset over state power Massillon High School.
In his senior season of 1959, Warfield scored 93 total points, including three touchdowns in the final game of the Panthers' season.
During his prep career, Warfield ran for 810 yards and 15 touchdowns. He also excelled in track and field.
In 1958, he was the Ohio High School Athletic Association Class AA broad jump champion.
In the spring of 1960, Warfield set a Class AA state record in the 180-yard hurdles.
When it came time to make a college decision, Warfield chose to stay close to home and attend Ohio State.
He was about to embark on a collegiate athletic display that is still talked about today.

Ohio State
Warfield's arrival at Ohio State couldn't have been timed better.
In 1960, the Buckeyes, led by legendary coach Woody Hayes, finished 7-2.
Already a strong team that boasted fullback Bob Ferguson, Warfield appeared to be the missing piece the team needed.
In 1961, Warfield, still playing both running back and defensive back, rushed for 420 yards and five touchdowns.
He also caught nine passes and added another score.
That season, Ohio State finished with an undefeated 8-0-1 record.
The team was then awarded the National Championship by the Football Writers Association of America.
In 1962, Warfield ran 57 times for 367 yards and a 6.4 yards-per-carry average and two touchdowns.
He added two more scores that year as a receiver.
During the 1963 college season, Warfield tacked on 260 yards to his career totals along with one touchdown.
He was lethal as a receiver as well, grabbing 22 passes for 266 yards and three touchdowns.
After both the 1962 and '63 seasons, Warfield was named First-team All-Big Ten.
He was also named a First-team All-American after the 1963 season.
Not only did Warfield thrive as a football athlete at Ohio State, but he also made a name for himself as a spectacular track and field standout.
As a Buckeye, Warfield competed as a broad and long jumper, hurdler, and sprinter.
During his sophomore track and field season, Warfield was the NCAA runner up in the long jump.
He also had a personal best in the broad jump with a distance of 26 feet, two inches.
Warfield's track and field bona fides were enough that he nearly made a run at the 1964 Tokyo Olympics.
"It's a chance to represent your country, and a chance to compete on the world basis," Warfield said. "If I had been lucky enough to stand on the stand of one of those three places, that's a very special honor."
After passing on the chance to participate in the Olympic trials, Warfield focused on the upcoming NFL Draft.
Due to a college career that saw him accumulate 1,572 total yards along with 14 scores, NFL teams salivated over the prospect of Warfield on their team.
Although they already had the venerable Jim Brown as their primary running back, the Browns had great interest in Warfield and were ready to pounce.

Catching Lightning in a Bottle in 1964
The Browns couldn't believe their good fortune.
Sitting at number 11, Cleveland doubted Warfield would still be on the board when it came time to pick.
Washington needed a back, but selected Arizona State's Charley Taylor with the third pick.
Surprisingly, Warfield was still available when Cleveland's selection arrived.
The team then made a no-brainer decision, and Warfield became a Brown.
"I'm sitting by my radio, and all of the sudden, my name is called," Warfield said. "So, I'm elated. My favorite team is going to draft me. This is unbelievable. So, it all worked out."
Initially, the Browns were going to use Warfield as a defensive back.
However, his undeniable talent as a runner and pass-catcher led coach Blanton Collier to change his mind.
As it turned out, the decision would be right on the money.
In 1964, Warfield and the Browns made short work of their competition and ended the season with a 10-3-1 record.
Warfield had zero issues transitioning to the pro game.
By the end of the '64 season, he had hauled in 52 passes for 920 yards and nine touchdowns.
"Old Days"the Cleveland Browns ,Great Wide Reciever,Paul Warfield pulls in a pass against the NY Giants in a 1964 Game at Yankee Stadium.#NFL #Browns #Giants #Cleveland #NYG #1960s pic.twitter.com/2vyJY9HZLm

— Tom's Old Days (@sigg20) July 18, 2018
Warfield's speed stretched the defense, especially with his 17.7 yards per catch.
With Warfield and Collins at the receiver spots, and Brown terrorizing opponents on the ground, Cleveland returned to the NFL title game.
The hype leading up to the game rivaled that of today's Super Bowls.
According to oddsmakers, the Browns had no chance against the mighty Colts.
Cleveland entered the game as seven (and as much as 27) point underdogs.
The Browns paid no attention to the slight and put on an offensive display during the game.
After a first half where neither team got on the scoreboard, the Browns went off in the second half.
Collins caught three touchdown passes, and Lou "The Toe" Groza made a couple of field goals.
Cleveland blanked the Colts 27-0.
For his part, Warfield was bottled up most of the game and only caught one pass for 13 yards.
That didn't matter in the long run, however.
As a rookie, Warfield was an NFL champion, a newly minted First-team All-Pro, and he was also selected to his first Pro Bowl.
Things would only get better from there, though not at first.

Injury, then Stardom
Every year from 1934-1976, the reigning NFL champions would play a team of college all-stars in Chicago.
That's where Warfield and the Browns found themselves a few weeks after winning the 1964 championship.
During the game, Warfield broke his collarbone and missed nearly the entire 1965 season.
He came back near the end of the regular season in time to collect three passes for 30 yards.
The Browns returned to the NFL Championship game, and Warfield caught two passes for 30 yards.
Unfortunately, Cleveland lost to Green Bay 23-12.
Finally healed from his collarbone injury, Warfield once again became a contributing member of the team.
In 1966, he caught 36 passes for 741 yards and five scores.
The Browns made it to the NFL Conference Championship game against the Cowboys in 1967.
That season, Warfield had 32 passes for 702 yards and eight touchdowns.
During the Conference Championship game, Warfield caught a 75-yard touchdown pass.
However, it didn't help the Browns in the long run as they were blown out by Dallas 52-14.
Paul Warfield #42
Vintage #Browns pic.twitter.com/1PwqjHMCvG

— Vintage Browns (@VintageBrowns) August 7, 2019
In 1968, Warfield hauled in 50 passes for 1,067 yards and 12 touchdowns.
That season would prove to be his career-best in terms of stats.
For his efforts that year, Warfield was voted to his second Pro Bowl and was, again, named a First-team All-Pro.
The Browns faced the Cowboys again for the 1968 NFL Conference game.
This time Cleveland took down the Cowboys 31-20.
Then, in a sharp reversal from only four years before, the Colts shut out the Browns 34-0 in the NFL Championship game.
Despite the setback, Warfield did his best to help the team during the playoffs that season, posting six catches for 116 total yards.
In 1969, Warfield was voted to his third Pro Bowl and was named First-team All-Pro for the third time after grabbing 42 passes for 886 yards and 10 touchdowns.
He also caught 12 total passes for 146 yards during the playoffs that season.
For the third year in a row, the Browns faced off against Dallas in the NFL Conference Championship game.
After blowing out the Cowboys 38-14, Cleveland lost to Minnesota in the NFL Championship 27-7.

Warfield becomes a Dolphin
Heading into the 1970 season, the Browns wanted to upgrade the quarterback position to get younger.
Looking at the order of the '70 NFL Draft, Cleveland proposed a trade to Miami for their third pick.
Miami had no problem with the proposal…as long as Cleveland gave them Warfield to seal the deal.
Although the Browns wanted to keep Warfield, their quarterback need proved too great.
The trade was green lit, and suddenly Warfield was on his way to southern Florida.
"I have to admit going to Miami was not a place I desired to go," said Warfield years later.
The move proved to be a boon for the Dolphins. Not so much for the Browns.
With their newly minted third pick, Cleveland selected Purdue quarterback Mike Phipps.
Phipps would be an unreliable quarterback for the Browns, and he was eventually shipped to the Bears in 1977.
On the flip side, Warfield became a key member for a Miami team that was about to become a dynasty.

Immediate Dividends
Then Dolphins head coach Don Shula was ecstatic to get Warfield.
He was a fan of the receiver and believed his deep threat skills would put the Fins over the top.
According to Shula, Warfield was, "a real thoroughbred, equal to the best in the game."
Paul Warfield pic.twitter.com/EGPRrRZfwN

— Derrick Bailey (@Derrickb91) August 22, 2020
Initially, Miami fans wondered if the venerable coach had lost his mind.
In his first season as a Dolphin, Warfield only caught 28 passes for 703 yards and six scores.
However, the silver lining was that Warfield averaged 25.1 yards-per-catch that season.
That was enough for the voters to tab Warfield for his fourth career Pro Bowl.
At the end of the season, Miami lost to Oakland in the divisional round of the playoffs.
During the game, Warfield caught a 16-yard touchdown pass from quarterback Bob Griese.
However, Miami eventually succumbed 21-14.
The 1971 season was only the sixth season for the young Miami franchise.
However, Shula had assembled an amazing group of talented players.
The 1970 playoff loss to the Raiders was just a taste of things to come for the Dolphins.
With Warfield contributing 43 passes, 996 yards, and 11 touchdowns (which led the league), the Fins found themselves back in the playoffs.
After a thrilling double-overtime victory against Kansas City, Miami shut out Shula's former team, the Colts, 21-0.
Division round great performances: December 25,1971 WR Paul Warfield has 7 catches for 140 yards in 2 OT 27-24 victory at Chiefs pic.twitter.com/n5nYYV2jbZ

— Dolphins History (@DolphinsHistory) January 10, 2019
Warfield did his part during the contest, hauling in a 75-yard bomb from Griese for the game's first score.
The victory over the Colts put the Dolphins in Super Bowl VI.
Unfortunately, the team ran into a buzz saw Dallas squad that ended Miami's season 24-3.

1972
In the history of the modern NFL, no franchise has ever matched Miami's perfect 1972 season.
That year, all cylinders were firing for the Dolphins.
Warfield had 29 catches for 606 yards and three scores as he frequently set the table for the Fins ground attack.
Miami boasted no less than three stellar running backs in Larry Csonka, Mercury Morris, and Jim Kiick.
With this three-headed hydra, Warfield did not see a lot of action.
However, he effectively stretched the field to make running room for all three rushers.
Good morning and welcome to NFL Week 15!

Let's start with the legendary 1972 Dolphins and an Earl Morrall to Paul Warfield 34-yard TD pass as #FinsUp defeated #GiantsPride 23-13 in Yankee Stadium, Week 13 1972. It was the first ever meeting between the two franchises. #NFL100 pic.twitter.com/OydzxHqavH

— Ken Gelman (@kengfunk) December 15, 2019
After tearing through the regular season with a 14-0 record, Miami faced Warfield's former team in the first round of the '72 playoffs.
The game was close, but eventually, the Dolphins dispatched Cleveland 20-14.
The following week saw Miami pitted against the Pittsburgh Steelers.
Paced by their running game, Miami took down the Steelers 21-17.
For the second year in a row, Miami was Super Bowl-bound.
Former Miami Dolphin great wide receiver Paul Warfield, who was Miami's top receiver on their 14-0 undefeated NFL championship team of 1972 @MiamiDolphins pic.twitter.com/N1bFhi7qJd

— Sports Days Past (@SportsDaysPast) November 12, 2018
In Super Bowl VII, the Dolphins completed their perfect season with a narrow 14-7 victory over the Washington Redskins.
Warfield did his part with three receptions for 36 yards during the game.
After his ninth year in the league, Warfield was now an NFL Champion and a Super Bowl champion.
He was also honored with yet another Pro Bowl invitation and First-team All-Pro nod.
1973 and 1974
Here's something you don't see often.
In 1973, Warfield had 29 receptions, and almost half those receptions were for touchdowns.
Warfield's 11 scores were part of another run to the Super Bowl for Miami.
After a 12-2 regular season, the Dolphins took down Cincinnati 34-16 in the Divisional playoff game.
This included a 13-yard touchdown catch for Warfield.
Division round great moments: Dec 23, 1973 QB Bob Griese hits WR Paul Warfield on a 13 yard TD pass to open scoring in 34-16 win over Bengals. pic.twitter.com/X5qulg4JF6

— Dolphins History (@DolphinsHistory) January 12, 2018
Next, Miami defeated league bad boy Oakland for a 27-10 victory in the AFC Championship game.
The Dolphins were back for their third Super Bowl in as many years.
Even though they faced a tough Purple People Eaters Minnesota defense, Miami proved to be too much.
Warfield and his teammates had their second Super Bowl victory after pounding the Vikings 27-7.
During the 1973 playoffs, Warfield had a total of seven receptions for 155 yards and one touchdown.
Another Pro Bowl and First-team All-Pro honor awaited him after the season.
Although the Fins did not return to the Super Bowl after the 1974 season, they still finished 11-3 during the regular season.
Warfield did his part with 27 catches, 536 yards, and two scores, which led to his eighth Pro Bowl.
In the 1974 Divisional playoffs against Oakland, Warfield had three receptions for 47 yards and a touchdown.
However, it wasn't enough as the Raiders edged the Dolphins 28-26.
Buckeyes in the Super Bowl 🏆

Paul Warfield led the Dolphins in receiving yards in Super Bowls VI, VII and VIII 💪. He finished his career with 2️⃣ Super Bowl 💍

➕ https://t.co/7HStXJ0OdU #GoBucks pic.twitter.com/uzD4JSFFLu

— Ohio State Buckeyes 🌰 (@OhioStAthletics) February 3, 2019
Miami looked primed to keep the party rolling in 1975.
However, Warfield and some of his Dolphins teammates had other plans.

On to the World Football League
It's not a novel concept now, but in 1973, investors decided to try their hand at developing a pro football league to rival the NFL.
Very shortly, the World Football League was formed and began play in 1974.
In the 1974 WFL draft, the Toronto Northmen franchise selected Warfield with the 23rd overall pick in the draft.
During a March 1974 meeting, Toronto owner John Bassett Jr. met with Warfield, Csonka, and Kiick.
At the meeting, Bassett proposed an offer that proved too tempting.
If they joined his franchise, Bassett would pay Csonka $1.5 million over three years, $1 million to Warfield for three years, and Kiick $900,000 for three.
The amounts were unheard of at the time in the NFL, at least for Miami owner Joe Robbie.
He refused to match Bassett's offer for all three players.
Paul Warfield, Jim Kiick, and Larry Csonka pose at Liberty Bowl Stadium in Memphis TN around 1975 after the trio of former Dolphins signed with the WFL's Memphis Southmen. pic.twitter.com/oMrOJ1swk6

— Sports Days Past (@SportsDaysPast) March 28, 2020
Since the three teammates had a year left on their Miami contracts, they played with the Fins for the '74 season.
Then, at the conclusion of the season, all three got ready to suit up for Toronto.
First, there was a slight setback when the team relocated to Memphis before the 1975 season.
The fledgling league also appeared headed for bankruptcy as some teams folded or relocated as Toronto had.
By October of '75, the newly renamed Southmen were sitting in second place with a 7-5 record.
Warfield was having a decent season with 25 receptions for 422 yards and three touchdowns.
Sadly, the WFL's financial woes proved to be too great, and the league folded before the season could end.
Back to the Browns
When the WFL folded, Warfield told the media that he would be interested in coming back to Cleveland if the Southmen were not invited to play in the NFL.
The league had no interest in Memphis, and Browns owner Art Modell was more than happy to bring Warfield back.
In 1976, Warfield grabbed 38 passes for 613 yards and six touchdowns.
The Browns finished 9-5 but didn't make it to the playoffs.
The 1977 season would be Warfield's final year as a pro.
After collecting 18 receptions for 251 yards and two touchdowns, Warfield hung up his cleats.
In 13 seasons, Warfield hauled in 427 total passes for 8,565 yards and 85 touchdowns.
He is ranked second in Brown's history with 271 receptions for 5,210 yards and 52 scores.

Accolades and Life after Football
In 1983, Warfield was voted into the Pro Football Hall of Fame.
He was voted in on the strength of eight career Pro Bowls, six First-team All-Pro selections, one NFL championship (1964), and two Super Bowl victories (1972 and 1973).
Paul Warfield is one of the 10 wide receivers selected to the #NFL100 All-Time Team!

🏈 2x First-Team All-Pro, 8x Pro Bowl selection
🏈 2x Super Bowl Champion, 1964 NFL Champion
🏈 427 receptions, 8,565 receiving yards, 85 receiving TDs
🏈 Averaged 20.1 yards per reception pic.twitter.com/giOXNkxPOV

— NFL (@NFL) December 21, 2019
Warfield has also been placed in the Browns Ring of Honor as well as the Dolphins Honor Roll.
The NFL further recognized him by naming Warfield to the 1970s' All-Decade Team and the 100th Anniversary All-Time Team.
After earning a master's degree in Telecommunications from Kent State in 1977, Warfield spent time as a sportscaster for WKYC in Cleveland.
He then became the Director of Player Relations for the Browns from 1981-1987.
In 2004, Warfield was brought in to be Senior Advisor to the General Manager, a position he held until retiring in 2010.
After spending years in the NFL as a player and executive, Warfield is currently living the quiet life in Rancho Mirage, California.