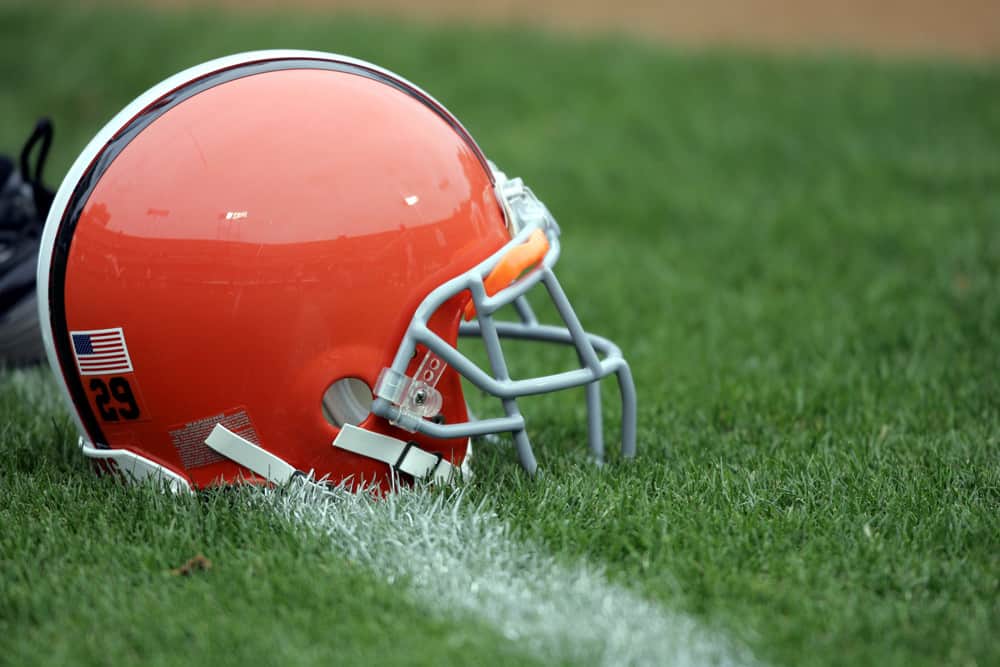 In late June of 1986, the Cleveland Browns were a month away from the start of their training camp.
The '86 season promised to be a breakout year for the team.
The Browns finished 1985 with a 8-8 record and a close loss to the Miami Dolphins in the playoffs.
With their core nucleus of players, Cleveland looked poised to make the next step toward an elusive Super Bowl berth.
That core group of athletes included budding superstars on the defensive side of the ball.
In only a few short years, Cleveland had drafted or signed Chip Banks, Hanford Dixon, Frank Minnifield, and Eddie Johnson.
Added to the mix was their first-round draft pick from 1984, safety Don Rogers.
Rogers was beginning to make a name for himself on the field.
In the '85 playoff loss to the Dolphins, Rogers had intercepted a Dan Marino pass to kill a Miami scoring drive.
With Dixon and Minnifield manning the corners and Rogers patrolling the middle of the field, the Browns defensive backfield was a force to be reckoned with.
During the summer of '86, Rogers was in perpetual motion.
While training for the upcoming NFL season, he was also wrapping up his studies at UCLA, where he had played in college.
He was set to be married on June 28 and start the next chapter of his life.
However, that life tragically ended the day before his wedding when he died of an apparent heart attack.
1986 Don Rogers, safety for Cleveland Browns, died of heart attack #onthisday @nfl @Browns pic.twitter.com/6kGhVIG54W

— #OnThisDay (@Iain_McDougall) June 27, 2015

This is the story of the career, and devastating death, of Don Rogers.
A King of Sacramento
Donald "Don" Lavert Rogers was born on September 17, 1962 in Texarkana, Arkansas.
When he was a young boy, the Rogers family moved to Sacramento, California.
Rogers' athletic talent was on display early.
At Norte Del Rio High School in Sacramento, he played football, basketball, and baseball and earned All-City honors in each sport.
Rogers chose football as his primary sport when he accepted a scholarship to attend the University of California, Los Angeles (UCLA).
As a Bruin, he didn't waste time in establishing himself as one of the best safeties in the country.
Beginning with the 1981 season, Rogers' interception total rose each year along with his skills in the secondary.
In '81, Rogers snagged three picks for 10 return yards, followed in 1982 with four INTs for 66 return yards.
UCLA ended up playing in the Rose Bowl in January of 1983 against number 19 Michigan.
During the game, Rogers hit Wolverines starting quarterback Steve Smith hard enough to separate Smith's shoulder, which led to him leaving the game.
For his play that day, Rogers was named co-MVP along with Bruins quarterback Tom Ramsey.
@Clark8Chris It was there that UCLA beat Michigan 24-14 in the 1983 Rose Bowl Game. pic.twitter.com/mDfx2gIVeD

— Mind Blowing Sports Facts (@Gr8SportsFacts) January 24, 2015
During the 1983 season, Rogers shined as the Bruins team took a step back.
That year, he hauled in seven picks for 81 return yards and a touchdown.
The Bruins finished 6-4-1, but ended up returning to the Rose Bowl to play Illinois.
Despite facing a number four ranked Illini team, UCLA dominated the game from start to finish.
In the midst of the 45-9 upset, Rogers intercepted Illinois quarterback Jack Trudeau twice.
• Thirty-six years ago today, one of the greatest seasons in @IlliniFootball history came to a disappointing conclusion as UCLA beat Illinois in the 1984 Rose Bowl. pic.twitter.com/537yhmFtWL

— Mike Pearson (@illinilegends) January 3, 2020
His two picks that day tied eight other Rose Bowl participants (and would later be tied by four more).
Rogers garnered All-American honors during his playing career at UCLA.
Understandably, his name was on the short list of players to be drafted early in the 1984 NFL Draft.
Numerous teams were interested in the talented 6'1", 206 pound safety.
When he fell to Cleveland and the 18th pick of the 1st round, the Browns pounced.
Rogers would be part of the already talented Browns defensive backfield and looked to be a consistent contributor for years to come.
Rogers Fulfills his Promise in Cleveland
Not long into his tenure as a Brown, coaches quickly saw that Rogers could hold his own as an NFL safety.
In 1984, he started 14 of 16 games and, though he only collected one INT, played well enough to be named the league's Defensive Rookie of the Year.
Rogers continued to prove his worth in 1985 as the team finished 8-8 and faced the Dolphins in the Divisional Round of the AFC playoffs.
During the game, Rogers stepped in front of a Dan Marino pass and returned the interception 45 yards.
The Browns looked well on their way to an AFC title game matchup with New England when they led Miami 21-3.
However, the Fins and Marino stormed back and eventually broke Cleveland's hearts with a 24-21 comeback victory.
Although the Browns lost that day, NFL fans saw a juggernaut on the horizon.
Cleveland was a young team with a ton of promise.
1986 would surely be the team's year to push deeper into the playoffs and, perhaps, make it to their first Super Bowl.
League insiders were not only sure of a Browns return to glory, they could also see the promise of Rogers.
In only two short years he proved he belonged as a key member of the Dawg's defense.
His presence in the secondary gave many quarterbacks (and a wary receiver) pause before throwing his way.
Going into the offseason before the '86 season, Rogers prepared himself for what would be the next step of his personal and professional life.
A Life Tragically Cut Short
In late June of 1986, Rogers was a busy man.
He was set to be married to his college girlfriend, Leslie Nelson, on June 28.
Also, since he had not graduated from UCLA when he was drafted by the Browns, Rogers had been taking his remaining classes to get his degree.
In the week leading up to his wedding, he had flown from Cleveland to Los Angeles to finish the last of his college classes.
Then, he drove north to Sacramento to take part in his bachelor party.
The events of that particular evening were written about in the book One Moment Changes Everything by Sean Harvey.
In the book, Harvey says that Rogers joined his brother, Reggie, and about 20 friends at a Sacramento hotel for a quiet party.
He apparently left the party early without telling anyone and, at some point, returned to his mother's house.
Around 10 AM the following morning, Rogers screamed for help and collapsed on the floor.
An ambulance was called as he fell into a coma.
His life came to an end later that afternoon in a Sacramento hospital only hours before his wedding rehearsal.
Don Rogers died on June 27, 1986 at the age of 23.
There are few things in life that are certain, however, one belief that I will take to the grave is: If…1984 AFC DEF. ROY Don Rogers does not pass away…the CLEVELAND BROWNS are the team of the 80s. No WAY Elway goes 98 yds with #20 patrolling back there. No way. Thoughts??

— Brian Kenney (@FiveOenFuego) March 28, 2020
What Happened?
During the next few days, Rogers' family, friends, Browns teammates and fans struggled with the same question.  "Why did Don Rogers die at such a young age?"
It wasn't long after his death that the public was made aware of the cause of Rogers' passing.
Three days after his passing, a Sacramento coroner found that Rogers had 5.2 milligrams of cocaine per liter in his blood.
This amount is approximately five times the lethal level in a human being.
The coroner commented that the amount of cocaine in Rogers' system would be enough to kill an elephant.
Understandably, his family was in shock over the revelation.
"It was surprising because no one in our family could ever recall him doing any drugs," said Rogers' son in 2016. "That he would die that way is a big mystery to everyone."
To make matters worse, police were unable to find who provided Rogers with the cocaine and no one had witnessed him taking the drug before his death.
Not long after the revelation, two of his former UCLA teammates (who did not wish to be identified) told the media that they had seen Rogers use cocaine and marijuana during his final two years in college.
However, numerous close friends of Rogers at UCLA countered that they never saw him use drugs.
It was then posited that Rogers used the drug to help him escape an inordinate amount of stress.
He had long carried a willingness to help and provide for his family.
When he was young, Rogers' father was rarely present and his parents later divorced.
Rogers felt the need even then to step up and help with his younger brother and sister.
After getting drafted by Cleveland, Rogers bought a house for his mother.
He also bought cars for each member of his family after draft day.
Because he was a wealthy first round draft pick, Rogers helped various family members who were in financial difficulty.
He was there for his family again when, only about six weeks before his death, Rogers' mother suffered a mild heart attack and was hospitalized.
"Don never complained about helping his family. Never," Nelson said in an interview weeks after Rogers' death.  "But recently, he seemed worried about them. When you grow up and you never had anything and then you have the opportunity to give something to your family, that's what you're going to do. You do it regardless of whether you spend every penny in your pocket."
Rogers' friends and agent believe that he may have used the drug that day as a way to temporarily cope with the stress of providing for his family.
"He was under unbelievable pressure that last week, and he always carried the family burden on his shoulders," said Steve Arnold, an agent who represented Rogers and helped handle his finances. "I don't know, of course, but maybe he was looking for a way to escape for a while."
The day after Rogers' death (on what would have been his wedding day) his mother was hospitalized again due to a second heart attack.  She was still in the hospital on the day of his funeral.

The Aftermath
Rogers' Browns teammates were at a loss following his death, unable to comprehend that he was gone so soon.
Bernie Kosar played on the opposite side of the ball, but he could see Rogers' talent every day in practice.
"Don Rogers was one of the most magnificent players that God's created," Kosar said at the time. "No disrespect to Ronnie Lott or anybody else, (Rogers) was in that league … He was big, he was strong, he was fast, he was a fantastic person.  It was a personal and professional tragedy."
One of the last players to see Rogers before his death, former Brown Cody Risien, wondered if he could have done more to help him.
"He seemed troubled to me. And I, I always think, you know, wow, I wish I'd had said more or wish I'd have dug more," Risien said then. "You know, who knows, maybe I could have made a difference, but I always just feel sad that he seemed troubled and I wish I'd have picked up on it. He was such a talented young man and a talented player and well-liked."
It was lost on no one that Rogers' death occurred only eight days after Boston Celtics rookie Len Bias also died of a cocaine overdose.
His mother recalled a conversation she had with her son after he found out about Bias' death.
A statement Rogers made that day to his mother turned out to be a chilling foreshadow of what was to come.
"I stopped by the grocery store and someone told me Len Bias, the basketball player, died," Don had said to his mother. "Mama, I'm praying so hard that it isn't drug-related. That would just be terrible for his family if it was."
For Rogers' family, his death proved to be a terrible pain that led to their own personal struggles.
The list of ailments and misfortune for the Rogers family after his death include his brother Reggie's legal trouble after killing three teens during a drunk driving accident in 1987.
Then, Rogers' mother died of heart failure in 2000.
Reggie Rogers continued to find his way in and out of jail numerous times before his death of cocaine and alcohol consumption in 2013.
Rogers' sister, Jackie, dropped out of college at Oregon State after one year and battled substance abuse problems.
Rogers' Son Prefers to Remember his Father in a Positive Light
Rogers' son, Don Jr., has done well for himself and has stayed clear of the addiction issues that have plagued his family.
Rodgers (who changed the spelling of the family's last name) has spent the past few decades trying to figure out who his father was.
As he was only four years old at the time of his father's death, he does what he can to find out any information about his dad.
"I Google him," Rodgers said during a 2016 interview.
Rogers' (and Bias') deaths have served as a cautionary tale for young people, and athletes especially, about the perils of drug use.
Although his life and professional career was tragically cut short before reaching his full potential, Rogers' son prefers to remember his father in a positive light.
"He had a life, he was a big-time football star, and that was pretty cool."