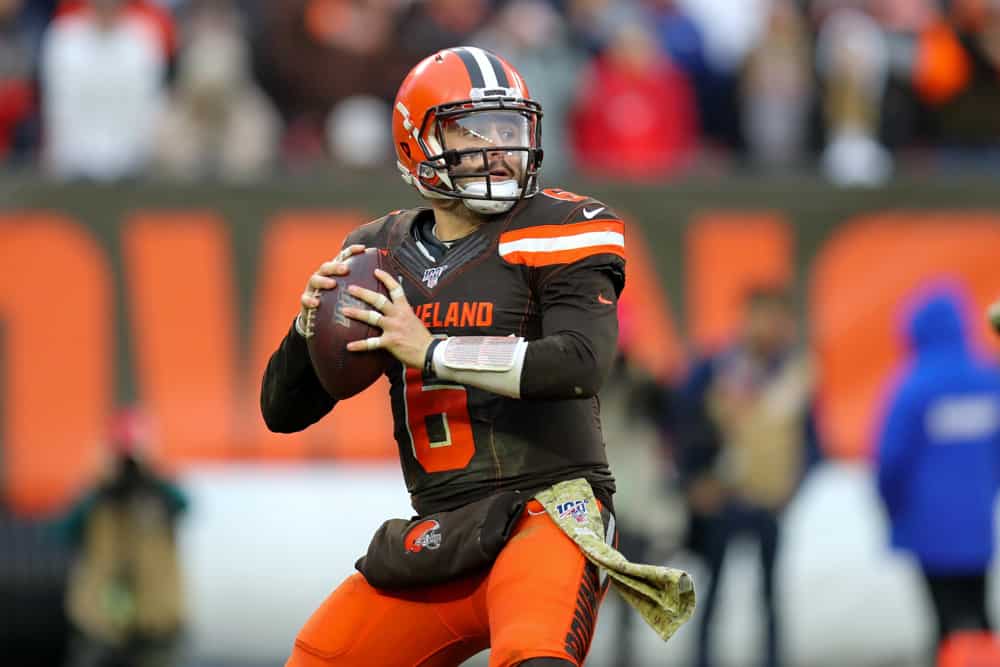 Greg Cosell is an NFL Films Senior Producer for more than 41 years and Executive Producer/Analyst for ESPN.
He admitted to Mary Kay Cabot that he has little time to watch college football so he was not familiar with Baker Mayfield until he watched his film 2 years ago.
"I didn't know a lot about him until I put the tape on because I don't get a chance to watch a ton of college football on television on Saturdays,'' Cosell told cleveland.com. "I was under the impression he was much more of a movement, run-around guy, but when I watched him at Oklahoma, he was very disciplined, very structured.

"Everything he did was fast. The ball came out quick, he was twitchy, I loved the way he dropped back, I loved the way he set, I loved the way he got rid of the football. I think everything said to me that this guy looks like he'll be a very good NFL quarterback.''
But Mayfield, he said, has the talent and now the scheme to make the playoffs in 2020 providing the team adjusts quickly.
"If all goes well, we'll be talking about Mayfield as a really good player this year,'' he said. "He'll be put up numbers and he'll be efficient. If the team ends up winning 10, 11, 12 games, I think Mayfield will be talked about again the way people thought after his rookie year, that he was on his way to being a top 10 kind of player at the quarterback position and maybe better.''
College and Rookie Year Performance
Cosell had positive impressions of Mayfield's performance at Oklahoma.
Mayfield's accomplishments in 2017-2018 were plentiful; he led the Sooners to the National Semifinals, won the Heisman, and was the first overall pick in the 2018 draft.
Baker showed quickness, discipline, and accuracy.
Cosell felt Baker was suited to a structured and disciplined system that complimented his skills.
He believed the offense built around Mayfield in his rookie year with the Browns did just that which explained his positive start.
Mayfield – Last Season
Though Cosell was quick to mention that he does not know former Head Coach Freddie Kitchens, his impression was that Baker seemed uncomfortable with what he was being asked to do in 2019.
It was almost as if that system was counter to Mayfield's strengths.
That could somewhat explain the 21 INTs Baker threw last year.
2020 Expectations
Looking forward to 2020, Cosell believes Baker's performance will be more consistent with his rookie season.
Cosell thinks Kevin Stefanski's system will better suit Baker.
Greg Cosell on #6:

"Kevin Stefanski's run heavy, play action scheme is a really, really good one for Baker Mayfield, who works best when he's in a disciplined, structured system, where his quickness and twitchiness comes out because of his quick delivery and extreme accuracy''

— BrownsFreak51 (@BrownsFreak51) June 8, 2020
He speculates that Stefanski will lead with the run game given the studs he has in the backfield; Nick Chubb and Kareem Hunt.
Furthermore, the 2 TE formations that Stefanski is known for from his Vikings tenure will be a big part of the offense.
Cosell mentions rookie TE Harrison Bryant from Florida Atlantic University could have a strong rookie season.
When asked about Alex Van Pelt working with Mayfield to change his footwork, Cosell does not see an issue with this.
He said QBs have to adjust their footwork to the mechanics of the offense.
Cosell's Parting Thoughts
Cabot asked Cosell who he felt the strongest QB of the 2018 class was at the time of the draft and if that assessment changed when looking at them in the present.
The 2018 QB draft class consisted of: Baker Mayfield, Sam Darnold, Josh Allen, Josh Rosen, and Lamar Jackson.
Cosell's film study ended up ranking Baker Mayfield 2nd in the 2018 draft class.
"I know it looks silly now, but I really liked Josh Rosen coming out and we don't know what he's going to be in his NFL career,'' Cosell said. "I think if you put Josh Rosen in the Los Angeles Rams offense, he would do what Jared Goff does, but obviously it hasn't worked out for him, so people now look at him as a bust.''
He mentioned Lamar Jackson is not really comparable because the Ravens offense is so different; it is not an apples-to-apples comparison.
Regarding the heated debate about height in the QB position, Cosell no longer believes height is a determinant for success in the NFL (which could mean that Rosen will cede the starting QB job to Tua Tagovailoa sooner rather than later).
Predictions are at best educated guesses; but one thing is certain, 2020 is a make or break year for Baker Mayfield.
The Browns appear to have put the pieces in place to give him the best chance to succeed.
Only time will tell us if all of the personnel and coaching changes achieve the desired result – a playoff run for the Browns in 2020.