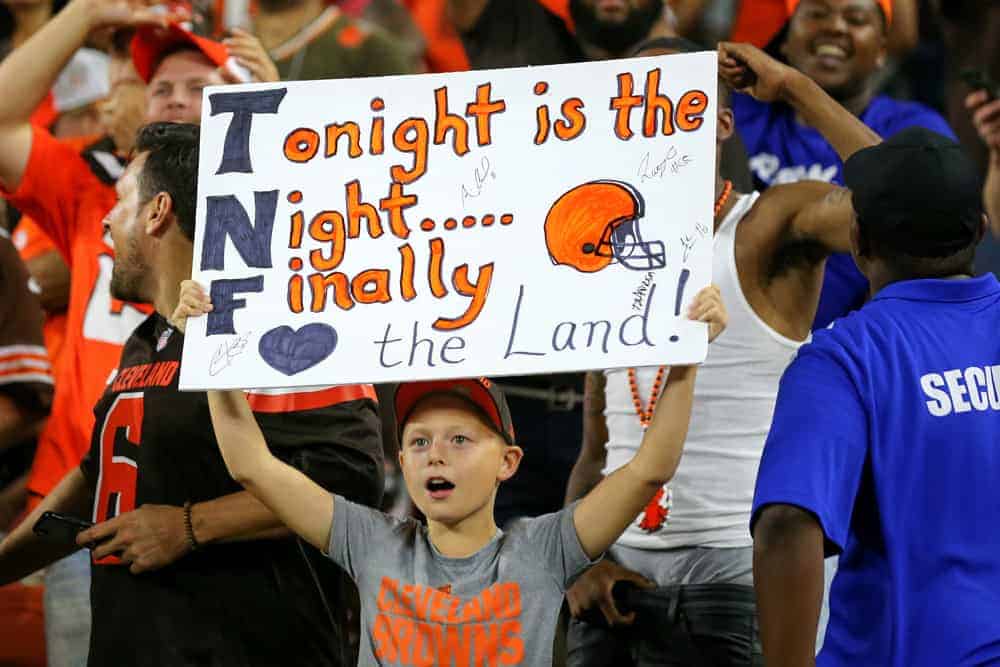 How many games did the Browns lose in a row?
Although the Browns made football history with their domination early in the history of the sport, they have made headlines more recently for an incredible bout of poor play.
Examining this situation is a rough one for many Cleveland fans, but better days should be ahead.
The Browns Did Not Win 19 Straight Games
When Cleveland beat the New York Jets 21-17 on Thursday, September 20, 2018, they hadn't won 19 straight games – their last win had been nearly two years ago when Robert Griffin III led them to a win over the Chargers in the last week of the season, averting the second ever 0-16 season.
However, 2017 was their infamous 0-16 season, one that saw the team struggle to put up any skilled competition against their competitors.
That said, the Browns losing streak was broken two weeks before this win when they tied the Steelers 21-21.
And the 2018 season turned out to be a turning point for the beleaguered team, as they went 7-8-1 and looked prime to start 2019 with a bold and young new team that could bring the Browns not only back to relevance but back to a competitive state.
This streak was a long one and fueled by a lot of bad decisions.
For example, the team was virtually without a high-quality quarterback for nearly three years.
Josh McCown was not good enough to compete at a high level. And drafting choices such as Johnny Manziel didn't pan out due to character flaws in the players.
And even promising talent like Robert Griffin III fizzled out due to injuries.
Examining the Streak in Context to Surrounding Seasons
Few could have predicted these three seasons hitting the Browns in such an awful way. In 2014, they had gone 7-9, a reasonable record for the often struggling squad, but had suffered from personnel loss that saw them go 3-13 in the next season.
With Josh McCown a journeyman at best, the addition of Manziel in 2015 was supposed to invigorate the squad and give the team two potential starters.
When Manziel's limitations as a quarterback and a person were revealed in 2016, the damage had been done.
The team then dropped every game of the season until the previously mentioned win by Griffin III.
Griffin then suffered a season-ending injury that put him out for 2017.
As a result, the team couldn't put up any fight and lost every game that year.
They then tied their first game in 2018, lost the next, and then won seven more to put this lousy stretch behind them.
But if we take 2014 and 2018 out of the equation, the amount of loss the team suffered in three years is staggering.
From 2015 to 2017, the Browns had a 4-44 record. That's a win percentage of 0.09, one of the worst in league history.
But is their 19-game losing streak the worst ever in the history of the game?
Amazingly, this stretch of poor play was only good for second place on the all-time list of losing streaks.
How This Streak Stacks Up Historically
Cleveland's 19-game winless streak matches that of the 2007-2009 Detroit Lions.
This team was the one, remember, that went 0-16 to set a high benchmark for future futility.
And while both the Lions and the Browns will be forever remembered for this record, the Browns longest losing streak is only 17 games.
As a result, the Lions had a longer streak, as did two other teams who couldn't compete.
For example, the Tampa Bay Buccaneers, an expansion team who started in 1976, had an infamous huge streak of losing starting from their very first day as a squad.
Their first season saw them post an 0-14 record and lost a further 12 straight games in 1977.
Their first franchise win came in December of that year.
The Buccaneers squad did have some Hall of Fame players, such as defensive end Lee Roy Selmon and coach John McCay.
And just two years later, they won 10 games and made it to the conference championship game.
And while the Houston Oilers (who later became the Tennessee Titans) started their career in 1960 as an expansion team, it wasn't until 1972-73 that they posted their 18-game losing streak.
Their roster was filled out with many players who didn't last long and was particularly embarrassing during a 34-0 loss in which one fan was caught sleeping.
Another low point was a 61-17 loss to the Bengals that was the worst in NFL history at the time and which remains the worst loss in franchise history.
Other teams that have lost a similar number of games include the 2015-16 Cleveland Browns (17-game losing streak that was broken only by Griffin III's win during a streak of 1-34 play), the 2008-09 St. Louis Rams (17 games), and the 1982-83 Oilers (17 games).
Pre-Super Bowl losing streams are topped by the little-remembered 1942-45 Chicago Cardinals at a staggering 29 straight losses.