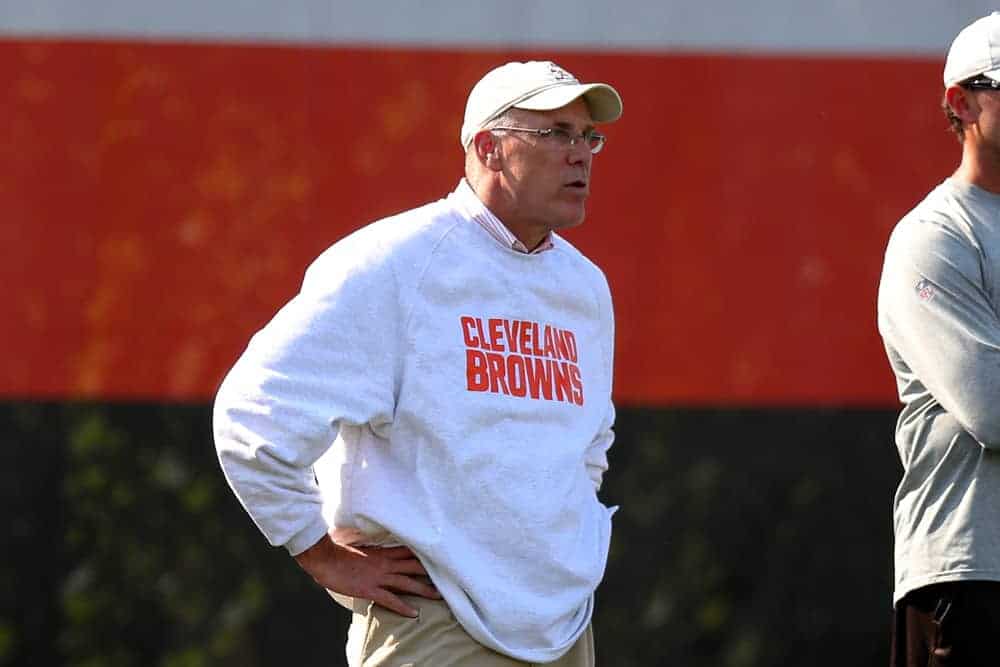 How many people have been the GM of the Cleveland Browns?
The Browns have had many general managers over the years.
Some of them have been vastly successful while the others have overseen some of the worst teams in the history of the NFL.
Paul Brown
As head coach, Paul Brown was also the general manager who made all decisions on player personnel.
Therefore, Brown has the best record of any Browns' general manager, and it isn't even close: in 16 years as a manager, Brown was 158-48-8.
Almost no other Browns general manager has a winning record, to put that level of success in context.
Harold Sauerbrei
From 1963-1973, Sauerbrei was the general manager of the Cleveland Browns.
And as he was present when the Browns had their last NFL championship win in 1964, he continued to see pretty high success with the team.
His 102-48-4 record is, by far, the second-best of the managers on this list.
From this point on, though, things go downhill for the managers.
Peter Hadhazy
Peter Hadhazy was a bit of a downgrade from Sauerbrei, but he did oversee the Brian Sipe era of the team.
With Sipe at the helm, the Browns were a mostly competitive team from 1974-1984.
As a result, Hadhazy walks away from the Browns with a 73-88 record and one of the longer times on the team among its general managers.
From this point, the time served by each generally gets much shorter.
Ernie Accorsi
Although Accorsi only served for seven years (between 1985-1991), he was able to keep the Browns relevant and essential throughout this time.
When he finished his role as executive VP of football operations and general manager, he had a winning record of 58-52.
This record makes him one of only three Browns managers to have a winning record and the last, to date, to have one.
Bill Belichick
Although Bill Belichick remains an innovative coach with the New England Patriots and the one with the most Super Bowl wins, his four years with the Browns were not significant.
As the head coach and general manager from 1992-95, he only earned a record with the Browns of 30-34.
Later on, he'd be the head coach of the Patriots, draft Tom Brady – and the rest is history.
Ozzie Newsome
Former Browns receiver Ozzie Newsome was brought in after Belichick's departure to bring things back to a winning state.
However, the infamous 1996 move to Baltimore forced Newsome to join that squad, where he remains to this day.
With the Browns in 1995, he had a 5-11 record.
With the Ravens, he earned a 200-167-1 record.
Dwight Clark
In three years with the newly created Browns (1999-2001), general manager Dwight Clark struggled to rebuild a competitive squad after the first team left Cleveland.
As a result, he went 12-36 in his three years and seems to have retired from general management since then.
Butch Davis
When Butch Davis was brought in to the Browns as a coach and general manager in 2002, it was with a reputation as a team fixer.
However, his three years with the Browns ended with an 18-30 record.
Butch Davis could do little to get the team back up to their former level.
Phil Savage
Phil Savage was another in a long line of general managers who were going to bring the Browns back to a more competitive state.
And in his four years, he did have some success, winning 24 games.
However, Cleveland still lost 40.
When he left in 2008, he had four years under his belt – since then, no manager has had more than three years to get the team back in order.
George Kokinis
George Kokinis joined the Browns as general manager in 2009 and was gone by the end of the year.
He made very few decisions that helped the team during this game, as they went 5-11 during his single year.
However, the worst was yet to come for the Browns – later on, a 5-11 season would be seen as a significant success.
Tom Heckert
Though Tom Heckert lasted three years with the Browns (2010-12), he could do little to stop their irrelevancy, as they went 14-34 under his leadership.
Michael Lombardi
Another one-year wonder for the Browns, Lombardi lasted for the season of 2013 and posted a record of 4-12.
Ray Farmer
Ray Farmer's 2014-15 tenure with the Browns also was not a success (10-22) but was a breath of fresh air compared to some of the managers listed here.
Sashi Brown
Sashi Brown's time with the Browns is one that will go down in history was the worst general management job ever.
During his tenure, the team went 1-31, which forced his untimely firing at the end of the 2017 season.
John Dorsey
When John Dorsey was hired on December 7, 2017, the Browns had just gone 0-16 to become the second team to lose all 16 games in a single NFL season.
Under Dorsey, the team bounced back to a 7-8-1 record in 2018 and is likely to become a stronger and more competitive team in 2019.