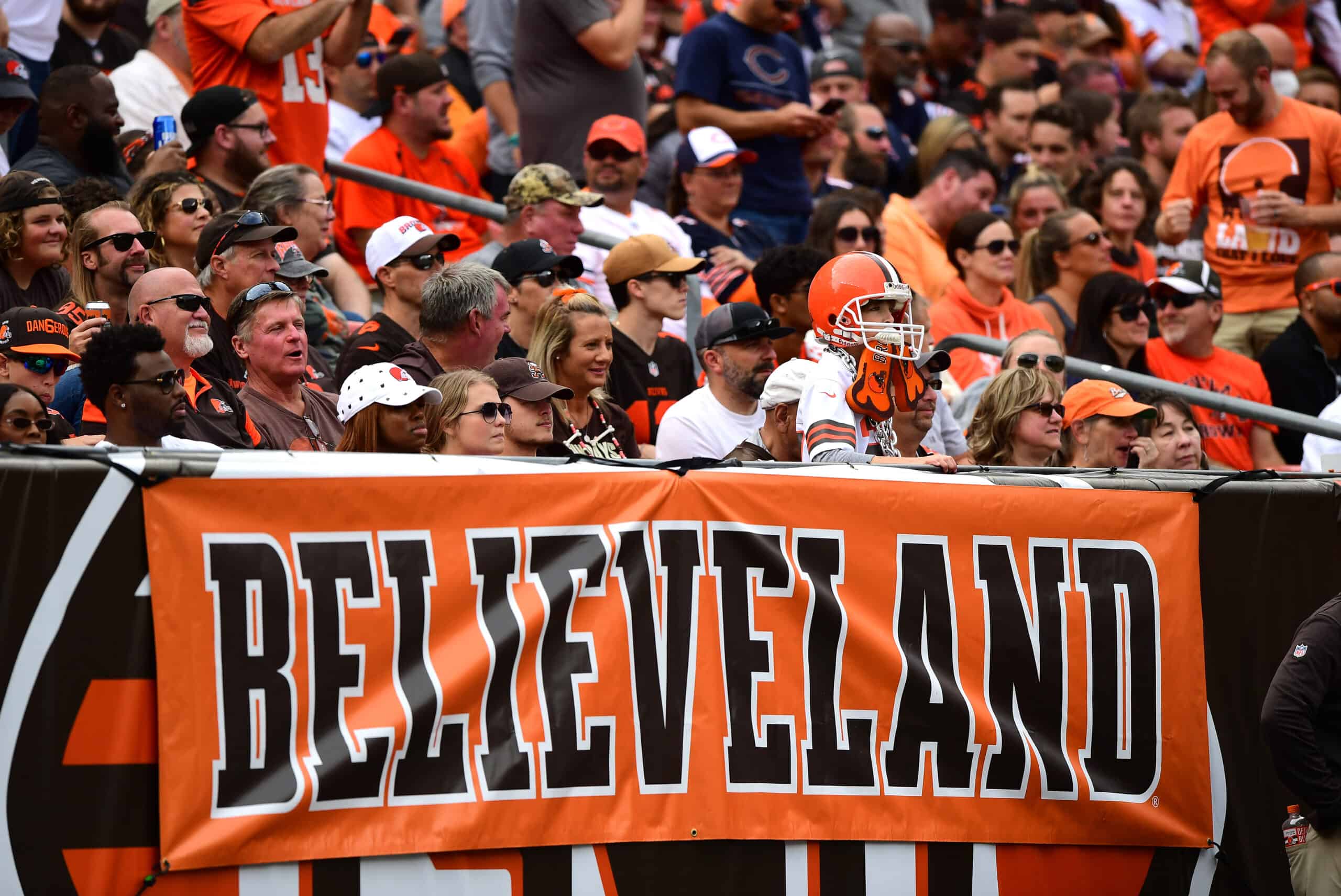 Admittedly, the Cleveland Browns are not in a great position heading into the final three weeks of the regular season.
According to the playoff odds, there is not a great chance at a postseason berth.
However, before we get into all the nuts and bolts of the playoff probabilities, let us start with some optimism.
For those Browns fans still concerned, Ted Lasso is here for you:
The @Browns can still make the playoffs. You just have to believe! pic.twitter.com/Xgy1f0QV2W

— Mikey P (@MikeyP422) December 22, 2021
There is hope for the Browns to make the playoffs and this is what this article is all about.
We are going to bring you through the ways the Browns can make the postseason.
Let us start by mentioning that Week 17 and 18 are the most important games remaining for the Browns.
It makes sense because they are both divisional matchups.
Speaking of the AFC North, it is such a packed race:
AFC North standings through Wk 15 after Browns loss to Raiders tonight
1. Bengals (8-6): vs. Ravens, vs. KC, at Browns
2. Ravens (8-6): at Bengals; vs. Rams, vs. Pitt
3. Steelers (7-6-1): at KC, vs. Browns, at Ravens
4. Browns (7-7): at GB, at Pitt, vs. Bengals

— Jeff Zrebiec (@jeffzrebiec) December 21, 2021
Not only is the division race very tight, but the majority of the conference itself is also separated by just a few games:
AFC playoff picture after 15 weeks:

1) Chiefs: 10-4
2) Patriots: 9-5
3) Titans: 9-5
4) Bengals: 8-6
5) Colts: 8-6
6) Chargers: 8-6
7) Bills: 8-6
————
Ravens: 8-6
Steelers: 7-6-1
Raiders: 7-7
Broncos: 7-7
Browns: 7-7
Dolphins: 7-7

— Ari Meirov (@MySportsUpdate) December 21, 2021
Meanwhile, the Week 16 contest is going to be difficult, but losing it does not mean the Browns are eliminated.
With all else being equal, dropping the Christmas Day contest to the NFL-best Green Bay Packers does not affect the Browns' playoff chances much.
Without further ado, let us take a look at Cleveland's playoff odds:
The Browns' Overall Playoff Odds
There is a path to the playoffs for the Browns.
New York Times and ESPN's FiveThirtyEight have Cleveland at 21 percent and 15 percent playoff probability, respectively.
With the New York Times simulator, you can play with tens of thousands of simulations at a time.
When looking at both NY Times and FiveThirtyEight, here are the results.
More than 10,000 simulations say that an 0-3 end to Cleveland's season means the Browns are out.
The same can be said for a 1-2 Browns finish.
So, that leaves us with a 3-0 or 2-1 record leading to a playoff berth this year.
So, what are the paths to the playoffs for the Browns?
CLE Has A 3-0 Record And A BAL Loss
We are three weeks away from the end of the regular season.
Let us take a look into the scenarios that Browns fans would like to see.
In a perfect world, Cleveland goes 3-0 to end 2021.
If so, any of the following standalone results will get the 10-7 Browns into the playoffs, according to the New York Times:
Bengals win vs. Ravens (Week 16)
Rams win at Ravens (Week 17)
Steelers win at Ravens (Week 18)
Unsurprisingly, they all involve Baltimore, so any Ravens loss coupled with three Browns wins means Cleveland is back in the playoffs.
For example, there is a 13 percent swing just with the Rams game against the Ravens in Week 17.
If the Rams win, the Browns will have a better chance of making the playoffs by 13 percent in comparison to if the Ravens win that contest.
So, Browns fans know that those games are the most significant in terms of scoreboard watching.
What Are The Other Teams That Can Help The Browns?
In addition to the above games, what are the other teams that can help Cleveland in Week 16?
Here are the following games in which the Browns can get help this upcoming week:
Texans win vs. Chargers
Patriots win vs. Bills
Chiefs win vs. Steelers
Raiders win at Broncos
Saints win vs. Dolphins
Browns fans have to hope for a Bills loss in Week 16.
Then, in Week 17 and 18, the Browns are hoping the Bills can continue to lose:
Falcons win at Bills (Week 17)
Jets win at Bills (Week 18)
So, there is the rooting guide for Browns fans.
It may change in some ways after Week 16 is complete.
For now, there are a lot of scenarios that can help Cleveland, but Week 16 will reveal a good amount about the playoff picture.