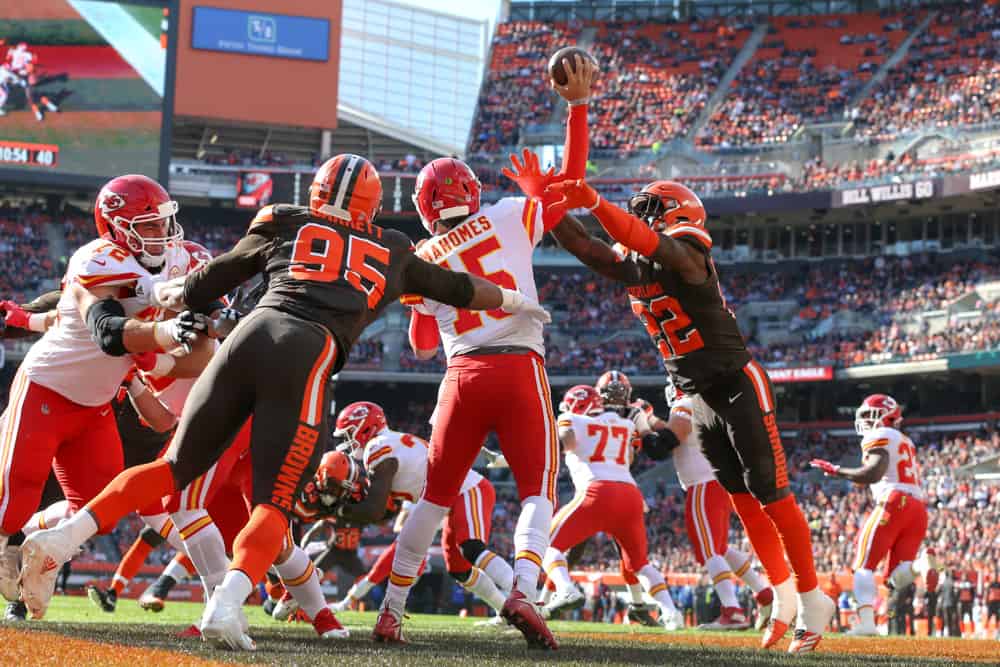 The Cleveland Browns have advanced to the second weekend of NFL playoffs.
See you in the divisional round, @Browns! #ShowtimeCam pic.twitter.com/14W0EKHpHs

— NFL (@NFL) January 11, 2021
In what has been a dismal 2020, the Browns remain one of the lone bright spots.
After handily defeating the Pittsburgh Steelers on wildcard weekend, the challenge gets bigger.
Next up is the defending Super Bowl Champions, the Kansas City Chiefs who were home resting on a bye last week while the Browns were earning their way into the second round.
The Browns are 10 point underdogs, but that is not unfamiliar territory for this team.
Here are the details for watching, listening, and streaming the game.
How To Watch Browns Vs Chiefs
The game airs on CBS at 3:05 pm EST on Sunday, January 17, 2021.
Commentators for the game will be Jim Nantz and Tony Romo.
Tracy Wolfson will report from the sidelines.
How To Listen to Browns Vs Chiefs
The three flagship stations for Browns football are:
On satellite radio, the SiriusXM Browns broadcast station is Channel 388.
Outside of Cleveland, the Browns radio affiliates are:
Akron
WAKR – 1590 AM
Akron
WONE – 97.5 FM
Canton
WHBC-AM – 1480 AM
Canton
WHBC-FM – 94.1 FM
Columbus
WTOH – 98.9 FM
Corry (Pa.)
WWCB – 1370 AM
Dayton
WHIO-AM – 1290 AM
Dayton
WHIO-FM – 95.7 FM
Dayton
WZLR – 95.3 FM
Dover
WJER – 1450 AM
Erie (Pa.)
WPSE-AM – 1450 AM
Erie (Pa.)
WPSE-FM – 107.1 FM
Fostoria
WFOB – 1430 AM
Geneva
WKKY – 104.7 FM
Jamestown (N.Y.)
WQFX – 103.1 FM
Lima
WWSR – 93.1 FM
Mansfield
WRGM – 1440 AM
Mansfield
WVNO-FM – 97.3 FM
Marietta
WJAW – 100.9 FM
Norman (Okla.)
KREF – 1400 AM
Sandusky
WMJK – 100.9 FM
Tulsa (Okla.)
KAKC – 1300 AM
Uhrichsville
WBTC-AM – 1540 AM
Uhrichsville
WBTC-FM – 101.9 FM
Wooster
WQKT – 104.5 FM
Youngstown
WKST – 1200 AM
How To Live Stream Browns vs Chiefs
Those interested in live streaming the game can access it on the following platforms:
Handling Mahomes Is A Tall Order
Patrick Mahomes is arguably the best young quarterback who has entered the NFL in a generation.
He can do it all with the precision and maturity of someone well beyond his 25 years.
With a savvy veteran head coach in Andy Reid, and many other weapons the Chiefs are easily the favorite to represent the AFC in the Super Bowl.
One of those weapons is a Tyreek Hill, a one-man track team.
What Can The Browns Do?
In short, they need to play their game; it's no use deviating from what got them in this position.
A big key for the Browns is also to get some players back from injury and COVID-19.
From @GMFB: After the #Browns historic win, they are getting the band back together next week vs. the #Chiefs… as many members of the organization on the COVID-19 list should be back. pic.twitter.com/XFzrcC32Pp

— Ian Rapoport (@RapSheet) January 11, 2021
Also, Coach Stefanski is expected to be back on Thursday.
Practices are important this week, something that has only sporadically occurred in the past couple of weeks because of COVID-19 protocols.
Preparation, which is one of Stefanski's fortes, will go a long way.
Mayfield's words after the Steelers win are universal for the team and the city.
"We're not satisfied. We expected to be here. We've worked extremely hard to get here … but we're on to the next one. We're not satisfied."