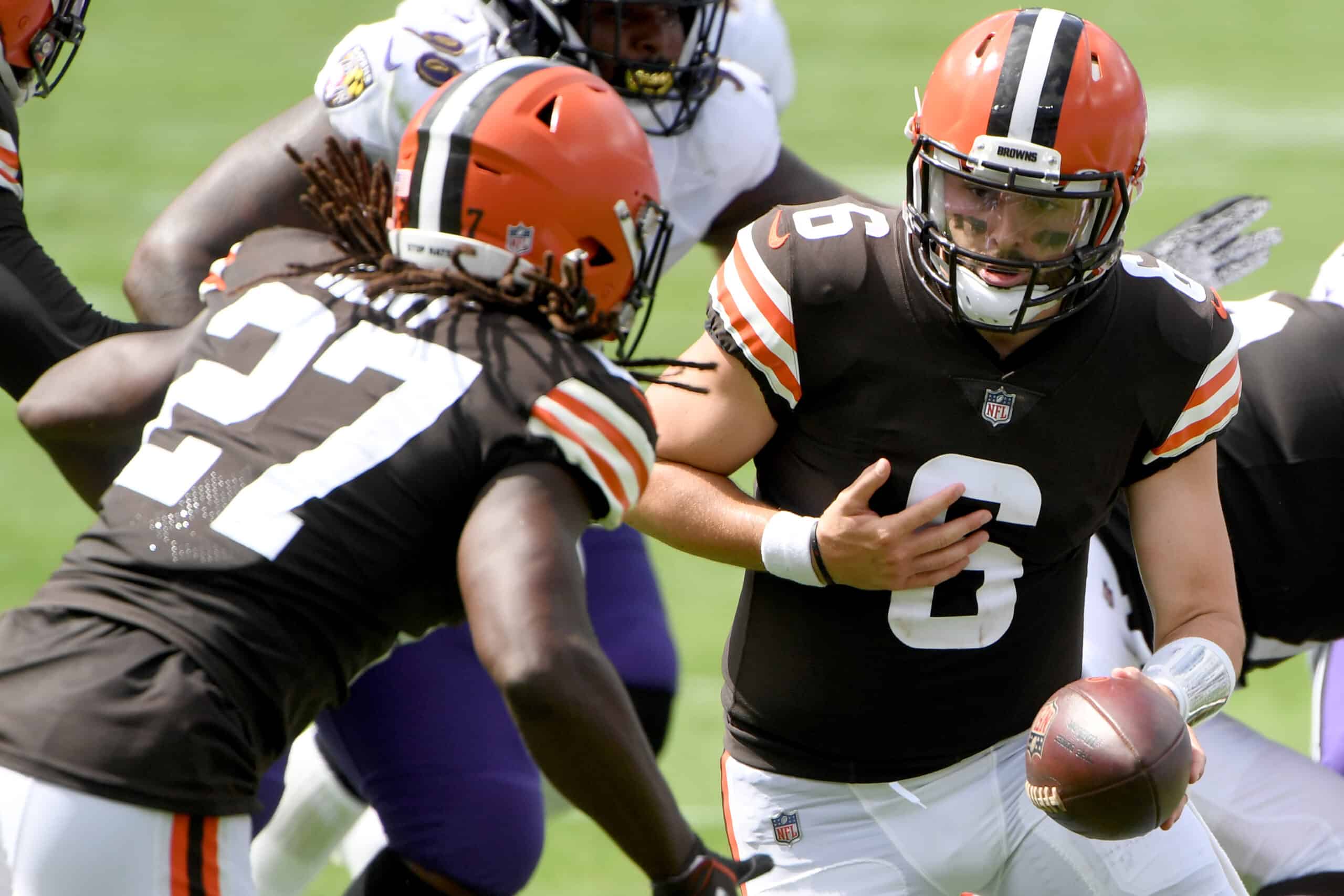 The Cleveland Browns travel to Baltimore to take on the Ravens for the first time in the 2021 season in Week 12.
This is essentially the first of a two-game series with the Ravens separated by a bye for the Browns in Week 13.
The Ravens come to FirstEnergy Stadium in Week 14.
Check out my TikTok for the keys to victory for the Browns.
How To Watch Browns Vs. Ravens
This game will be broadcast on NBC on Sunday night football at 8:20 PM EST on Sunday, November 28, 2021.
Broadcasting the game will be Al Michaels, Cris Collinsworth, and Kathryn Tappen.
How To Listen Browns Vs. Ravens
The four flagship stations for Browns football are:
On satellite radio, the Sirius XM Browns broadcast for this game is on Channel 226.
Outside of Cleveland, the Browns radio affiliates are:
Akron
WAKR – 1590 AM
Akron
WONE – 97.5 FM
Canton
WHBC-AM – 1480 AM
Canton
WHBC-FM – 94.1 FM
Columbus
WTOH – 98.9 FM
Corry (Pa.)
WWCB – 1370 AM
Dayton
WHIO-AM – 1290 AM
Dayton
WHIO-FM – 95.7 FM
Dayton
WZLR – 95.3 FM
Dover
WJER – 1450 AM
Erie (Pa.)
WPSE-AM – 1450 AM
Erie (Pa.)
WPSE-FM – 107.1 FM
Fostoria
WFOB – 1430 AM
Geneva
WKKY – 104.7 FM
Jamestown (N.Y.)
WQFX – 103.1 FM
Lima
WWSR – 93.1 FM
Mansfield
WRGM – 1440 AM
Mansfield
WVNO-FM – 97.3 FM
Marietta
WJAW – 100.9 FM
Norman (Okla.)
KREF – 1400 AM
Sandusky
WMJK – 100.9 FM
Tulsa (Okla.)
KAKC – 1300 AM
Uhrichsville
WBTC-AM – 1540 AM
Uhrichsville
WBTC-FM – 101.9 FM
Wooster
WQKT – 104.5 FM
Youngstown
WKST – 1200 AM
How To Live Stream Browns Vs. Ravens
Those interested in live streaming the game can access it on the following platforms:
Kareem Hunt Is Back
#Browns Kareem Hunt back at practice. pic.twitter.com/5DbWp05U4k

— Camryn Justice (@camijustice) November 24, 2021
There is no better news to report than Kareem Hunt returns to the Browns after a stint on IR for a calf strain.
Hunt talked about bringing the fire in his return.
He has been sorely missed.
Hunt does bring the fire and versatility that keeps opposing defenses guessing.
He can be a wide receiver, a running back, and is an excellent blocker also.
Because of their injuries, we have not had the pleasure of seeing a lot of designed plays with both Hunt and Nick Chubb on the field together.
We may finally get to see this on Sunday night, and I cannot wait.