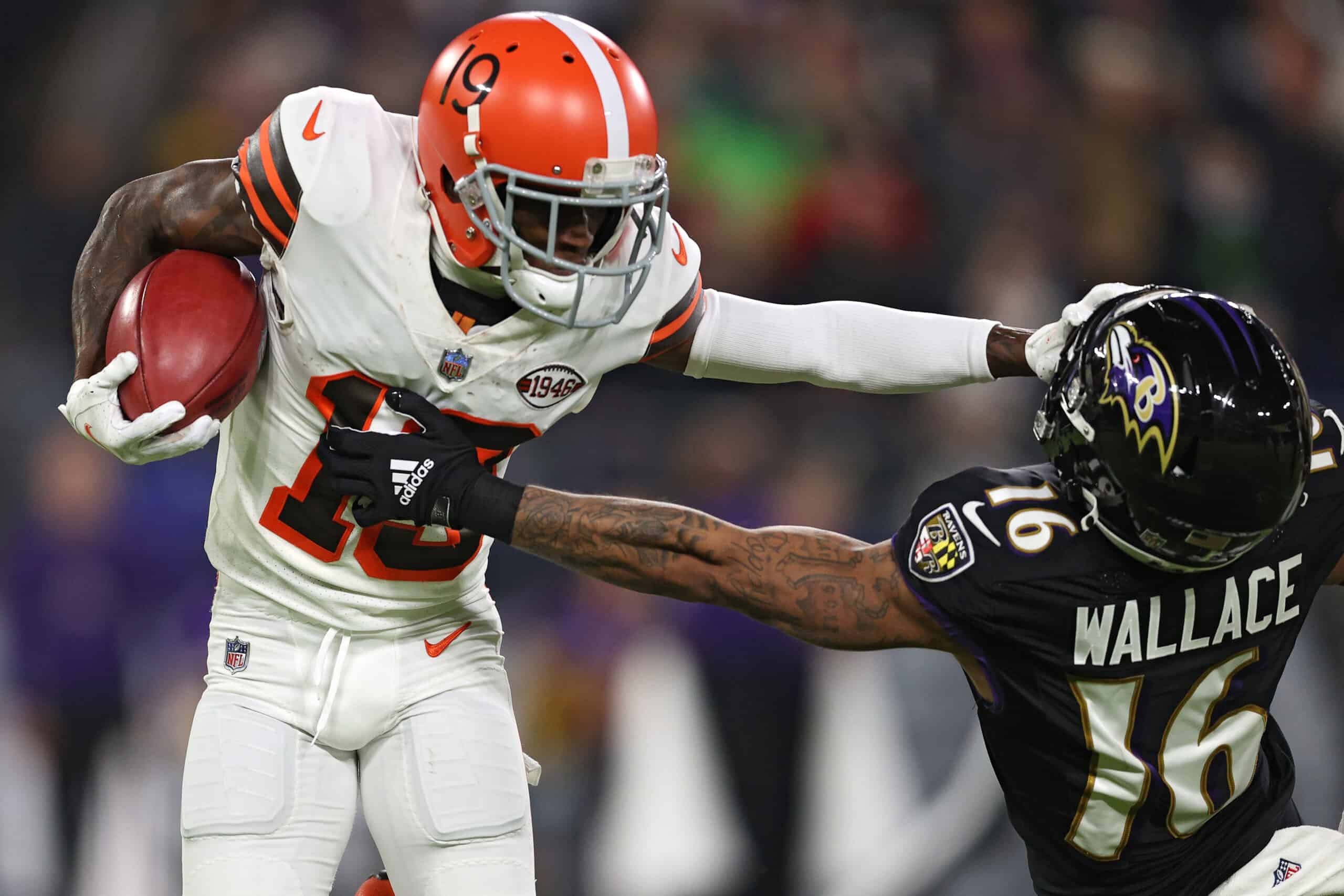 The Cleveland Browns host the Baltimore Ravens at home in Week 14.
Given how topsy-turvy the AFC North is, this game really could dictate how things go down the stretch.
Wake me up when some team decides they want to actually WIN the AFC North. pic.twitter.com/IwQa2mWxEY

— Taylor Rosen (@T_Rosen_TPP) December 10, 2021
Right now, there is not a consistent workhorse team that is performing well week in and week out.
The Ravens lead the division at 8-4, followed by the 7-5 Bengals, the 6-6-1 Steelers, and the 6-6 Browns.
The Browns can begin their ascent in the AFC North on Sunday with a win.
Here are the details of how to watch, listen, and live stream the game.
How To Watch Browns Vs. Ravens 
This game will be broadcast on CBS on Sunday, December 12, 2021 at 1:00 PM EST.
Broadcasters for the game will be Kevin Harlan and Trent Green.
How To Listen Browns Vs. Ravens
The four flagship stations for Browns football are:
On satellite radio, the Sirius XM Browns broadcast for this game is on Channel 230.
Outside of Cleveland, the Browns radio affiliates are:
Akron
WAKR – 1590 AM
Akron
WONE – 97.5 FM
Canton
WHBC-AM – 1480 AM
Canton
WHBC-FM – 94.1 FM
Columbus
WTOH – 98.9 FM
Corry (Pa.)
WWCB – 1370 AM
Dayton
WHIO-AM – 1290 AM
Dayton
WHIO-FM – 95.7 FM
Dayton
WZLR – 95.3 FM
Dover
WJER – 1450 AM
Erie (Pa.)
WPSE-AM – 1450 AM
Erie (Pa.)
WPSE-FM – 107.1 FM
Fostoria
WFOB – 1430 AM
Geneva
WKKY – 104.7 FM
Jamestown (N.Y.)
WQFX – 103.1 FM
Lima
WWSR – 93.1 FM
Mansfield
WRGM – 1440 AM
Youngstown
WKST – 1200 AM
How To Live Stream Browns Vs. Ravens
Those interested in live streaming the game can access it on the following platforms:
Myles Garrett Chases History
Garrett needs just one sack to become the Browns' single-season sack leader.
He has 14 and is tied with Reggie Camp who earned 14 sacks through 16 games in 1984.
Myles Garrett has tied Reggie Camp (14.0 in 1984) for the most sacks among CLE players in a season since 1982 #CLEvsBAL #NFL

— SEAHAWKS fanatic (@ichiro998) December 5, 2021
Garrett was outspoken on Friday about the Browns' focus.
Myles Garrett says the #Browns haven't been as focused this week as he hoped coming off the bye but they still have 2 days to get it right pic.twitter.com/936McTcdhk

— Mary Kay Cabot (@MaryKayCabot) December 10, 2021
That public statement may be for the sole purpose of firing everyone up in the locker room as much as he is.
There's no problem with Myles Garrett calling guys out. That's what leaders do. Winning teams have expectations.

— Brandon Little (@BrandonLittleSI) December 10, 2021
Hopefully, it works, and the Browns run away with the victory in Week 14.