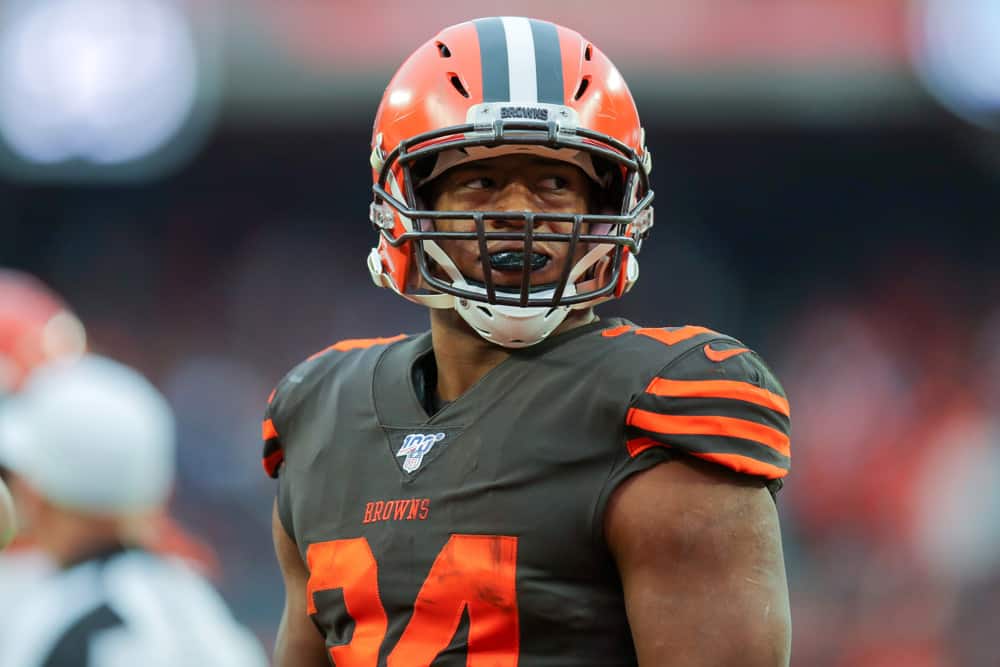 With three weeks remaining in the regular season, Cleveland's Nick Chubb currently sees himself sitting a top the NFL rushing yards list.
Leading rushers in the NFL:
1 Nick Chubb: 1,281 yards, 7 TDs
2 Derrick Henry: 1,243 yards, 13 TDs
3 Christian McAffrey: 1,220 yards, 12 TDs
4 Dalvin Cook: 1,108 yards, 13 TDs
5 Ezekiel Elliott: 1,071 yards, 9 TDs@Titans

— Jim Wyatt (@jwyattsports) December 9, 2019
If Chubb can finish the season at the top, he'd be the first Browns running back to pull off the feat since Leroy Kelly did it in back-to-back seasons in '67 and '68.
Chubb has amassed 1,281 yards through 14 weeks.
Many people thought Chubb's production would go down a bit when 2017 NFL rushing leader Kareem Hunt returned from suspension to join Chubb in the backfield.
However, his yards per game has actually increased in the five weeks Hunt has suited up alongside him.
During the first eight games without Hunt, Chubb averaged 89.2 yards per game running the ball, while during the five games when he's had to share touches with Hunt, he's gone up to 95.6 yards per game.
In the final three games, the Browns matchup against the Cardinals, Ravens, and Bengals.
When looking at the rushing yards allowed per game of those defenses, they rank 24th, 6th, and 32nd, respectively.
The first time Chubb faced the Ravens defense he ran for his season-high of 165 yards, half of which came on his season-long run of 88 yards.
And against the Bengals last week, he eclipsed the century mark for the 6th time this season with 106 yards, so it looks like he's facing a favorable trio of opponents to close out the season.
So what do Chubb's chances that he can actually finish as the rushing leader look like?
Let's take a look at the other guys that are still in contention.
2nd place: Derrick Henry – 1,243 yards (38 yards behind Chubb)
Henry has been bruising his way through defenses this season, especially the last four games.
He's ran for 599 yards in his last 4 games (149.75 YPG) to shoot up to 2nd most behind Chubb.
That just goes to show how powerful of a runner he is, because the colder it's gotten the more opposing defenders pucker up in fear of having to bring down the big-bodied back.
His final 3 opponents on the schedule are the 18th-best rushing defense in the Texans (twice) and the 5th-best rushing defense in the Saints in week 16.
As crazy as it may seem, I would not be surprised to see Henry keep up his nearly 150 yards per game pace over the last 3 games.
If he manages to do that, he may beat out all other running backs by 100 yards or more.
Chubb and Browns fans better being rooting for that 5th-ranked Saints rushing defense to slow him down, because I don't think the Texans will be able to put any holes in Henry's tires.
3rd place: Christian McCaffrey – 1,220 yards (61 yards behind Chubb)
McCaffrey's case is the opposite of what Henry's has been. He got off to a red-hot start to the season, rushing over 100 yards in all but three of his first nine games.
But in his last four games, he's only ran for an average of just under 58 yards.
And the main reason for that is the success of his team.
The Panthers haven't won a game since November 3rd.
A five-game losing streak isn't going to bode well for a running back, as his carries will dwindle if his squad is always trying to fight back into a game – which will need to be done by throwing the ball.
The final three games for the Panthers are against the 13th-ranked rushing defense in the Seahawks, the 8th-ranked Colts, and the 5th-ranked Saints.
It's going to be tough sledding for McCaffrey from here on out, so I don't foresee him closing the gap on Chubb and Henry.
There's a couple others with an outside chance to catch the top three in Dalvin Cook (1,108 yards) & Ezekiel Elliott (1,073 yards).
However, Cook hasn't rushed for over 100 yards in his last six games and is nursing an injury, and you've all undoubtedly seen how the Cowboys season has gone this year.
So barring any sort of miracle, it seems to be a two-man race between Chubb and Henry, with McCaffrey not far behind.
If Kitchens gives Chubb the ball as much as he should, I don't see Chubb giving up the top spot; but he will most likely have to go over 100 yards each of the last three games to stay ahead of Henry, who's running better than any back in the league coming down the stretch.