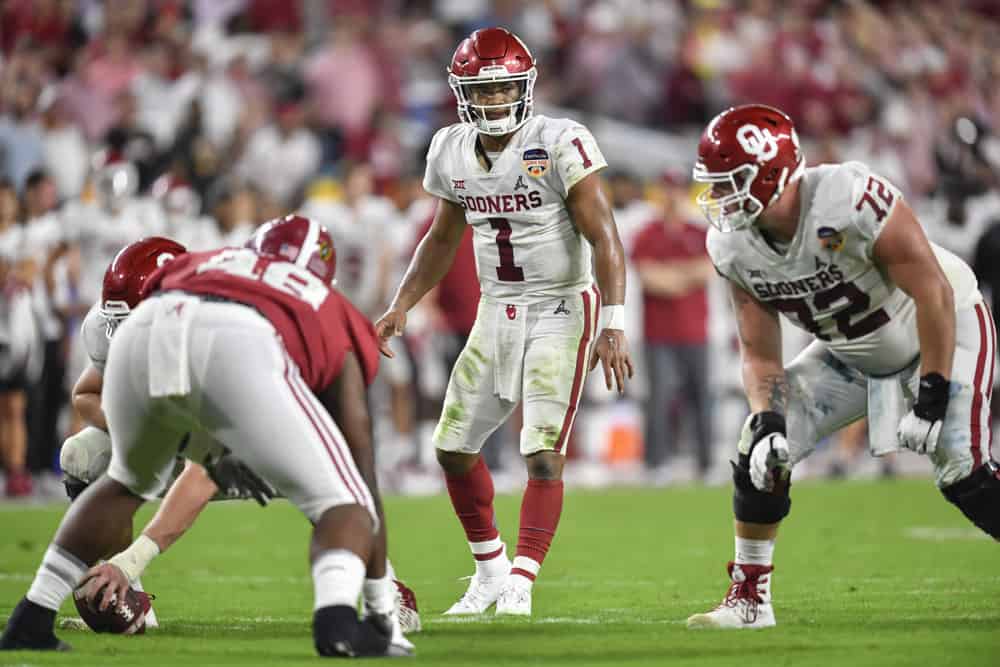 This Sunday's game will have the unique distinction of a showdown between the past two Heisman Trophy winners.
The Arizona Cardinals Kyler Murray (2018 winner) and Cleveland's Baker Mayfield (2017 winner) are also former teammates from the University of Oklahoma.
Murray was a backup to Mayfield during the 2017 season and saw limited mop-up duty during the season.
This week's matchup puts the former teammates on the same field for the first time in almost two years.
In that game, the 2018 Rose Bowl, the Sooners lost to the Georgia Bulldogs 54-48.
Both Mayfield and Murray took circuitous routes just to get to Oklahoma.
Mayfield began his college career at Texas tech University.
In 2013, he became the first true freshman walk-on to start at a BCS school.
After that season, Mayfield decided to leave Texas Tech and transfer to Oklahoma.
After sitting out a year due to NCAA transfer rules, Mayfield soon won the starting quarterback job in 2015.
His play led to numerous awards including the Heisman after his senior season in 2017.
Murray began his college career at Texas A&M in 2015.
He played well that year despite competition at the quarterback position.
After that season, he announced that he would be transferring to Oklahoma.
After sitting out the 2016 due to NCAA transfer rules, he backed up Mayfield during the 2017 season.
When Mayfield graduated, Murray became the starting quarterback.
His one year at Oklahoma was filled with dazzling highlights that showcased his running and passing skills.
Murray's play helped him join Mayfield as the first quarterbacks to win the Heisman trophy from the same school in back-to-back years.
As NFL signal-callers, Mayfield and Murray began their careers with similar numbers.
As a rookie in 2018, Mayfield threw for 3,725 yards, 27 touchdowns, and 14 interceptions.
He finished 2018 with a completion percentage of 63.8%.
At this point of the 2019 season, Murray has thrown for 3,060 yards, 16 touchdowns and nine interceptions.
Murray currently has a completion percentage of 64.1%.
With three games remaining in the season, Murray has a chance to surpass Mayfield's 2018 numbers.
Are pressures a QB stat?

Kyler Murray's ability to evade pass rushers and Kliff Kingsberry's scheme to attempt more quick passes (TTT < 2.5 sec) has relieved pressure for the Cardinals.

The Cardinals went from allowing the HIGHEST pressure rate in 2018 to the LOWEST in 2019. pic.twitter.com/ukOVbtvwiR

— Next Gen Stats (@NextGenStats) November 28, 2019
This season, Mayfield is struggling compared to his coming out party last year.
His touchdowns barely lead his interceptions this year 15-14.
His QBR currently sits at 79.9 while his QBR in 2018 was 93.7.
However, his line has also given up more sacks this year (32) than all of last season (25).
Cleveland has a more complete team compared to Arizona as a win this weekend would put the Browns at .500 (7-7).
As a rookie this year, Murray has had an up-and-down season despite throwing for over 3,000 yards.
He began the year throwing for over 300 yards in his first two games.
Since then, he has relied mainly on his legs to carry him through offensive possessions.
Murray is quick to take off running when his pass protection shows the slightest signs of breaking down.
Unfortunately, this season has seen a lot of break downs for Arizona.
The Cards currently sit at 3-9-1 and are in last place in the meat grinder NFC West.
Both quarterbacks share accolades, Heisman's, and similar starts to their careers.
Only time will tell if these former teammates share an upward trajectory of success.
At the very least, this weekend's match-up will showcase two of the rising stars of the NFL.