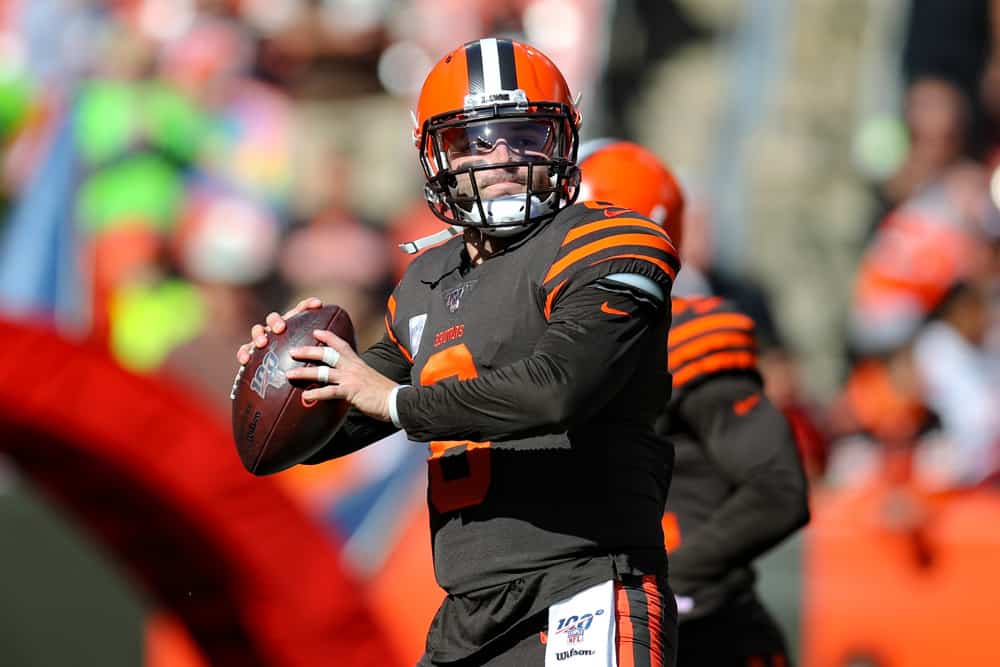 Baker Mayfield is the starting quarterback of the 3-1 Cleveland Browns.
His team leads the AFC in points scored and is a half-game out of first place.
One would think Mayfield's role as the Browns' current and future quarterback is pretty secure.
But Cleveland wouldn't be Cleveland if they were satisfied with their former Heisman Trophy winner.
#Browns Baker Mayfield was just asked if he still finds people around the city who talks about the negatives….his answer:

"Yeah, for starters, you guys."

— BrownsWave \: (@BrownsByBrad) October 7, 2020
And there are a few things Mayfield still needs to do to stop that discussion.
There is little doubt Mayfield is managing the game according to Kevin Stefanski's scheme.
At some point, the quarterback is going to have to do more.
But for now, let's take a look at Mayfield's progress and pitfalls after the first quarter of this season.
The Best About Baker Mayfield 
To paraphrase the quote, statistics don't show everything, but they show a lot.
Even with the Baltimore game on his record, Mayfield's 2020 stat line is not just better, it is pretty good.
But toss that opening game aside like Stefanski seemed to do, and Mayfield's numbers look great.
Over the past three games, Mayfield boasts a 67% completion rate with 6 touchdowns and 1 interception.
Critics might point out Mayfield's overall yardage number is unimpressive.
But he is doing what he has to do when he has to do it.
Plenty being made about the Browns' run game — and it's all well-deserved — but here's a great stat about the passing game.

Of Baker Mayfield's 35 completions over the past two games, 26 have gone for first downs.

— Andrew Gribble (@Andrew_Gribble) October 5, 2020
Three out of every four completions over the past two games have resulted in a first down.
Mayfield was among the worst when it came to throwing passes at or beyond the sticks in 2019.
Cleveland's receivers are getting open, reducing Mayfield's tight-window opportunities.
But when it came down to it, Mayfield zipped some beautiful passes into a smothered Jarvis Landry last week.
The Good About Baker Mayfield 
Mayfield is still a work in progress as far as basic drop back and shotgun passes.
But there is exceptional improvement in his decision-making in the pocket.
In the first half against Dallas, Mayfield couldn't find an open receiver and threw a pass away.
When Cleveland was nursing a lead in the second half, Mayfield twice pulled the ball down and scrambled, allowing the clock to run down.
Baker's accuracy was crazy on this throw 🎯 @bakermayfield @Browns pic.twitter.com/QfhM1JG4Wp

— The Checkdown (@thecheckdown) October 4, 2020
It is not a big sample size, but it showed he was aware of the game situation in each half and responded appropriately.
Last season's Mayfield was more likely to have forced passes into coverage regardless of the game situation.
Mayfield's 7:2 touchdown-to-interception rate is another testament to his better decision-making.
It is also notable that Mayfield's footwork on dropbacks is unremarkable despite a change in his first step.
Mayfield apparently mastered Alex Van Pelt's preferred stepping pattern without a hitch.
The Bad About Baker Mayfield 
For all the improved statistics and the Browns' surprising won-loss record, Mayfield clings to some issues.
While his dropback footwork looks good, he still gets happy feet if his first option is not readily available.
Even in his great game against Dallas, Mayfield took off 5 times in 15 pass plays from under center.
He was a respectable 12/20 on dropbacks and straight shotgun passes, but those passes were mostly shorter compared to when he rolled out by design.
Mayfield just looks uncomfortable standing in the pocket.
Lost in the fun of Browns' Victory monday was Tony Grossi taking a snipe at Baker Mayfield for having 10 or less passes in the 2nd half of both wins. Kevin Stefanski shut him down saying "the favorable formula is having a lead in the 4th quarter." Kevin Stefanski has IT. pic.twitter.com/ePAVtIvfLR

— Nick Karns (@karnsies817) September 29, 2020
He had two passes tipped and a couple of bad misses against Dallas, all on plays without designed rollouts.
One of those misses was an overthrow to Odell Beckham Jr that could have iced the game in the fourth quarter.
Beckham had a great day, but the Mayfield-to-Beckham connection is not cemented yet.
Mayfield had one great throw on the run to Beckham when the receiver came back to help the scrambling passer.
He also had a short, wide-open touchdown and a sideline pass Beckham had to leap for, eliminating any yards-after-catch possibilities.
It is still something to watch.
The Ugly On Baker Mayfield 
Not long ago, NFL quarterbacks weren't expected to do much before they had 5-6 years in the league.
Finances and rookie contracts changed that patient approach.
Baltimore showed the league how to make young quarterbacks thrive quickly.
Andrew Berry built a solid team around his passer and Stefanski groomed a game plan on his quarterback's strengths.
Lamar Jackson would not be nearly as successful if the Ravens tried to turn him into another Joe Flacco.
And Joe Burrow won't win many games without an improved offensive line.
Mayfield's future as a successful and winning NFL quarterback rests in the hands of his coach and GM as much as his own skill and drive.
During this 3 game win streak #Browns  QB Baker Mayfield is 51/76 540 yards 67.1% completion 6 TD's 1INT. pic.twitter.com/Dk3YrVAOVv

— MoreForYouCleveland (@MoreForYou_CLE) October 4, 2020
Arguably, this is the best situation Mayfield has found himself in three seasons.
We'll see what challenges Mayfield conquers in the games ahead.
Can he pass the team to victory; can he bring the Browns back from behind… we'll see soon enough.
But if he maintains confidence in himself and in Stefanski's game plan, Mayfield can be the current and future quarterback of the Cleveland Browns.