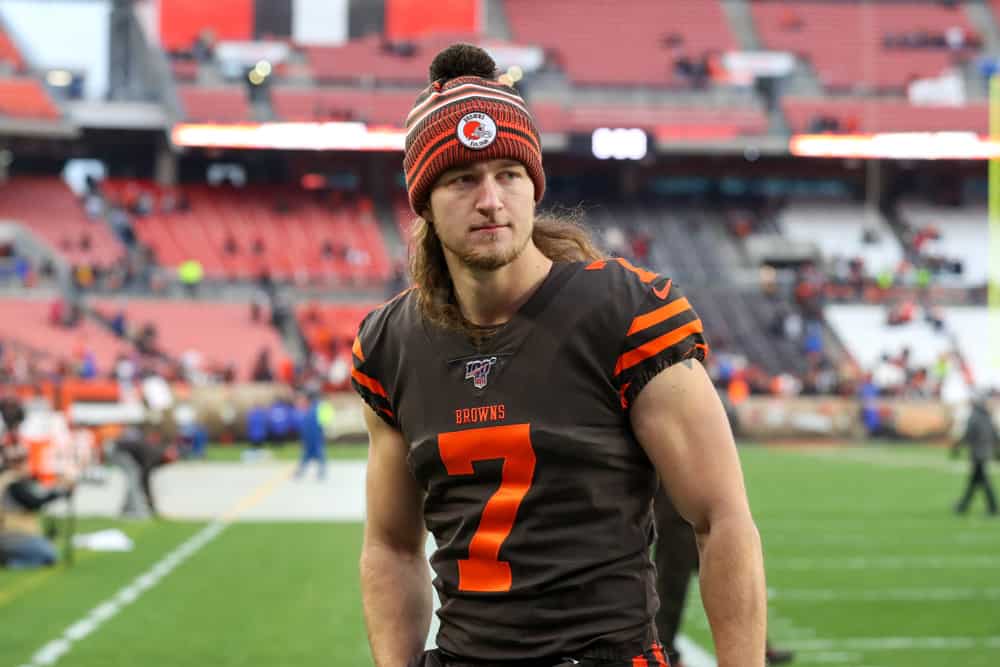 Leave it to the Cleveland Browns to have a punter who ends up being one of the stars of the team.
Punter Jamie Gillan was signed by the Browns in 2019 and it appeared he was just using the preseason as a tryout, as the team already had Britton Colquitt on the roster.
Then the Browns made the surprising move to cut Colquitt in favor of Gillan, known as the "Scottish Hammer."
Gillan was booming punts all preseason long and served as a much cheaper option compared to the veteran Colquitt.
The rookie found his way onto the PWFA All-Rookie Team and one thing that stood out about the Scotland native was his sheer size and strength rarely seen with an NFL punter.
Gillan never shied away from making a tackle and looked more like an actual defender than a punter.
He is back in the weight room this offseason and already looks more intimidating than most punters in team history.
These days, it's looking like Gillan should be playing more linebacker than punter.
🚨Look At Our Freaking Punter!#BeastModeActivated @ScottishHammer7 #Browns pic.twitter.com/wnEdzWS6F3

— BrownsTherapy (@BrownsTherapy) June 29, 2020
Boys are back #specialists #hammer #meatball pic.twitter.com/tOXJSsVaVv

— Jamie Gillan (@ScottishHammer7) June 29, 2020
View this post on Instagram
Jamie Gillan's Rise
Gillan's story is a fascinating one.
The punter played college football at Arkansas Pine-Bluff without knowing where Arkansas even was located in the country.
Thus, the legend was born.
Gillan went undrafted after a successful career at Arkansas Pine-Bluff and was signed by the Browns last offseason.
He did well enough to win the job and ended up punting the ball 63 times with a long of 71 yards.
The Scottish Hammer's 76.9 punt grade is T-2nd in the league. He is second in avg. hangtime (4.54 secs.) and third in return percentage (28.8%). Your RT counts as a #ProBowlVote for Jamie Gillan https://t.co/2opB6H85n3

— PFF CLE Browns (@PFF_Browns) December 11, 2019
Gillan's rugby background makes him a unique NFL punter and it is clear to anyone watching he is more than well-equipped to hold his own when trying to tackle a returner.
Signing him to a three-year deal worth $1.765 million also made the move a no-brainer for the Browns once it was clear he was just as good, if not better, than the much more expensive Colquitt.
Gillan's Great Personality and Abilities
Some Browns fans may already be enamored with Gillan just by hearing him talk with his Scottish accent.
But there is also his ability to make tackles in the open field.
THE. SCOTTISH. HAMMER. #Browns punter Jamie Gillan makes the tackle on the punt return by Tampa Bay! Talk about muscles… BOOM.#CLEvsTB pic.twitter.com/QV3uoWJw4o

— Joey (@_CSNation_) August 24, 2019
How often do you see a punter go in for a tackle?
Punters usually are the last line of defense, but not Gillan.
He wants to make a tackle just like anyone else on the special teams unit.
Continuing to work out and stay ripped helps with that, making him a fan favorite.
But fans are also falling for Gillan for his ability to poke fun at himself.
Jamie Gillan rocking kilt for final #Browns home game. pic.twitter.com/5W5KPJpSVP

— Tom Withers (@twithersAP) December 22, 2019
The young man is set to turn 23 years old on July 4 and clearly has a mature way about him.
He has earned a legendary nickname in town after one season and appears to be cemented as the Browns' punter for years to come.
Having Gillan on such a cheap deal through 2021, with a restricted free agency year in 2022, makes that decision even easier.
The Browns struck gold with the Scottish punter who decided to attend college in a state he didn't even know existed before he showed up.
Now he is in better shape than some other players on the roster and it should be fun to follow Gillan's journey with the Browns.