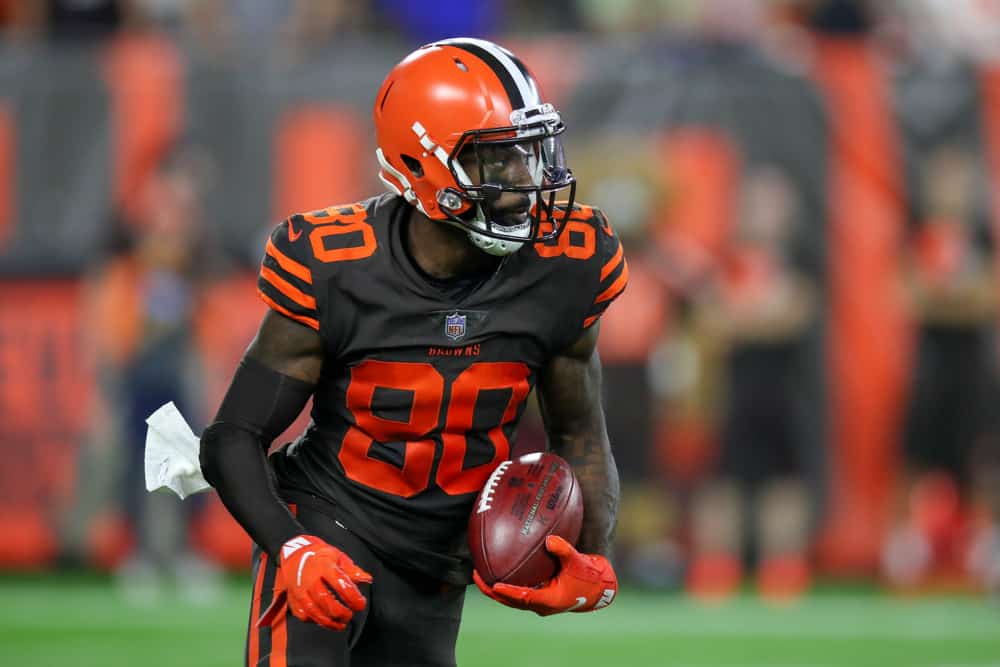 It took Cleveland Browns fans just five months to fall in love with Jarvis Landry.
After being traded from Miami to Cleveland in March of 2018, Landry grabbed the organization's attention quickly with an epic tirade during training camp in August (WARNING: expletives included).
Jarvis Landry's (@God_Son80) speech on tonight's premiere of #HardKnocks. Well done, Juice! pic.twitter.com/wITFqKlRxQ

— uSTADIUM (@uSTADIUM) August 8, 2018
He continues to be a favorite among both the fans and his teammates today.
His work-hard, no-nonsense mentality fits the mantra of the city perfectly and defines what fans want from their favorite players.
He backs up the talk too, providing his quarterback with one of the most reliable pairs of hands in the NFL each week.
His current deal with Cleveland expires in 2023.
What could a new contract look like for Landry after that?

Current Contract
Taking a deeper look at Landry's contract, the guaranteed parts of the deal are over with.
His salary was guaranteed for 2018 and 2019 only, meaning the Browns could cut ties with him this offseason without taking a hit.
As it stands, Jarvis would cost the Browns about $14.5 million next season via base salary and bonuses according to Spotrac.
That places him as the 14th highest paid wide receiver in the league.
Landry posted his lowest numbers in receptions, targets, yards, and touchdowns since his rookie season with the Dolphins.
His catch percentage was the highest it had been since 2016, but that was really the only improvement statistically.
He finished this past season 35th in receiving yards among wide receivers and outside the top-50 in touchdown receptions.
One could make the argument that Landry is overpaid in Cleveland, especially considering he has Odell Beckham Jr. in the same receiver room.
Others would disagree, pointing out the value he brings to the team outside of just basic offensive stats.
Don't Sleep on Juice 🧃

Jarvis Landry is the ONLY player in NFL history with 70+ Rec in each of his 1st seven NFL seasons.#Browns pic.twitter.com/uudOXIJf6G

— CBS Sports HQ (@CBSSportsHQ) February 2, 2021
Regardless, Landry will make about $30 million the next two seasons in Cleveland unless the Browns restructure his deal or cut him outright.

A "Juice"-y New Deal
Andrew Berry has contracts to worry about that will expire before Landry's.
That doesn't mean he shouldn't be concerned about it though.
Landry will be 30 when his current deal expires following the 2022 season.
Assuming Landry finishes the contract without any kind of restructuring, let's look at what he can expect as an unrestricted free agent in 2023.
Again, "Juice" will be 30 and at the tail-end of his prime.
He's battled through a number of injuries and played long stretches of games through pretty serious dings.
It's that toughness that has resonated with fans, but it will come at a price later in his career.
That certainly could have an impact on his value in free agency.
Guys like Michael Thomas, DeAndre Hopkins, and Julio Jones receiving huge payouts from their respective teams has helped the receiver market.
It'll be interesting to see if other big deals with wideouts transpire between now and 2023.
With the way his numbers have trended, I would anticipate Landry's new deal in 2023 to be a three-year deal in the $27-$30 million range.
Looking at what Golden Tate was offered by the Giants before the start of 2019, Landry could wind up with something similar.
His numbers going into 2019 were comparable to Landry's current production.
Tate was also 31 when he signed with New York; again, Jarvis will be 30 in 2023.
Of course, this all hinges on whether Andrew Berry wants to keep Landry around after his current contract expires.
OBJ could still be here, Donovan Peoples-Jones is emerging as a consistent player, and cheaper options will be available to help round out the receiver room.
I don't envy Berry one bit when it comes to deciding the future mold of the Browns roster.