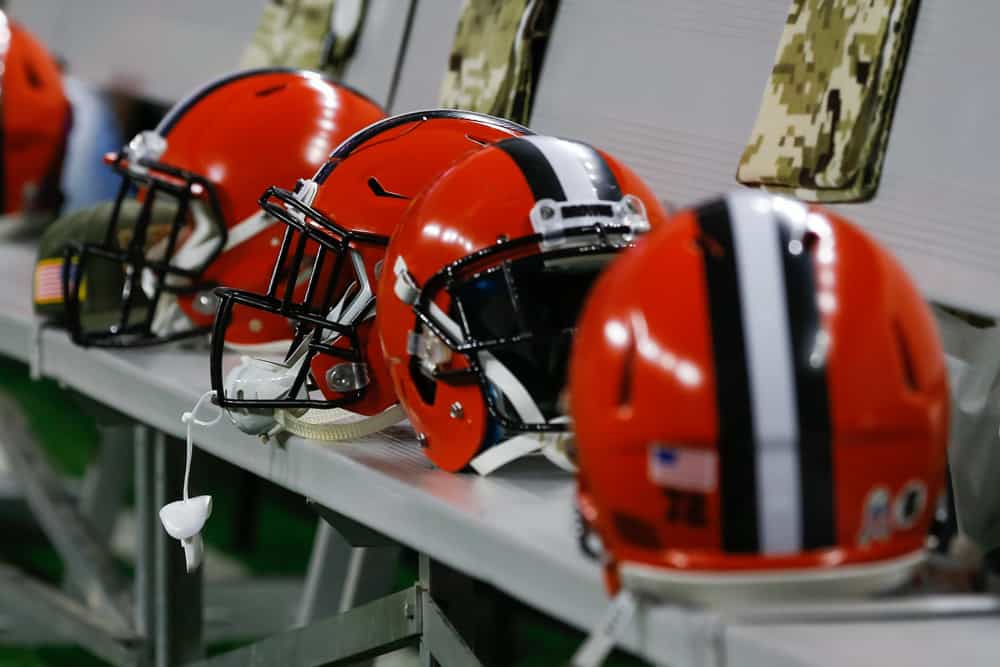 The Cleveland Browns defense had its fair share of flaws in 2020.
The secondary was certainly a unit that experienced issues having dealt with injuries before the regular season even started.
Rookie safety Grant Delpit tore his Achilles in August and cornerback Greedy Williams missed the entire year as well with a shoulder injury.
That led to a ton of snaps for guys who probably shouldn't get them at the NFL level.
Pro Football Focus placed the Browns secondary 26th in their end-of-season rankings.
With Delpit and Williams set to return next season, there is no need to panic over Cleveland's secondary.
Still, there's no way to know exactly what each of those two guys will be able to give you next season.
Improving depth should be a focus for Andrew Berry and the Browns front office this offseason, and free agency could be a great way to address that.

1. Mike Hilton, Cornerback
Does that name look familiar?
It should, as the Browns faced off with Mike Hilton three times this past season.
Hilton has spent the last four years with the Pittsburgh Steelers in a Nickel-corner role.
He's grown into that role perfectly in Pittsburgh, serving as a swiss-army knife that can both rush the line of scrimmage or drop back in coverage.
He doesn't do either at an elite level, but Hilton still finds a way to make an impact each week.
Mike Tomlin has referred to Hilton as a "tough little football player", and football fans would have a hard time disagreeing.
Easy work for Mike Hilton. #Steelers pic.twitter.com/zf24EuJzk7

— BlitzburghVideos ✨ (@BlitzVideos) January 2, 2021
Mike Hilton's INT! #Steelers pic.twitter.com/nkGlOcdfWj

— BlitzburghVideos ✨ (@BlitzVideos) October 6, 2019
One of the more noticeable positive for Hilton is his high football-IQ.
Andrew Sendejo seemed to make the weekly low-light mix by simply not knowing where to be or being fashionably late to a play on the ball.
It was frustrating to see someone with plenty of athletic ability be out of position constantly.
That doesn't happen nearly as often with a smarter player such as Hilton.
Can't stress enough how valuable Mike Hilton's been to the Steelers' defense over the years. Offers their scheme so much flexibility. Plays like the biggest dude on the field. Great open field tackler/run supporter. Plays from just the last two games. #Steelers pic.twitter.com/6Fbat53rrL

— Alex Kozora (@Alex_Kozora) December 16, 2020
He might be a tad too expensive for the taste of Berry and his front office crew, but getting him both makes the Browns better and the Steelers worse.

2. Malik Hooker, Safety
Here's one for the Buckeye fans in the form of Malik Hooker.
Hooker was drafted 15th overall in the 2017 draft by the Indianapolis Colts.
He made an immediate splash with the Colts defense as a rookie, intercepting passes in three of his first four games.
Former Ohio State DB Malik Hooker picked off Carson Palmer for his first career interception! pic.twitter.com/2e2RerHfug

— The Buckeye Nut (@TheBuckeyeNut) September 17, 2017
Unfortunately, Malik tore both his ACL and MCL in week seven of his rookie season.
He's still been productive with the Colts but hasn't progressed quite as Indy may have hoped.
Coming to Cleveland could be a great opportunity for a fresh start.
Former Browns coach Hue Jackson wanted Hooker in the 2017 draft with the 12th pick before the team decided to trade down.
That worked out, as the Browns were able to get Denzel Ward the following year in that deal with the Texans.
Now Cleveland can have both Ward AND Hooker if that's what Andrew Berry desires.
Hooker would basically be an upgraded Andrew Sendejo, serving as a safety valve if Delpit gets hurt again.
Malik played just two games this past season after tearing his Achilles which could keep his asking price down.

3. Daniel Sorensen, Safety
Cleveland fans aren't too fond of "Dirty Dan" (his legitimate nickname) these days.
Dan Sorensen's hit against Rashard Higgins on the goalline in the Browns-Chiefs AFC Divisional playoff game has still left a sour taste in the mouths of northeast Ohioans.
📽 Daniel Sorensen sauve le TD en forçant un fumble de Rashard Higgins, et Kansas City récupère la balle ! #ChiefsKingdom 

📺 @beinsports_FR #NFLextra
📱 #NFLGamePass pic.twitter.com/5f1V7VAtmk

— NFL France (@NFLFrance) January 17, 2021
Sorensen is not a dirty player, despite the nickname and the hit against Higgins.
In fact, Chiefs personnel claim he is one of the most cool-headed guys in their locker room.
Similarly to Mike Hilton earlier on this list, Sorensen can both bring pressure and ballhawk, only out of the safety spot.
Watch out, Daniel Sorensen coming through! #ChiefsKingdom | @thecheckdown #DENvsKC on NBC pic.twitter.com/yFqzrzeuSN

— Sunday Night Football on NBC (@SNFonNBC) December 7, 2020
Daniel Sorensen TO THE HOUSE.

50-yard PICK 6! #ChiefsKingdom

📺: #KCvsDEN on CBS
📱: NFL app // Yahoo Sports app: https://t.co/nCwBl54Akc pic.twitter.com/psDKr5vdAJ

— NFL (@NFL) October 25, 2020
His yearly salary will likely be in the $3-5 million range, an acceptable budget for the Browns front office.