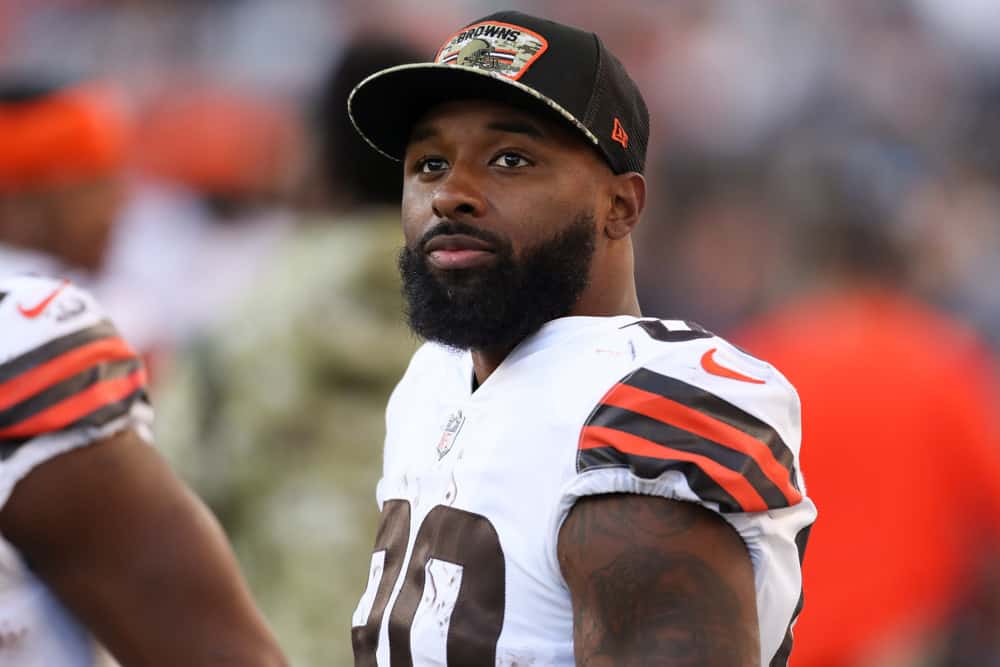 The 2021 NFL season had taken an odd turn in the past few days.
The Cleveland Browns, Los Angeles Rams, and the Washington Football Team each have 20 or more players (as of Thursday) on the Reserve/COVID-19 list.
The NFL has shown no interest in postponing any of these games.
Most critical is the Saturday afternoon game between the Browns and the Las Vegas Raiders.
Browns Twitter has been extremely vocal about why this game should be moved.
Among those expressing his opinion is wide receiver Jarvis Landry.
What Landry Said
Landry generally is not one to post or say anything controversial so a message coming from him has more weight to it.
He is one of the Browns on the Reserve/COVID-19 list and as of now is not available for Saturday's game.
Responding to a Pro Football Focus tweet which asked the question of whether the Browns game should be postponed, Landry replied:
"Should not even be a question !! YES"
Should not even be a question !! YES https://t.co/iWZY8b6C6U

— Jarvis Juice Landry (@God_Son80) December 17, 2021
Not Going To Happen
Seems like the NFL would have taken the action to postpone the game on Thursday.
It really looks like as of this moment, this game will kick off and be played in a little over 24 hours.
The Raiders probably are preparing to travel or are en route to Cleveland so there is no stopping this now.
All the Browns can hope for is no new positives today.
Keenum and Mullens practiced together yesterday so the way things are progressing, a Mullen positive test result would just add to the devastation.
NFL's Previous Actions
In the 2020 season, the Denver Broncos were forced to play with no quarterback because the entire depth chart was on the Reserve/COVID-19 list.
However, the NFL did move things around for the Titans and Ravens last season.
The NFL just made the Broncos play with no quarterback. If they allow the Ravens to push their game back for the third time, the Steelers need to buck

— NFL Draft Diamonds (@DraftDiamonds) November 30, 2020
Somehow I feel Mayfield also, and maybe cares more about not losing a game because of all the covid cases the Browns have.

Listen, Baker, I feel for you. But only the Titans and Ravens get their games rescheduled for covid. You know that.

— Living In The 🦬🦬🦬 Art Media (@Jock_Dock) December 17, 2021
This was pre-vaccine and with the 2020 protocols in place; however, the current situation with the Browns appears to be among vaccinated players.
Unfortunately, Jarvis Landry's plea fell on deaf social media ears because this game is happening.