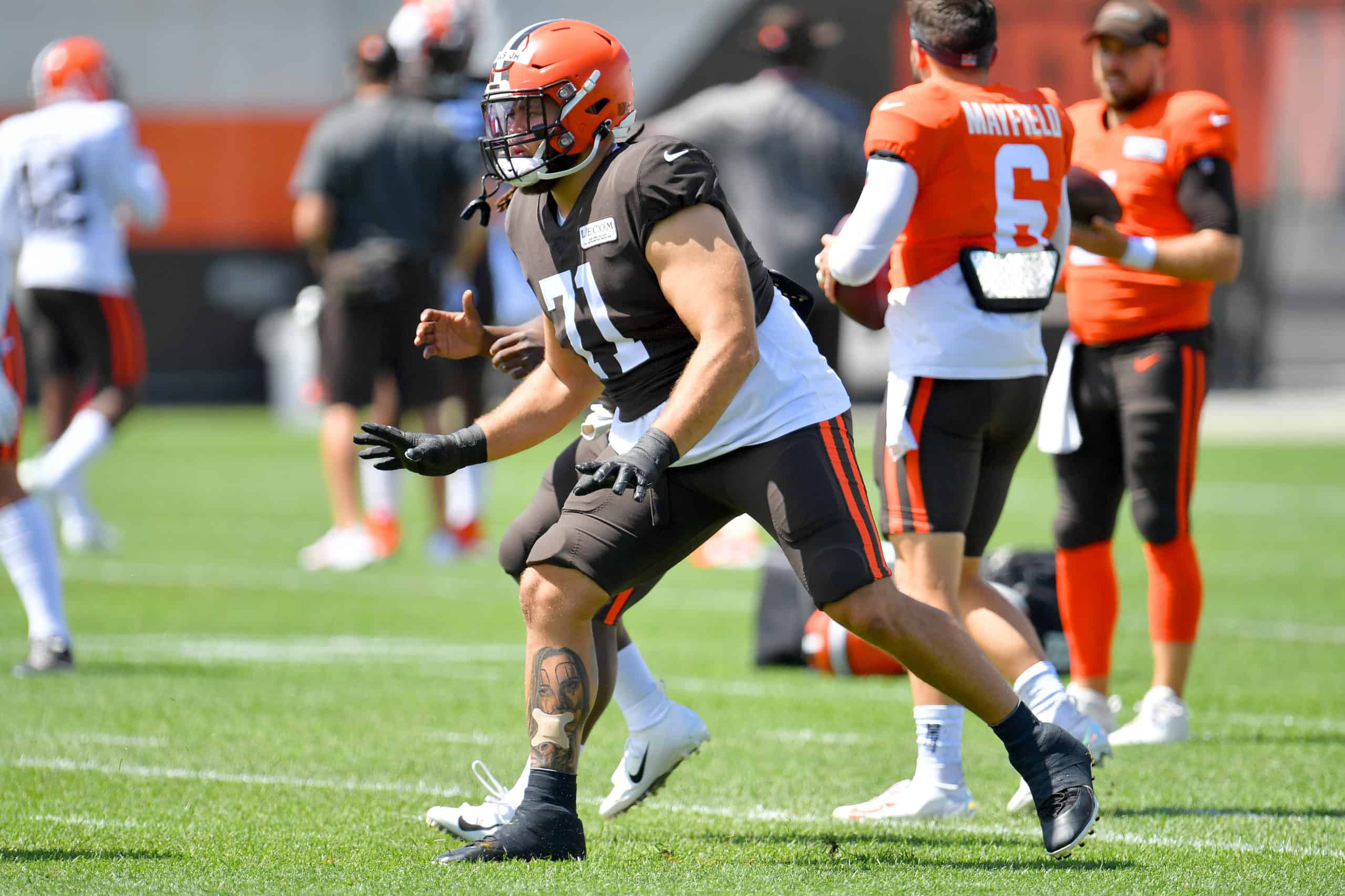 The Cleveland Browns Organized Team Activities (OTAs) continue from Monday through Thursday this week.
We noted that last week's participants were mainly on the defensive side of the ball.
In the second week of OTAs, both offensive and defensive players have been spotted in Berea.
They include second-year left tackle Jedrick Wills and the free agent players coming over from the Los Angeles Rams, safety John Johnson III and cornerback Troy Hill.
#Browns LT Jedrick Wills Jr is in attendance for OTAs pic.twitter.com/wMccY7OiXq

— Brad Stainbrook (@BrownsByBrad) June 7, 2021
Voluntary OTAs
OTAs are voluntary, but last year during the height of the pandemic, everything was done virtually.
Aside from a scaled down minicamp a few weeks ago, this is the first on-the-field interaction at Berea since the playoffs ended in January.
Leading up to the OTAs, there was a lot of discussion about players boycotting them mainly due to COVID-19 and injury concerns.
#Browns coach Kevin Stefanski was asked if he's concerned the club is falling behind other teams that are holding OTAs with better attendance. Stefanski said he's concerned about the Cleveland Browns every day

— Nate Ulrich (@ByNateUlrich) June 2, 2021
Coach Stefanski is happy for the in-person interaction with whomever decides to participate.
Last week, he said:
"Can I say it's voluntary one more time? The guys that are here, we'll coach them up, but we're not taking attendance every day and saying who is here and who is not here. We know that there are three OTAs this week, four next week and then a mandatory minicamp. We'll see, and we'll adapt to who is here."
"We're teaching, and the pace doesn't have to be full speed. The amount of coaching and learning that's getting done out there has been outstanding. We really value the work that you can get done in a walkthrough."
Offense Is Preparing Away From OTAs
Just because players are not at OTAs does not mean they aren't preparing for the upcoming season.
Baker Mayfield is hosting receivers at his home in Austin, Texas for workouts and teambuilding.
#Browns WR Donovan Peoples-Jones is one of the WRs down in Austin, Texas working with Baker Mayfield and the skill players

— Brad Stainbrook (@BrownsByBrad) June 8, 2021
He did the same thing last year.
Mandatory Minicamp
#Browns coach Kevin Stefanski said on Zoom mandatory minicamp will go on June 15-17. Asked if more players on offense will show up for final round of OTAs next week, Stefanski said he'll stay in the moment and stressed OTAs are voluntary.

— Nate Ulrich (@ByNateUlrich) June 2, 2021
The first mandatory in-person activities of the 2021 season start next week.
Browns minicamp is expected to run from June 15-17, and as of now, all indications are that everyone will be present.