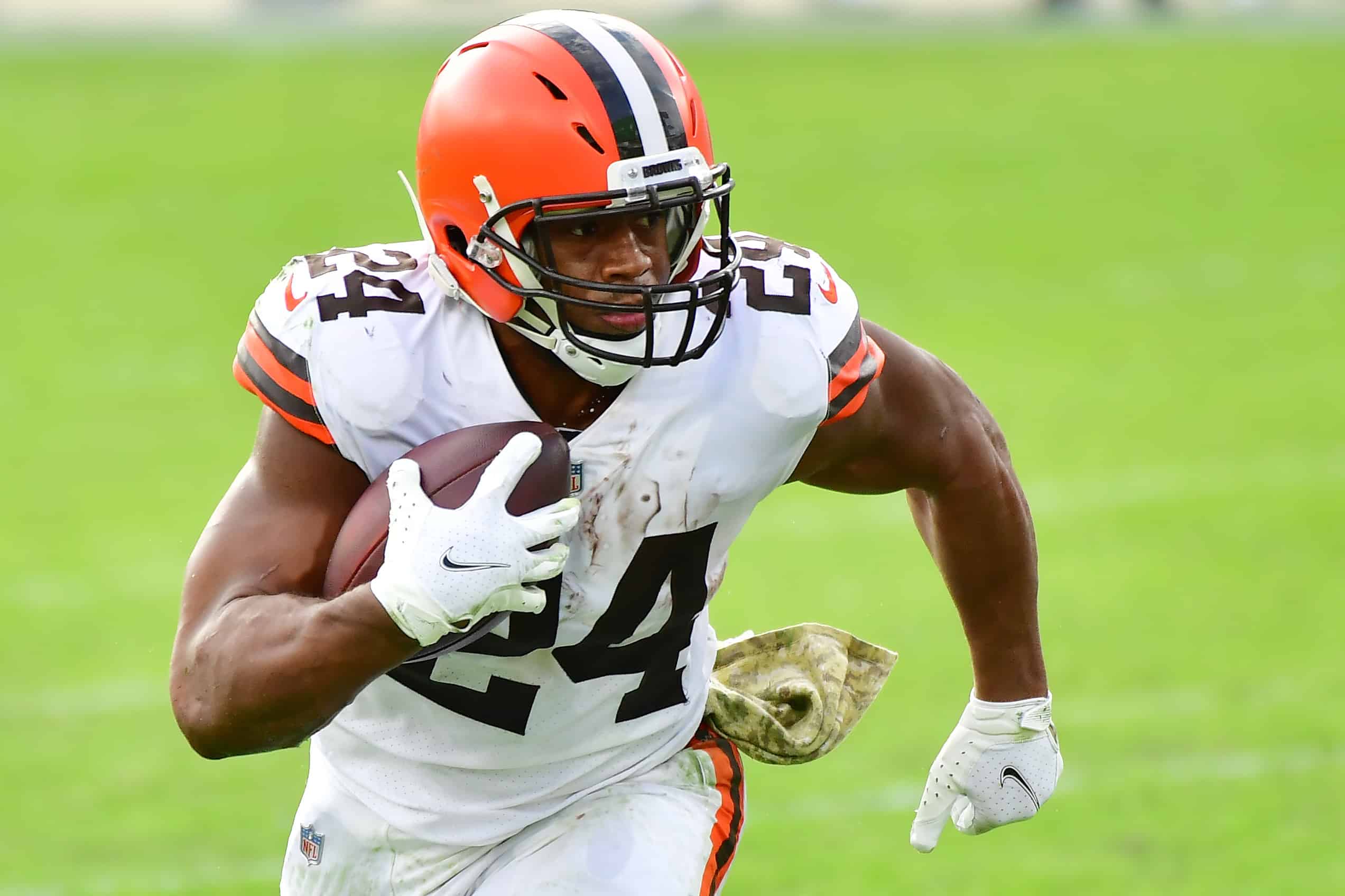 Nick Chubb is entering his fourth NFL season and the final year of his rookie deal, as he looks to improve even more in 2021.
His 2020 performance was impressive, so we can expect a lot from him in the upcoming season.
First things first, he is a tremendous teammate.
After he made his second consecutive Pro Bowl, Chubb was not thinking about himself, but he was thinking about his partner in the backfield:
#Browns Nick Chubb wishes Kareem Hunt could've made the Pro Bowl with him considering they were such a formidable duo this season

— Mary Kay Cabot (@MaryKayCabot) December 23, 2020
This dynamic duo will be supporting each other throughout the 2021 season.
With Chubb and Kareem Hunt as the two-headed monster in the backfield, the sky is the limit.
Nick Chubb + Kareem Hunt: PFF's Highest Ranked RB Duo 🔥🥇 pic.twitter.com/XM0hq5ydAf

— PFF (@PFF) June 3, 2021
Pro Football Focus thinks they are the best twosome of running backs in the league, and that is for good reason.
Here is how they fared in 2020:
Chubb: 12 games, 190 rushes for 1,067 yards (5.6 yards per attempt) and 12 rushing touchdowns; 16 catches for 150 yards; 1 fumble
Hunt: 16 games, 198 rushes for 841 yards (4.2 yards per attempt) and 6 rushing touchdowns; 38 catches for 304 yards and 5 receiving touchdowns; 2 fumbles
Combining for almost 2,000 rushing yards to go along with 23 total touchdowns is fantastic.
They will hope to perform very well again in 2021.
So, what will Chubb's statistics be by the end of the season?
Chubb's Rushing Stats
Back in 2019, Chubb played all 16 games and he went for 1,494 rushing yards on 298 carries.
During that season, Hunt had just 43 rushes and 179 rushing yards in eight games for Freddie Kitchens' Browns.
Hunt played a full season for Kevin Stefanski's 2020 Browns, which led to a change in the number of carries for Chubb.
Also, Chubb missed four games in 2020, so how would he have fared if he played all 16 contests?
Chubb's 2020 rushing stats: 190 attempts, 1,067 yards, 12 touchdowns
Chubb's projected 2020 stats (16 games): 253 attempts, 1,423 yards, 16 touchdowns
Now, when it is put that way, Chubb had an even more tremendous 2020 season and was very deserved of the Pro Bowl bid.
None of this information surprises diehard Browns fans.
Therefore, it is just another reason why Chubb was ranked first in PFF's running back grade since 2018.
His elusiveness makes him one of the greatest runners in the league, and he is arguably the best active back:
#FreakyFriday via Browns RB Nick Chubb using anticipation, explosiveness, & power to hurdle over/through a defender for extra yards pic.twitter.com/rymZn8Gole

— The Scouting Academy (@TheScoutAcademy) June 4, 2021
Now let us take a look at some impressive statistics for Chubb.
He is an unbelievable runner when it comes to yards after contact:
Most rushing yards after contact per attempt in 2020

💥 Nick Chubb – 4.1
💥 Derrick Henry – 3.9 pic.twitter.com/n5AOK0Ke3d

— PFF Fantasy Football (@PFF_Fantasy) March 24, 2021
In addition, he accumulated big runs last season:
📊 2020 NFL LEADERS, RUSHES OF 20+ YARDS 📊

1. Derrick Henry (16)
2. Nick Chubb (12)
3. Lamar Jackson (10)
T4. Gus Edwards (8)
⬇️ T4. J.K. DOBBINS (8) pic.twitter.com/C125CkwLIr

— FantasyPros (@FantasyPros) May 31, 2021
Without further ado, here are Chubb's projected rushing stats for 2021:
16 regular season games
225 rushes
1,300 yards
5.8 yards per carry (had career-high 5.6 in 2020)
10 rushing touchdowns
Chubb's Receiving Stats
Now, the receiving game should be interesting for Chubb in 2021.
Here is how his targets were during his first three seasons:
2018: 16 games, 29 targets
2019: 16 games, 49 targets
2020: 12 games, 18 targets
Even if Chubb had played 16 games, he would have had just a projected 24 targets.
That number is less than half of his target number in 2019.
However, he had 16 receptions with the 18 targets last season in comparison to 36 receptions and 49 targets in 2019.
With Hunt returning for another season as a part of the dynamic duo, Chubb's receiving number expectations should be low.
Here is how Chubb's receiving stats will be 2021:
16 regular season games
25 targets
22 receptions
220 receiving yards
10 yards per reception (had career-high 9.4 in 2020)
2 rushing touchdowns
12 total touchdowns (matching his career-high from 2020)