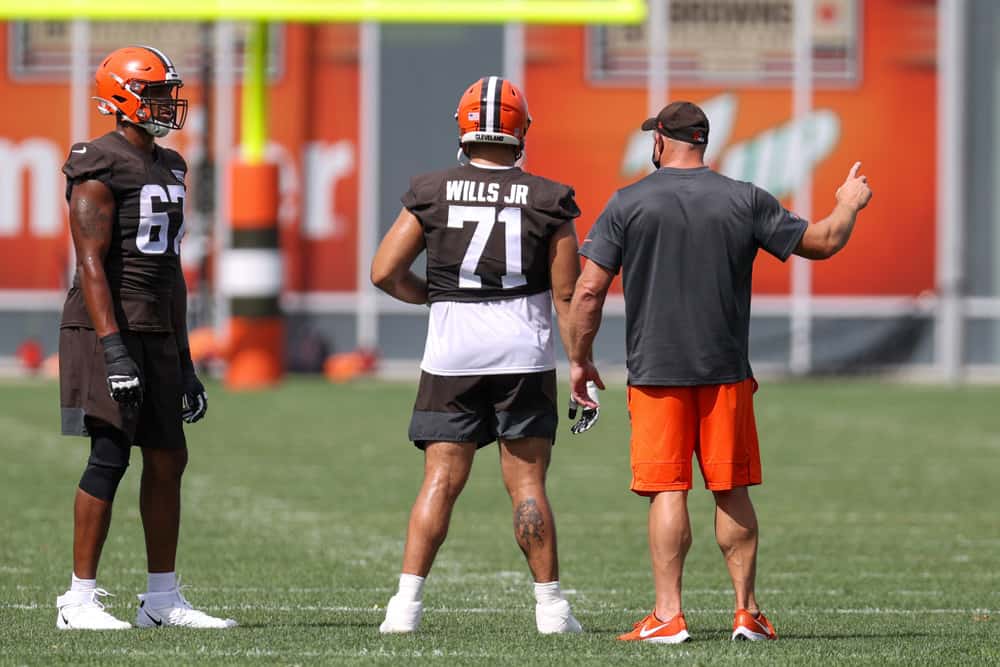 The Week 3 matchup against the Washington Football Team was a big test for Jedrick Wills.
The rookie left tackle has been impressive thus far, but the Washington pass rush is no joke.
They entered that contest leading the NFL in sacks with 11 in two games.
Wills definitely had his hands full in this one, but was able to stand up to the challenge.
The Alabama product was basically thrown to the wolves, but managed to keep quarterback Baker Mayfield protected.
Despite no preseason games, Wills has adjusted to the NFL quite well.
Wills vs Washington
This Washington pass rush was the biggest test for Wills this season.
He did make some mistakes, but played fairly well for the most part.
Jedrick Wills pancake on that Nick Chubb touchdown run. pic.twitter.com/tUkBXajf4Z

— Brent Sobleski (@brentsobleski) September 27, 2020

Wills did commit a false start on each of the first two drives.
He matched up against Ryan Anderson and Montez Sweat for most of the game.
Despite some early mistakes, Wills was able to keep his composure.
After the second penalty, Wills was able to lock up Anderson for 4.7 seconds in pass protection, which gave Mayfield enough time to find an open receiver.
Wills only lost about three reps to Sweat during the entire game, but one did result in a sack.
Montez Sweat is having a heck of a game. Gets the sack here.pic.twitter.com/vMvB9gEHJa

— Dov Kleiman (@NFL_DovKleiman) September 27, 2020
During that play, Wills lost his technique, which made it easy for the defender to push right around him.
Sweat is an incredible player, so it's unfair to expect Wills to be perfect.
He was able to hold his own against a tough Washington pass rush.
Continuing To Improve
As mentioned before, there was no preseason action this season.
Which means there were less reps and opportunities for rookies coming into the league.
It was especially tough for Wills who is learning a new position.
He spent a majority of his time at right tackle while in college, but was asked to switch over to left tackle in Cleveland.
Thus far, Wills has shown consistently strong technique and positional awareness.
His footwork needs a little bit of help at times, but he's making big strides.
Wills appears to be well worth the No. 10 overall selection in the draft.
The Browns might have their superstar left tackle of the future in Wills.
Jedrick Wills with a pancake block to clear a path for Nick Chubb #Browns pic.twitter.com/DURzjSSUUL

— MoreForYouCleveland (@MoreForYou_CLE) September 28, 2020

He stepped up and delivered versus Washington, so hopefully that type of play continues against the Dallas Cowboys in Week 4.