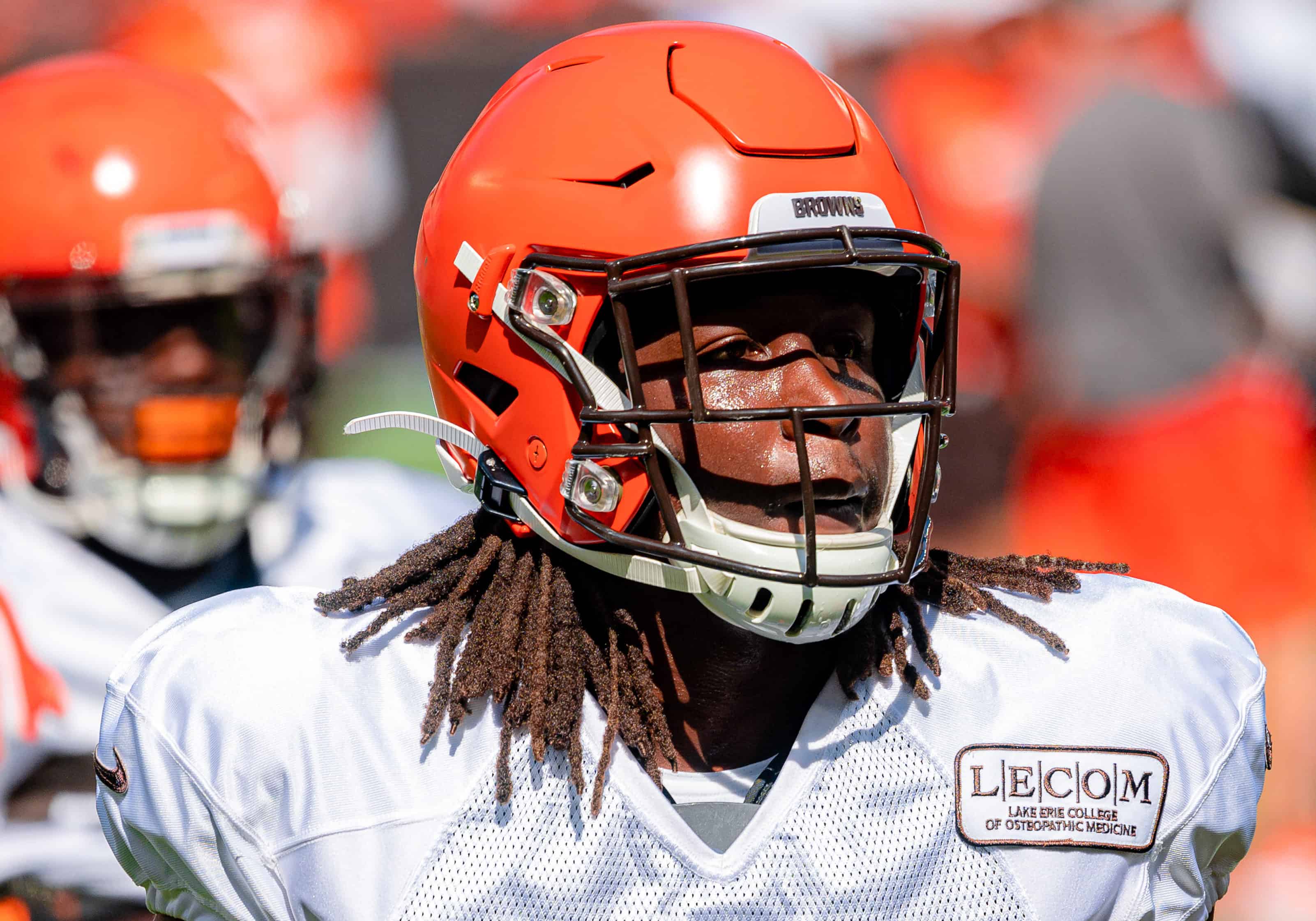 Speaking on Kareem Hunt's return this Sunday against the Buffalo Bills, Freddie Kitchens made it clear that he is "very much looking forward to Kareem [Hunt] being with [the team], being able to play," and that Hunt "will definitely have a role."
It is difficult to predict what the offensive snap share split will be between Hunt and Nick Chubb, but with the recent Dontrell Hilliard debacle against the Denver Broncos, Hunt should at least see third-down opportunities.
During a crucial moment in the game against Denver, Kitchens ran the ball on third-and-three, handing off to Hilliard rather than Chubb. He gained two yards. On fourth-and-one, Kitchens gave the ball back to Hilliard, as the league's fourth-best rusher sat on the sidelines.
Over the last two weeks, Chubb's offensive snap share significantly declined. After seeing over 80% of all offensive snaps against the San Francisco 49ers and Seattle Seahawks, Chubb dropped to 65% against the New England Patriots and 60% in the Browns' most recent loss.
Nick Chubb snap percentages by week #Browns #FantasyFootball pic.twitter.com/9VSNu3A4OW

— ExpandTheBoxscore.com (@XTBoxscore) November 5, 2019
With Hunt returning, the Browns are able to run a true running back by committee backfield. Hunt will likely see most third-down snaps. Chubb will continue to see a bulk of the carries on first and second downs.
Prior to his well-earned suspension, Hunt dazzled Kansas City Chiefs' fans every week. He is explosive out of the backfield, and his pass blocking is improving.
The Browns will get a healthy Kareem Hunt in Week 9… pic.twitter.com/crz2Aodc9g

— Dave (@DawgPoundDave) June 8, 2019
Hunt's presence also opens up the possibility of using two-running-back sets. Kitchens has failed to show much innovativeness thus far this season, but the time for creativity is now.
The most likely scenario moving forward is that Chubb and Hunt split snaps at around 60/40. Chubb has not shown signs of wear and tear, but taking a rest every other drive can't hurt. He is one of the league's top rushers with over 800 rushing yards, and that won't change.
Chubb has been producing in games where he only sees around 60% of the offensive snaps, and he will continue to see at least that many snaps.
Hilliard will lose a significant snap share. In fact, it would be surprising to see Hilliard take the field at all after Hunt's return.
Unfortunately, as has been the case this season, all the offensive weapons in the world don't guarantee wins. Cleveland needs to figure out the best way to distribute the football on offense.
Hunt can help protect against the pass rush, which could result in Baker Mayfield getting Odell Beckham Jr. and Jarvis Landry the ball more frequently.
This week is do-or-die for the Browns and every little contribution helps. Welcome back, Hunt.