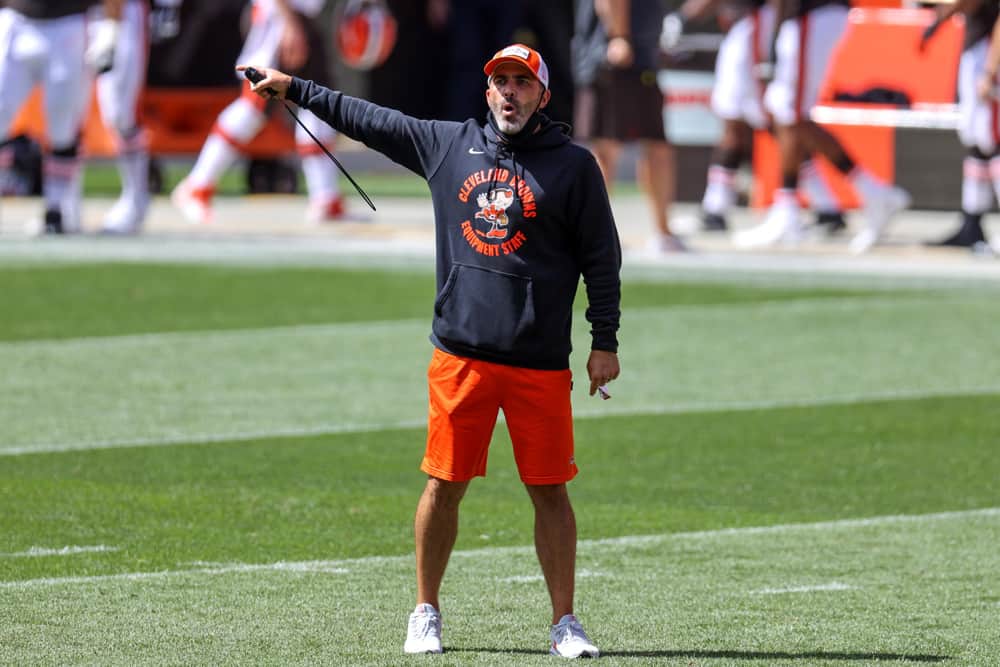 Well, here we go again Browns fans.
Once more, your head coach of the Cleveland Browns will be the offensive play-caller.
This year, Kevin Stefanski will be the one calling the shots offensively on the sidelines and not new offensive coordinator Alex Van Pelt.
#Browns coach Kevin Stefanski tells reporters that he'll call the plays this season, though he'll work collaboratively with OC Alex Van Pelt to do so.

— Ian Rapoport (@RapSheet) September 11, 2020
This was something that many felt might happen when Stefanski joined the organization back in January.
Stefanski was the offensive play-caller in Minnesota in both 2018 and 2019.
The Vikings finished 20th and 16th in total offensive yards respectively.
Now the question becomes, can he do more with the talent the Browns boast offensively?

Hoping for Change
It became very clear very quickly that Freddie Kitchens was in over his head last season.
In theory, everything should have worked out.
You had a play-caller who made the end of 2018 interesting and developed a great relationship with his quarterback before taking the reigns as head coach.
However, between handling the offense and trying to manage both his team and staff, Kitchens lost control.
Quotes such as this one quickly became infamous.
I can't believe he seriously said this. #Browns Freddie Kitchens:

"Do you think the team's out of control?"

"No. I think people get helmet-to-helmet contacts every week. [@JuMosq]pic.twitter.com/Vy1lTufinF

— Dov Kleiman (@NFL_DovKleiman) November 15, 2019
While fans aren't expecting the same level of ineptitude from Stefanski, there's cautious optimism here.
While there aren't any immediate red flags that come up when you look at his history in Minnesota, remember that the conversation surrounding Kitchens around the time of his hire.
The focus was almost solely on the positives, such as the relationship he appeared to form with Baker Mayfield.
It's certainly better than an overwhelmingly negative conversation, but be careful not to put the cart before the horse.
A plethora of familiar faces returning on offense will help the unit's overall chemistry.
But they have an entirely new staff to get accustomed to, and with an unorthodox offseason and no preseason due to COVID-19, things may take some time to develop.

Van Pelt's Role
This decision also brings up the debate over what Alex Van Pelt's role will be with this team. It does sound like Stefanski will have Van Pelt involved with the offense, as indicated in a recent Zoom call with the media.
"With everything we do, I just try to be mindful and take in all the information," Stefanski said. "I haven't called 1,000 games, but I will tell you, when I have called it, we're very collaborative. We have a lot of people who will have a hand in this, and I'm really lucky because I'm surrounded by a bunch of really good coaches on the offensive and defensive side. Feel good about our staff."
It's a great sign that Stefanski is willing to take input from other members of his staff.
Pride is a powerful thing in the NFL, sometimes too powerful.
We may have seen some of that from Kitchens when it came to working with his staff.
Stefanski seems to know he's in somewhat uncharted waters with his new position.
If he can make things easier on himself, it seems he will be willing to do so by allowing others to get involved.
This will be Van Pelt's first gig as an offensive coordinator since holding that role with the Bills for just a single season back in 2009.