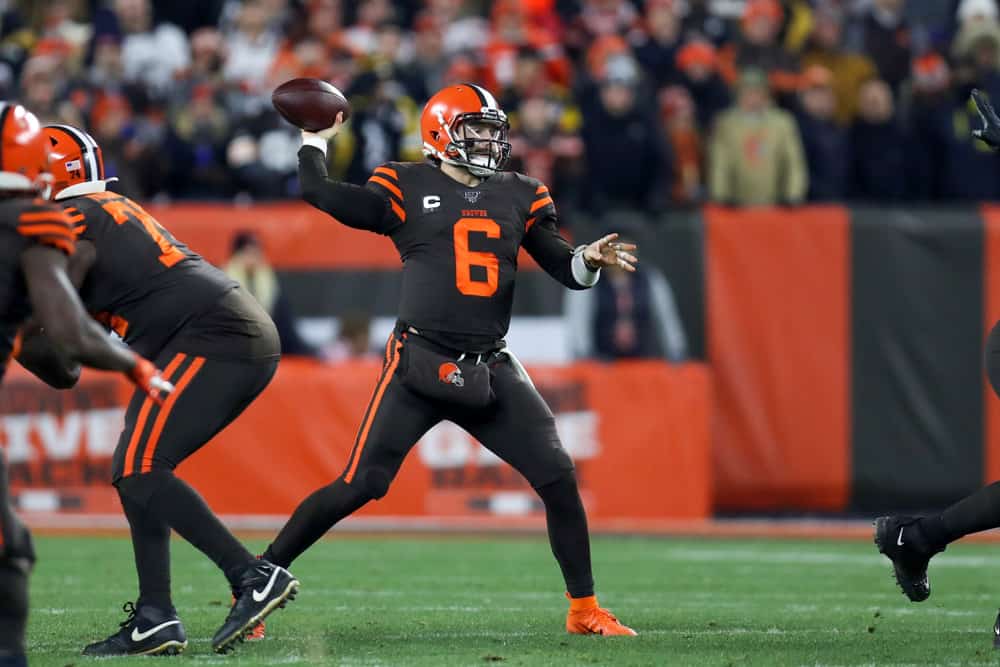 There is a new head coach in town after the disastrous 2019 season that was led by Freddie Kitchens.
The Cleveland Browns have hired Kevin Stefanski to hopefully turn things around for this organization.
One of the first things on his list is helping quarterback Baker Mayfield.
Mayfield had an impressive rookie season, but endured a rough sophomore slump in 2019.
Stefanski knows that they need a strong performance from Mayfield in order to have success next season.
What Needs to Change for Mayfield?
The biggest issue for Mayfield going into his third season is the high interception rate.
He threw 21 interceptions last season, which is the second-most in the league behind quarterback Jameis Winston.
Stefanski says that he has outlined some things that should help Mayfield schematically and technique-wise.
Mayfield playing well is critical to the Browns success, so they need to see improvements from him.
However, Stefanski knows that Mayfield's success is important, but football is a team game.
Stefanski spoke with Sportcenter's Scott Van Pelt on what he expects from Mayfield:
"For Baker, honestly, I feel like this for all of our players, I want the best version of those players," Stefanski said. "I don't want them to be something they're not. I think, Baker, you said it, is a lightning rod. A quarterback is a lightning rod. That's the nature of the beast. He knows that. We've outlined some things that we're going to help him with schematically and maybe technique wise. But it's never a one-man show. Baker knows that. Our team knows that. These guys are putting in the work right now to make sure we are hitting the ground running when we get together."
Stefanski in Minnesota
Before joining the Browns, Stefanski was the offensive coordinator for the Minnesota Vikings.
He was essential in turning around quarterback Kirk Cousins after an early-season slump.
Stefanski's offensive scheme helped the Vikings offense play effectively and reach the playoffs in 2019.
The Vikings shockingly beat the New Orleans Saints in the first round of the playoffs, which was partly because of the great work by Stefanski.
Stefanski has been coaching with the Vikings since the 2006 season, but has never been a head coach in the NFL.
The 2020 season will be his first season as a head coach, but he appears up to the challenge.
What Happened to Mayfield?
During his rookie season, Mayfield threw for 3,725 passing yards, 27 touchdowns, and 14 interceptions through 14 games.
The Browns only won six games that season, but the former first overall pick from the 2018 NFL Draft was playing well.
Things got worse for Mayfield when Kitchens took over as head coach the following season.
Mayfield threw for 3,827 passing yards, 22 touchdowns, and 21 interceptions during 16 games last season.
The biggest differences between the two seasons are the increased percentage of interceptions and the sacks allowed.
Mayfield was sacked 25 times his rookie season, but that number skyrocketed to 40 during the 2019 campaign.
Last season, Mayfield was getting pressured more often which gave him less time to throw and often leads to bad decision making.
Can Stefanski Help Mayfield?
The improved offensive line should give the Browns offense a lift next season.
Stefanski often times used a run-heavy scheme, so he could very well use that in Cleveland.
.@JFowlerESPN on @BullandFox re: #Browns QB Baker Mayfield: "I do know that he's excited for the continuity after talking to Kevin (Stefanski). He just wants stability there. He's going on his 4th coordinator in. That is a problem, contributing to some of the struggles as well."

— Keith Britton (@KeithBritton86) January 27, 2020
Having a good relationship between the head coach and quarterback is critical for success.
That is part of the reason that the Browns struggled last season under Kitchens.
The Browns players appear excited to play with Stefanski as their new coach.
Mayfield has plenty of talent, but they need to find the coach who can get Mayfield to play at his full potential.
Stefanski appears to be the right man for the job, so we'll see if he can help Mayfield turn it around.
It'll be interesting to see if the former Heisman Trophy winner can get back to playing like he did during his rookie campaign.