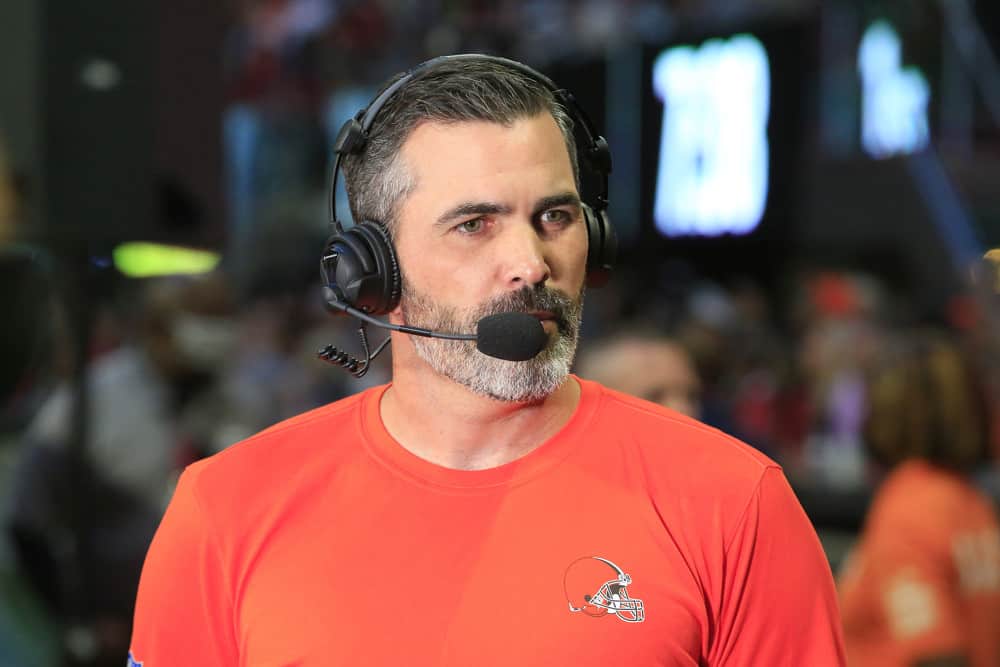 Sometimes, the public image of an NFL player or other celebrity does not jive with those in his inner circle.
Maybe Will Smith's closest friend admits the popular and affable actor is actually prone to punching people.
Or maybe the coach whose offense basically stalled when Odell Beckham Jr walked away says he likes the guy.
In what has been a wacky and wild NFL offseason for the Cleveland Browns, that just happened.
#Browns Kevin Stefanski on FA Odell Beckham Jr. not slamming the door shut on a return to CLE: "I really like Odell. We'll see how it all plays out."

— Mary Kay Cabot (@MaryKayCabot) March 28, 2022
According to Mary Kay Cabot, Kevin Stefanski says he "really likes" Beckham.
And the Browns' head coach seems as open as the player is to an OBJ return to Berea.
Maybe Stefanski is reading the locker room and realizes many of his players share that sentiment.
Or perhaps the head coach thinks he has some unfinished business with Odell.
Stefanski Wanted To Make OBJ Work 
Back in 2019, Odell Beckham reportedly asked opposing teams to help get him out of Cleveland.
Whether he made a trade demand or not is moot since Kevin Stefanski said he'd play a bigger role in 2020.
But OBJ never became a favored target of Baker Mayfield, despite offseason sessions before last season.
It seems certain Beckham asked for a trade before the deadline last year and was not accommodated.
#Browns Alex Van Pelt said you can "definitely see the fruits of their labor" with the work Baker Mayfield and Odell Beckham Jr. put in together this offseason.

— Camryn Justice (@camijustice) September 30, 2021
One reason might have been that Kevin Stefanski lobbied hard to keep OBJ in the fold.
The head coach realized OBJ's diminished stats did not reflect his value to the offense.
Teams already dared the Browns to throw, a situation exacerbated by Beckham's departure.
Still, Stefanski said he harbored no ill will towards his former receiver and wished him well.
What It Means To The Browns 
Beckham has a long road ahead of him before teams come knocking at his door.
During the Rams' Super Bowl victory, OBJ suffered a second torn ACL in the same knee as the first.
While orthopedic experts say the second rehab is sometimes easier than the first, teams need to see something.
Last year, Beckham posted occasional videos of himself running and working out during his rehab.
Jarvis Landry to OBJ for the touchdown!pic.twitter.com/f9WmmL5oNy

— Dov Kleiman (@NFL_DovKleiman) October 4, 2020
Until we see some of those, teams will be leery of Beckham's health.
Los Angeles stated they would like to re-sign Beckham as they defend their championship.
Meanwhile, Cleveland is rumored to be considering a Jarvis Landry return and has not ruled out OBJ.
And as Stefanski said, we'll see how it all plays out.