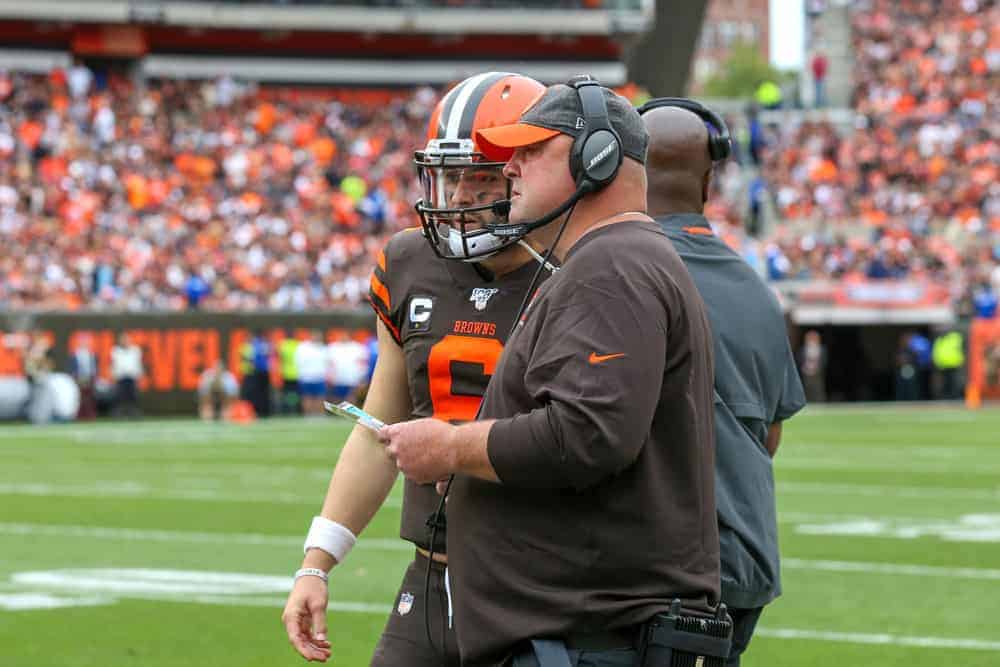 Cleveland Browns coach Freddie Kitchens came under fire after Sunday Night's loss to the Rams for his questionable decision making.
Kitchens told reporters after the game that he takes responsibility for the struggles and to put all the blame on him.
On Monday, Kitchens was asked if he would consider giving up the play-calling duties.
"You can write that if you want to. But that's not even feasible," Kitchens said.  "That's not even, that's not being considered. No, it's not."
"Not going to happen," Kitchens said. "It's me. It's my fault."
The Browns are only averaging 16.3 points a game in the NFL, which many consider underachieving, considering the amount of talent they have on offense.
Kitchens admits that the offense is still a work in progress and that he is still trying to figure it out.
"When you start talking about specifics like that, I just know how the guys around me are," Kitchens said. "I think you take the sense of, you get a better feel for what people can do and what people can't do. Or the better situations that they can be in relation to the situation that you're putting them in currently. And that's what you do. You do your work during the course of the week and you call it on Sunday. If they do things differently, you make adjustments accordingly. I think we've been doing a good job of that. Now it just needs to get more consistent."
Some are calling for current offensive coordinator Todd Monken to take over play-calling duties in light of Kitchens recent struggles.
Kitchens: "Todd does a great job during the course of the week of making sure we stay on task. We stay organized and all that kind of stuff. But when things mess up it's going to be me."
Monken served as a wide receivers coach and offensive coordinator for the Tampa Bay Buccaneers for 3 seasons before coming to Cleveland.
While he will remain the assistant to Kitchens for now, you have to believe that these questions will continue to be brought up if the offense continues to struggle.