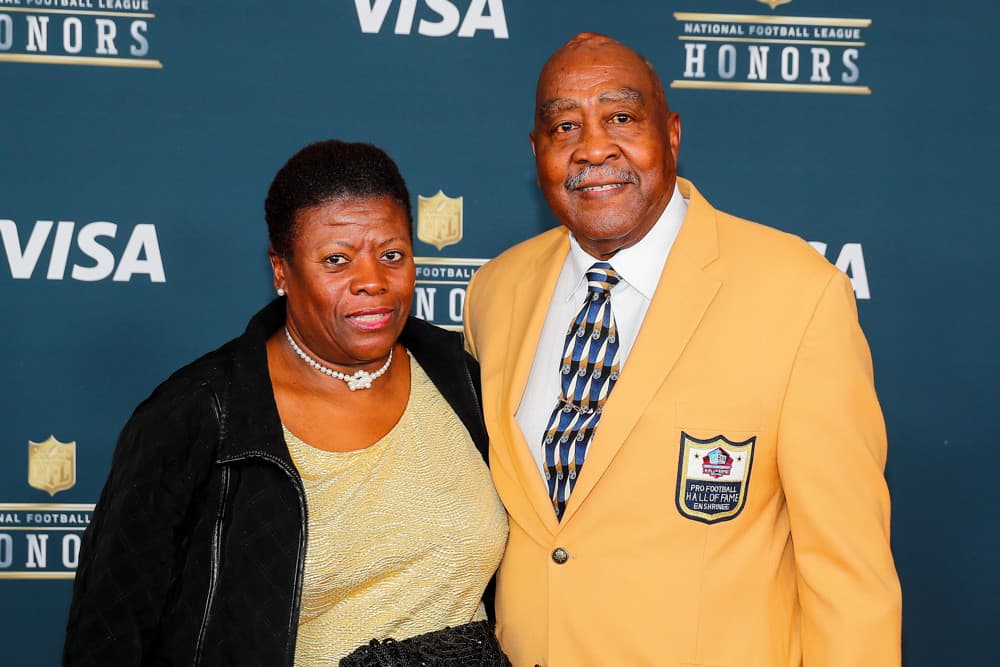 In the NFL, it is difficult to replace a player who was legendary in his contributions to a team.
Think of Steve Young replacing Joe Montana or Aaron Rodgers trying to replace Brett Favre.
Most times, the replacement player is still an unproven commodity.
The team doesn't really know what they're getting and if they will take a giant step back in terms of production.
Thankfully, in the cases of both Young and Rodgers, it just so happened that they also became legendary.
Young was voted into the Pro Football Hall of Fame in 2005.
Rodgers is still playing, but many believe he will be voted into the Hall on his first ballot after retiring.
Some teams are fortunate to draft or sign free agents well and are prepared for the inevitable decline or departure of their brightest star.
In 1966, the Browns were blessed to have a worthy understudy after a surprise announcement.
When running back Jim Brown suddenly announced his retirement on July 14, 1966, he was only 29 years old.
Still in the prime of his career, nobody expected Brown to step away from a game he so clearly dominated.
Once Browns management recovered from the shock of his departure, they took a measured sigh of relief.
Two years before Brown's retirement, Cleveland had drafted Morgan State running back Leroy Kelly.
For the first two years of his pro career, Kelly had been predominantly a special teams player.
Before the 1966 season, he was suddenly thrust into the starting role.
This is the story of the life and career of Leroy Kelly.

Early Years
Leroy Kelly was born on May 20, 1942 in Philadelphia, Pennsylvania.
From the start, Kelly and his younger brother, Pat, were sports enthusiasts.
Pat Kelly would eventually play 15 years in Major League Baseball as an outfielder.
Leroy Kelly was a multi-sport star at Simon Gratz High School in Philadelphia.
He was a letterman in football, baseball, and basketball.
On the Gratz High football team, Kelly was the quarterback, middle linebacker, punter, kick return specialist, and also kicked off.
"Leroy was the best football player I'd ever seen," his coach, Louis DeVicaris, once said.  "Besides being a great runner and a leader, he also was the most vicious tackler on the squad."
Despite his athletic nature, colleges didn't exactly beat down his door as he prepared to graduate.
Kelly had chosen to study mechanics and, therefore, had not taken a college preparatory class.
That made college recruiters wary that Kelly could survive academically in college.
Looking at his slim options, Kelly chose the school that offered him the best opportunity to succeed at the next level.

Morgan State
Morgan State University in Baltimore offered Kelly a half scholarship for football as well as a job.
After accepting the offer, Kelly headed east.
During his first few practices with the Bears, Kelly tried his hand at quarterback.
However, coach Earl Banks noted Kelly's lack of arm strength and moved him to running back.
During the next four years, Kelly played on both sides of the ball for Morgan State.
He was the co-captain of the team during his senior year and was also the MVP of the Orange Blossom Classic game held in Miami.
Because of their close proximity to Morgan State, Baltimore Colts players would occasionally attend Bears practices.
Watching Kelly during practice one day, George Taliaferro (who played halfback for the Colts) shared a tip with Kelly that stuck with him.
"He told me to keep my eyes open after getting through the line and always to watch for that avenue of escape," Kelly remembered. "George showed me how to run under control and then to have that burst of energy when the opening appears."
Despite the fact that Kelly became a solid college running back, pro teams were leery of his size.
The trend in the NFL at the time was to draft runners with larger body types.
Team management believed larger backs could withstand the punishment of a full pro season.
In their eyes, Kelly was not big enough at his playing weight of 188 pounds.
More than a few NFL scouts told Kelly his best bet in the NFL would be as a defensive back.
Happy birthday to @BCFHOF Class of 2014 Inductee Leroy Kelly!

The @MorganStBears won the 1962 The CIAA Championship with Kelly leading team in rushing, scoring and punting. He then played 10 seasons for the @Browns and was inducted into the @ProFootballHOF in 1994 pic.twitter.com/zVKcAeVBnQ

— BlackCollegeFootball (@BCFHOF) May 20, 2018

Having watched Kelly at numerous Morgan State practices, Colts scout Buddy Young knew Kelly would be a sensational pro.
Baltimore had no need of a back as the 1964 draft approached.
However, Young used his connections with the Browns to persuade coach Blanton Collier to take a flyer on Kelly.
"This guy is smaller than Jim Brown," Young told the Browns. "But Kelly has many of the same moves. He's got speed, can cut and never gives you a full piece of himself. He also keeps those feet close to the ground."
With that ringing endorsement in hand, Cleveland drafted Kelly in the eighth round of the draft.
That draft slot brought Kelly a contract for $17,000 including bonuses (which is approximately $143,000 in today's market).

Special Teams Demon
With Kelly signed by the Browns, the next thing the coaching staff had to figure out was what to do with him.
Jim Brown and Ernie Green were already firmly entrenched as the starting running backs.
Even more daunting for Kelly, Brown never missed a day of work, ever.
In his career, Brown started and played in every game.
That meant Kelly had to find a different way to make the team.
During training camp in 1964, Kelly flew all over the field and caught the coaches eye for his special teams dedication.
"He immediately showed me that he was a very tough tackler," Collier noted at the time. "I knew that he would be a good man for the specialty teams."
Sure enough, that was how Kelly made his mark.
He made the Browns as a special teams player and he took to the role as if his life depended on it.
The coaching staff raved about Kelly's willingness to take on blockers and make good tackles.
Given his speed, Kelly was also adept as a punt return specialist.
During his second season in 1965, Kelly won the league punt return title with 265 yards on 17 returns.
He also had 621 yards on 24 kick returns.
Kelly was finally able to see a little playing time when Green sustained an injury during the '65 season.
In Green's sted, Kelly rushed 37 times for 139 yards and also caught nine passes for 122 yards.

Kelly Becomes the Starter in 1966
Kelly had become a Brown at just the right time.
Despite only seeing limited playing time, he was a member of the Browns 1964 NFL Championship team.
The following season, Cleveland returned to the Championship game only to lose to the Packers.
After the 1965 title game there were rumors that Brown might not be returning to the team.
He was off in Europe taking part in the filming of the movie "The Dirty Dozen" as training camp approached.
Due to weather delays during filming, Brown's return to Cleveland was in doubt.
Owner Art Modell threatened Brown that if he did not return on time to training camp, he would fine the star daily.
Brown briefly considered Modell's threat and then decided to retire.
The decision came to the shock and dismay of Cleveland's management as well as Browns fans.   (Modell admitted years later that he took the wrong approach to Brown's training camp attendance).
At the time, Brown was in the prime of his career and only 29 years old.
His retirement left the team scrambling for a replacement.
With only two years of special teams experience, Kelly was thrust into the starter's role.
 "I don't expect anyone to replace Jim," said Collier shortly after Brown's retirement.  "Runners like him come along only once in a lifetime. I do expect someone from this squad to make a name for himself and Leroy is going to get his chance."
Even though the team missed the playoffs that season, Kelly responded brilliantly.
During the 1966 season, he rushed 209 times for 1,141 yards and 15 touchdowns.
Kelly also caught 32 passes for 366 yards and a score.
His yardage total was second-best in the league and he led the NFL in yards per attempt (5.5) and touchdown runs.
After the season, Kelly was voted to his first Pro Bowl and was named a First-team All-Pro.
Hall of Famer Leroy Kelly looking smooth. #Browns pic.twitter.com/2JbZIlne73

— Ken Gelman (@kengfunk) February 16, 2017
1967 & 1968
1967 began a spectacular two-year run of greatness for Kelly.
That season he led the league in rushing yards with 1,205 and added 20 catches for 282 yards.
He also led the league in rushing average (5.1) and touchdowns (13 total).
The totals meant another Pro Bowl trip and First-team All-Pro recognition.

The Browns finished the year 9-5 and advanced to the Conference Championship game where they lost to Dallas 52-14.
In 1968, Cleveland crossed the finish line with a 10-4 record and met the Cowboys again in the Conference Championship game.
This time, the Browns upended Dallas and came away with a 31-20 victory.
During the game, Kelly accounted for two scores, a 45-yard pass from quarterback Bill Nelsen and a 35-yard run.
The following week, the Colts crushed the Browns 34-0 in the NFL Championship game.
#ThrowbackThursday the #Browns great Leroy Kelly against the #Cardinals pic.twitter.com/GstMEdlrxK

— TidewaterBrownsBackr (@TBBA42) December 13, 2019

That year, Kelly passed the century mark for the third straight year, rushing for 1,239 yards which topped the NFL.
He led the league in rushing touchdowns (16) and tacked on another four scores on receptions.
Even more remarkable, Kelly scored a touchdown in 12 games and two or more touchdowns in seven games.
Both marks are franchise records.
After the season, Kelly was named First-team All-Pro and was selected for his third Pro Bowl.
He was also bestowed with the Bert Bell Award for NFL Player of the Year.
At this point in his career, Kelly joined Brown and Packers great Jim Taylor as the only backs in league history (at the time) to have over 1,000 yards rushing multiple times.

1969 & 1970
In 1969, Kelly's rushing numbers declined, but not by much.  For the year, he racked up 817 yards on 196 carries for nine touchdowns.
He also hauled in 20 receptions for 267 yards and one more score.
His numbers were good enough for a fourth straight Pro Bowl nod.
Leroy Kelly and Bo Scott, the #Browns great backfield mates of the late 60's/early 70's. pic.twitter.com/wuJFiexszB

— Ken Gelman (@kengfunk) May 16, 2018

Meanwhile, the Browns finished the year 10-3-1 and faced Dallas for the third consecutive year in the Conference Championship game.
For the second straight year, the Browns bested Dallas 38-14.
Kelly was responsible for a one yard touchdown run in the fourth quarter.
The following week, Cleveland fell to the Vikings 27-7 in the NFL Championship game.
Vikings LB Roy Winston tackles Browns RB Leroy Kelly in the 1969 NFL Championship Game. #vikings pic.twitter.com/mgG6HS0bko

— VikeFans (@VikeFans) June 15, 2018

The team missed the playoffs in 1970 with a 7-7 record.
That year marked only the second time in franchise history where the Browns failed to have a better than .500 record.
However, despite their record, the Browns and Kelly made history that year when they played the Jets in the first official Monday Night Football game in Week 1.
The first regular season game in Monday Night Football history pitted the #Jets vs. the #Browns in Cleveland on 9.21.70. The game featured Hall of Famers like Joe Namath, Leroy Kelly and Don Maynard as well as great veterans like Gary Collins. The Browns won this MNF opener 31-21 pic.twitter.com/GWwJSxld2p

— Ken Gelman (@kengfunk) September 20, 2018

1970 was an off-year for Kelly as well.
His 656 yards marked his lowest rushing total as a starter.
However, he did add 311 receiving yards as well as eight combined touchdowns.
During the Week 12 game against Houston, Kelly passed Bill Brown as the career rushing yards leader among active players.
He would hold this mark until his retirement.

1971 & 1972
In 1971, Kelly bounced back and so did the Browns.
As the team went 9-5 and took first place in the AFC Central, Kelly returned to his old self.
That season he ran for 865 yards and ten scores along with 25 catches for 252 yards and two more touchdowns.
Cleveland faced the Colts in the Divisional Playoffs but were promptly eliminated 20-3.
1972 saw Kelly rush for over 800 yards again, ending the year with 811 yards and four touchdowns.
Cleveland Brown and Pro Football Hall of Fame RB Leroy Kelly in 1972 pic.twitter.com/GoZgnoRDKH

— 1970s Football (@1970sNFL) July 21, 2020

He added 23 receptions for 204 yards and another score.
The Browns went 10-4 in '72 and met a Miami team that had not lost a game that year.
Unfortunately, the Dolphins kept rolling and upended Cleveland 20-14.
When they won the Super Bowl a few weeks later, Miami became the first NFL team to finish a season undefeated.
It was not lost on the Browns that they had also been undefeated once.
In 1948, they had a perfect 14-0 season in the old All-American Football Conference.

1973
The 1973 season was difficult for Kelly.
Struggling with knee issues, he rushed for only 389 yards on 132 carries, which averaged about 2.9 yards per carry.
Kelly was also limited to 15 receptions for 180 yards.
The Browns missed the postseason that year with a 7-5 record.
Kelly's time with Cleveland ended at the same time the team went into a decline.
The following summer, he was cut from the Browns

1974
After being released by the only pro team he ever played for, Kelly was signed by the Raiders.
He didn't last long in Oakland and was shown the door again.
That year, the World Football League started and Kelly looked for work with the organization.
The Chicago Fire picked him up and Kelly rushed for 315 yards and caught eight passes for 128 yards (a 16 yards per catch average).
Not long after the '74 season, the WFL folded and Kelly retired as a pro football player.
Leroy Kelly (born May 20, 1942) Morgan State University A Pro Football Hall of Fame running back, he played for the Cleveland Browns in the National Football League (NFL) from 1964 to 1973. Kelly ended his pro career with the Chicago Fire of the World Football League in 1974 pic.twitter.com/a1dVTfRXEv

— Timothy C. Kulla (@TCKooo) May 20, 2020
Life After Retirement
Life after football hasn't been too bad for Kelly.
As he was playing, Kelly invested in a night club and a few Burger King franchises.
However, "They folded," he said in a 2008 interview.
Kelly and his wife, Bettie, had three children.
Their oldest son, David, and daughter, Felicia, have both been involved in television as a reporter and engineer, respectively.
Their other son, Leroy Kelly II, followed in his father's footsteps and played football.
Junior played three seasons in the American Indoor Football League and one season with the German Football League.
In 1994, Kelly was inducted into the Pro Football Hall of Fame.
Happy Birthday to HOF RB Leroy Kelly! Played 10 seasons for the @Browns. Selected to 6 Pro Bowls and @NFL 1960s All-Decade Team. pic.twitter.com/yhal0p7Un5

— Pro Football Hall of Fame (@ProFootballHOF) May 20, 2017

It was hard to overlook his stats.
Over the course of ten seasons, Kelly had 7,275 rushing yards and 74 touchdowns, was an NFL Champion in 1964, six-time Pro Bowler, four-time First-team All-Pro, Bert Bell Award winner, two-time league rushing yards leader, three-time league rushing touchdowns leader, and NFL 1960s All-Decade Team member.
His Hall of Fame bio contains a modest quote by Kelly.
"I didn't think about trying to replace Jim Brown.  When I was sitting on the bench two years, I used to compare myself to the backs that were starting around the league and I knew I was as good as most of them.  I just want to be one of the best backs in the league, not a superman like Jim Brown was."
By the time Kelly was in his mid-60s, he was traveling across the country and making appearances at country clubs, golf tournaments, and card shows.
Essentially, that was how Kelly was making a living as the pension he receives from the NFL is only about $162 per month.
"They give the Hall of Famers a few dollars," said Kelly in 2008. "It's a hustle for us, really."
Although Kelly's legacy is remembered as the guy who replaced Jim Brown, he is happy that he proved himself in the NFL.
"I'm just glad he (Jim Brown) quit when he did," Kelly laughed. "If he had played a few more years — and he certainly could have done that — I might never have had the chance I had. All I ever wanted to do was to be Leroy Kelly and do the best job I possibly could."
Kelly did that and then some.