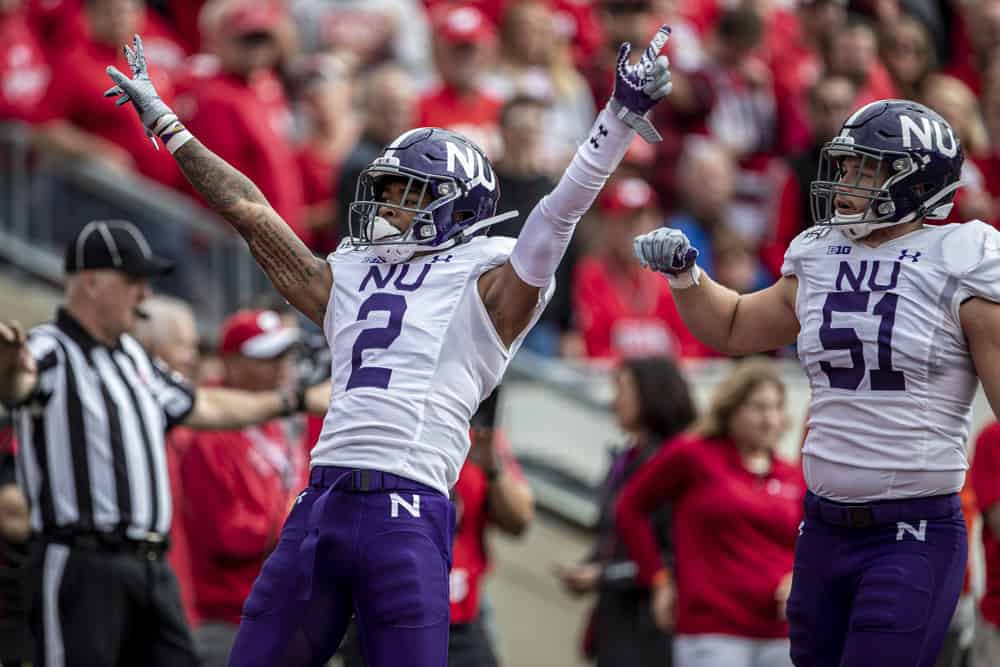 The debate is on regarding how the Cleveland Browns should use the 26th overall pick in this year's NFL Draft.
Defensive end has been talked about a lot as fans long for a solidified pass rusher to pair next to Myles Garrett.
Defensive back is another option being talked about as well, and not just by the fans.
NFL draft analyst Mel Kiper Jr. recently discussed defensive back options the Browns could have with the 26th pick.
Cornerback Greg Newsome II, out of Northwestern, and safety Trevon Moehrig, hailing from TCU, were the options discussed.
Could one of these two guys be viable options for Cleveland in the first round?
1. Greg Newsome II
Newsome II was as good a lockdown corner as one can be in the Big Ten last season at Northwestern.
Lowest completion rates allowed in the Big Ten last season:

Cameron Mitchell, Northwestern – 33%
Greg Newsome II, Northwestern – 35% pic.twitter.com/sUKn997GBW

— PFF Draft (@PFF_College) March 2, 2021
Greg Newsome II: 31.7 passer rtg allowed in coverage last season

Lowest among all power five defenders. pic.twitter.com/1ol79zEKFL

— PFF Draft (@PFF_College) March 4, 2021
In his description of Newsome II, Kiper Jr. notes the 6'1", 190-pound corner is "consistent" and does well to locate the football on every throw.
"He's a solid player," Kiper said. "When you look at him on tape, he's a very consistent player. Instinctively, he's a very good player. He's a smart kid. I thought he was very impressive in coverage. He stuck to the receivers and he's got a good turning motion and locates the football. He's put together two really good years and he's got a lot of really good experience."

"You'd like to see more than one career interception. I thought about putting him in the late first round, but I'd project him right now as an early-to-mid second. He's not going to get out of Round 2."
The lack of awareness from some corners around the league is mind-boggling.
With Newsome II, that doesn't happen often.
His numbers from last season don't jump off the page.
In just three games played, he logged 12 tackles and just one interception.
He did not appear in the Big Ten Championship Game against Ohio State.
Perhaps the small sample size is why he remains one of the more low key first-round names at the moment.
In Cleveland, he would certainly have the opportunity to compete for a starting position.
Outside of Denzel Ward, the position group remains unproven.
Greedy Williams will return this season.
With little NFL experience under his belt, his spot opposite of Ward is far from guaranteed.
Those responsible for drafting him may even push for him to start if he impresses in camp.
He'd be a late first-rounder, but a first-rounder nonetheless.
The camp battle between him and Williams would be interesting, and beneficial for both guys.
2. Trevon Moehrig
The other name mentioned by Kiper Jr. was safety Trevon Moehrig.
The TCU Horned Frog (still a top-tier collegiate nickname) has played the position as well as anyone in the country the past two seasons.
Trevon Moehrig forced an incompletion on 25% of targets since 2019.

Highest among all safeties. pic.twitter.com/NRjhlWBa7P

— PFF Draft (@PFF_College) March 8, 2021
Most forced incompletions from the slot since 2019:

1. Damar Hamlin, Pitt – 16
2. Elijah Molden, Washington – 15
3. Joshuah Bledsoe, Missouri – 14
4. Trevon Moehrig, TCU – 13 pic.twitter.com/VDF41vUa4F

— PFF Draft (@PFF_College) March 6, 2021
Trevon Moehrig is the best safety in the 2021 NFL Draft, and it's not close. pic.twitter.com/baTOlG5Ii2

— PFF Draft (@PFF_College) February 17, 2021
"Are you going to take a safety high (in the first round)? Probably not," Kiper said. "But when you get to 26, if Moehrig is there, he would be the only one that I would jump at. He would be a great pick. I think an accurate argument would be that he's one of the best defensive players in this draft."
In his third and final season with TCU, Moehrig appeared in 10 games, logged 47 tackles, and intercepted two passes.
He played high-level defense in a Big-12 Conference that, if we're being honest, isn't exactly known for playing great defense.
Maybe that plays against Moehrig's draft stock.
That shouldn't take away from his ability though, as he played against four of the best 40 offenses in the country last season.
With seven career interceptions, Thedraftnetwork.com notes his knack for creating turnovers created big momentum swings for the Horned Frogs.
That's instrumental for NFL defenses, especially when it comes to the postseason.
Not only would Moehrig help on the field, but in the locker room as well.
"Some guys are great players, some guys are good people, he's both", said TCU head coach Gary Patterson after Moehrig won last year's Paycom Jim Thrope Award.
The safety position is another spot the Browns would welcome an upgrade too.
Ronnie Harrison impressed last season and will be back.
Grant Delpit will also return after a season-ending injury spoiled his rookie campaign.
Moehrig has a chance to be better than both those guys though and could definitely compete for a starting spot in camp.