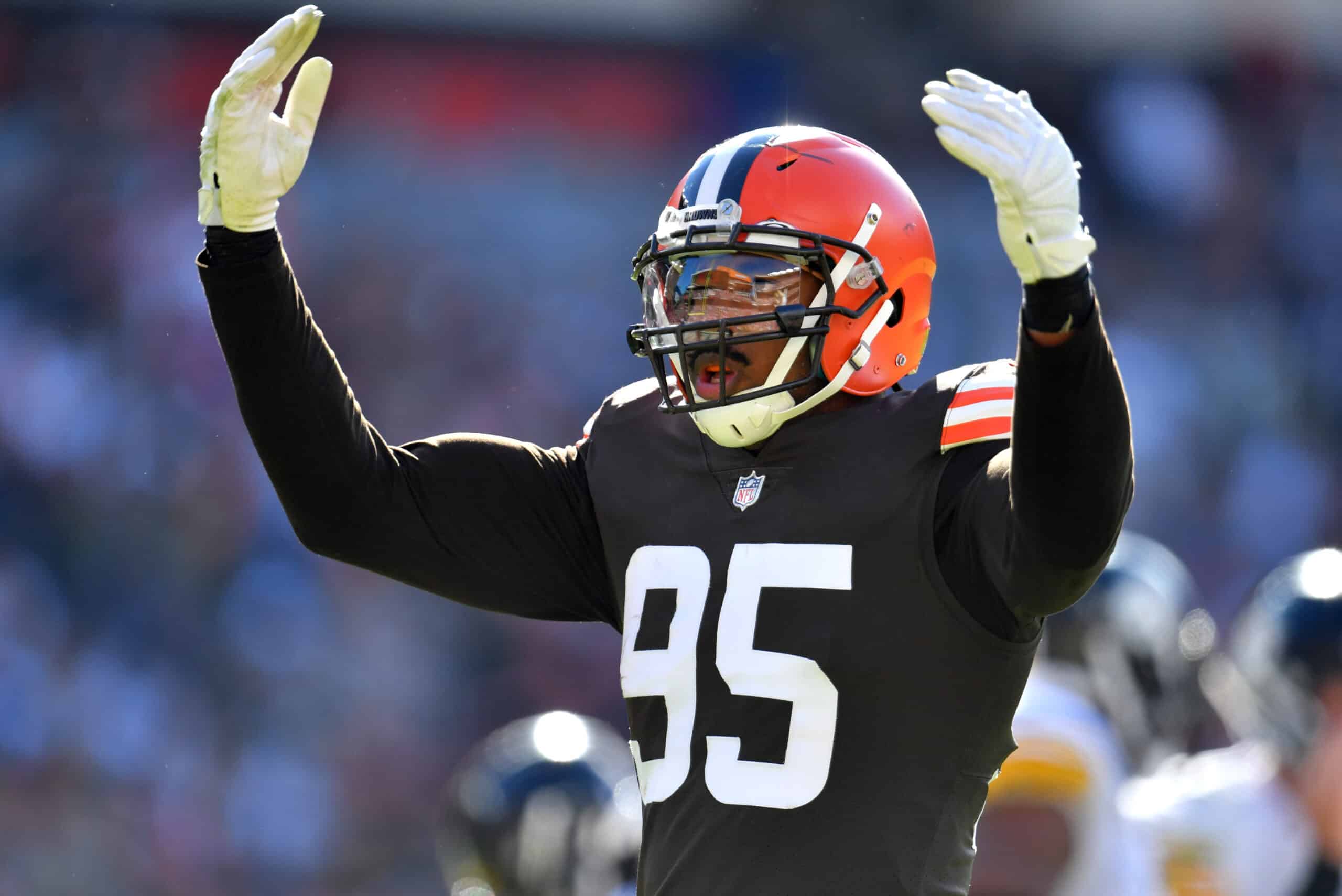 This news will surprise no one who is a Cleveland Browns fan.
Defensive end Myles Garrett is currently in fourth place in most votes received for the 2022 Pro Bowl.
Garrett has 113,980.
Here are the top five as of Thursday, December 2, 2021.
Jonathan Taylor, Indianapolis Colts running back, 126,381 votes
Travis Kelce, Kansas City Chiefs tight end, 121,807 votes
Cooper Kupp, Los Angeles Rams wide receiver, 120,010
Myles Garrett, Cleveland Browns defensive end, 113,980
Tom Brady, Tampa Bay Buccaneers quarterback, 111,716
Top 5 Pro-Bowl vote getters:

1) #Colts Jonathan Taylor
2) #Chiefs Travis Kelce
3) #Rams Cooper Kupp
4) #Browns Myles Garrett
5) #Bucs Tom Bradypic.twitter.com/4xbQtPjFen

— Dov Kleiman (@NFL_DovKleiman) December 2, 2021
Only Defensive Player In Top 5
The NFL is an offense driven league so it is not surprising that there are more offensive than defensive players in the Top 5.
Myles Garrett is the only defensive player which speaks volume about what kind of year he is having.
He has more votes than the G.O.A.T. himself, Tom Brady.
Tied Browns Single Season Sack Record In Week 12 Against The Ravens
Good morning my Cleveland Browns family! Myles Garrett has 14 sacks this year and is 1 away from breaking the teams single season sack record. He has a 28 percent pass rush win rate according to PFF and I think it will only be fitting to break the record sacking Lamar!#Browns pic.twitter.com/2imCeoVW61

— The_Brownie_Elf (@TheBrownieElf1) December 2, 2021
In addition to his Pro Bowl accomplishments, Myles Garrett is on the verge of breaking the Browns' single-season sack record.
Myles Garrett's league-leading 14TH SACK of the season! #Browns @Flash_Garrett

📺: #CLEvsBAL on NBC
📱: https://t.co/a7J5Y5xpbt pic.twitter.com/vgrN5MczzZ

— NFL (@NFL) November 29, 2021
His league-leading 14 sacks in 2021 tie him with Reggie Camp who hit that number for the Browns in 1984.
It is worth noting that Camp's teammate Clay Matthews had 12 sacks that same season.
Garrett is the resounding sack leader on the Browns defense.
In second place behind Garrett is Jadeveon Clowney with 3.5.
Michael Strahan's Single Season Sack Record Is In Reach
Finally. @Giants will retire @michaelstrahan's no. 92 today!

SB XLII Champ
4x 1st team All Pro
Single-season sack record (22.5)
2001 Def. Player of Year
NYG all-time sack leader (141.5)
Pro Football HOFer
NYG Ring of Honor

Congrats, 9⃣2⃣! #TogetherBlue pic.twitter.com/PRlAYkRYXa

— Giants Fans Online (@NYGFansOnline) November 28, 2021
New York Giants legend Michael Strahan set the single-season sack record in 2001 with 22.5.
Could Garrett challenge that record with 5 games left in the season?
He is 8.5 sacks away from matching it.
Garrett Is Browns Defensive Leader
I will be stealing Myles Garrett's DNA and cloning 10 other Myles Garrett's and train them to play every position on defense.

— John (@JohnHillbery) November 29, 2021
Myles Garrett is one of the most intense players on the Browns roster.
To be fair, this is a talented Browns defense, but he is definitely the leader.
Let's hope the bye week finds him getting rested and ready to play even better in the final 5 games of the season.