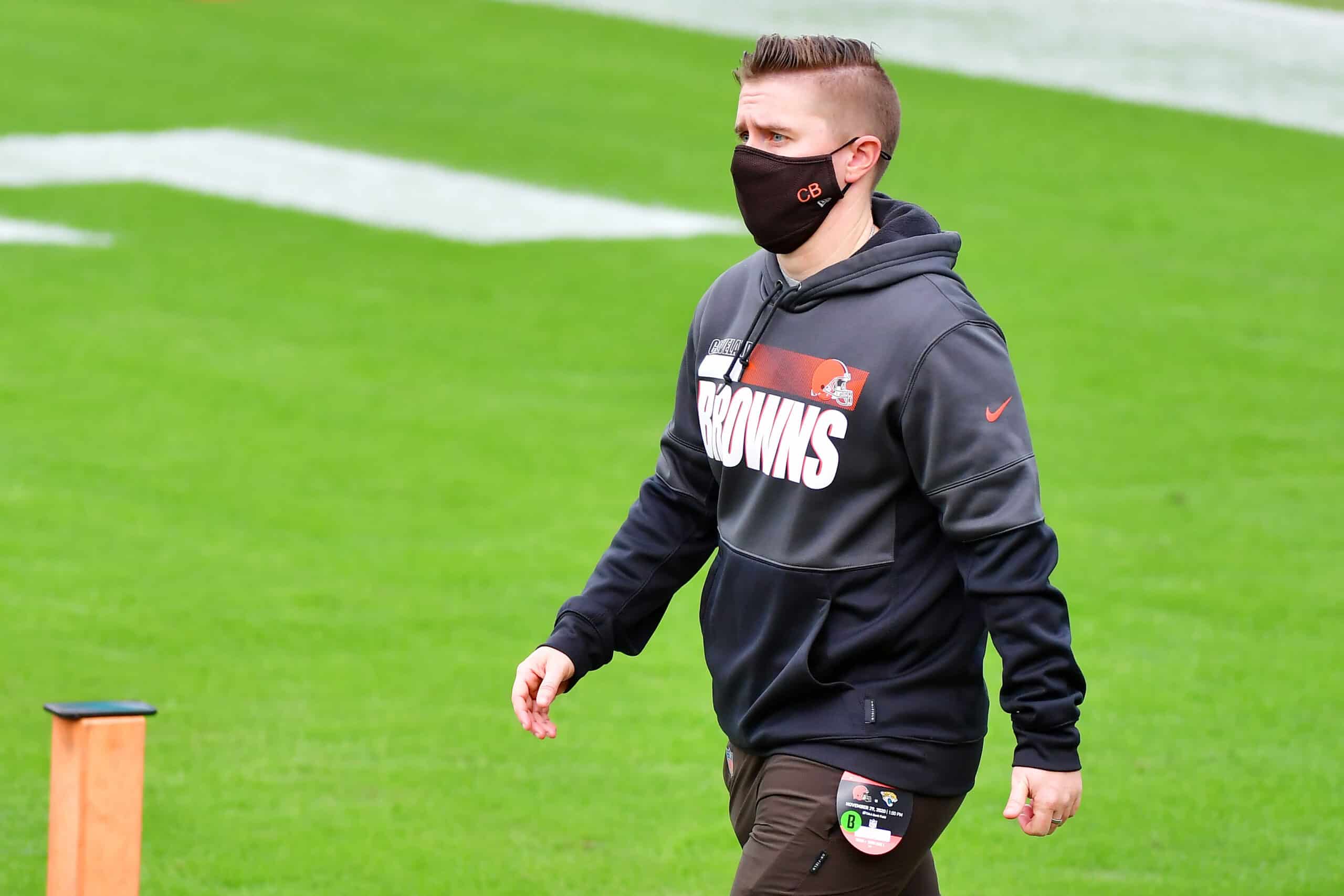 It's been a wild year for Callie Brownson.
The Cleveland Browns' Chief of Staff had trouble with the law back in June when police pulled her over for drunk driving.
#Browns coach Callie Brownson's body cam footage of traffic stop.

🎥: @BrownsByBrad pic.twitter.com/0pD93kfZu6

— Cleveland Browns. (@brownupdater) June 9, 2021
Brownson accepted both the charges and her brief suspension from the team.
Now, months later, things for her are moving in a much better direction.
On Thursday, Brownson was named the head coach for the U.S. women's national tackle football team.
Brownson is one of Kevin Stefanski's favorite members of the Browns coaching staff.
The U.S. women's football team should have no problem warming up to Brownson.
A Dream Job
For any coach, being the head or leader of a team is often the goal.
They have control and get to put their stamp on a program.
For folks who return to a program they previously were a part of, the homecoming is special.
That's what is happening here with Brownson. Callie played for the D.C. Divas of the Women's Football Alliance (WFA) from 2010-2017.
Here, she earned a spot on the women's national team to compete in the IFAF Women's World Championship in both 2013 ad 2017 (it is held every four years).
She helped the United States capture gold in both tournaments.
This summer the event is being held again with Finland playing host.
The team this year will be coached by Brownson.
"It means a lot to me. The moments that I had being a player for this national team are so special to me", said Brownson during a Zoom call on Thursday. "You can't say enough about playing the sport that you love while playing internationally and representing your country and wearing the red, white, and blue. But now being able to put that team together from square one and all the things that I've learned… I want to make sure this is something they talk about the rest of their lives and something that means so much to them and something they can take pride in".
Clearly, this is more than just a job for Brownson.
This is an opportunity to give back to a team and group that made such a special impact on her life.
Now, she has a chance to create something special for 45 other women.
Bouncing Back
Brownson's journey from June until now could not have been easy.
Obviously, the only one with her every step of the way is herself.
Only she can speak on the true nature of it.
However, she's been open about the incident in June and what it took to move past it.
"I knew this was a huge mistake and one that was going to render consequences. That point was made very clear to me", said Brownson via the Akron Beacon Journal. "After that they just kind of said, 'We love you and we believe in you and you have our support in the next piece of it, which is working through it and coming out the other side of it better.' I was committed to that".
An event-filled journey for Brownson now adds another chapter.
This one may be the most exciting one yet for Callie.
Check out some of her playing day highlights below!