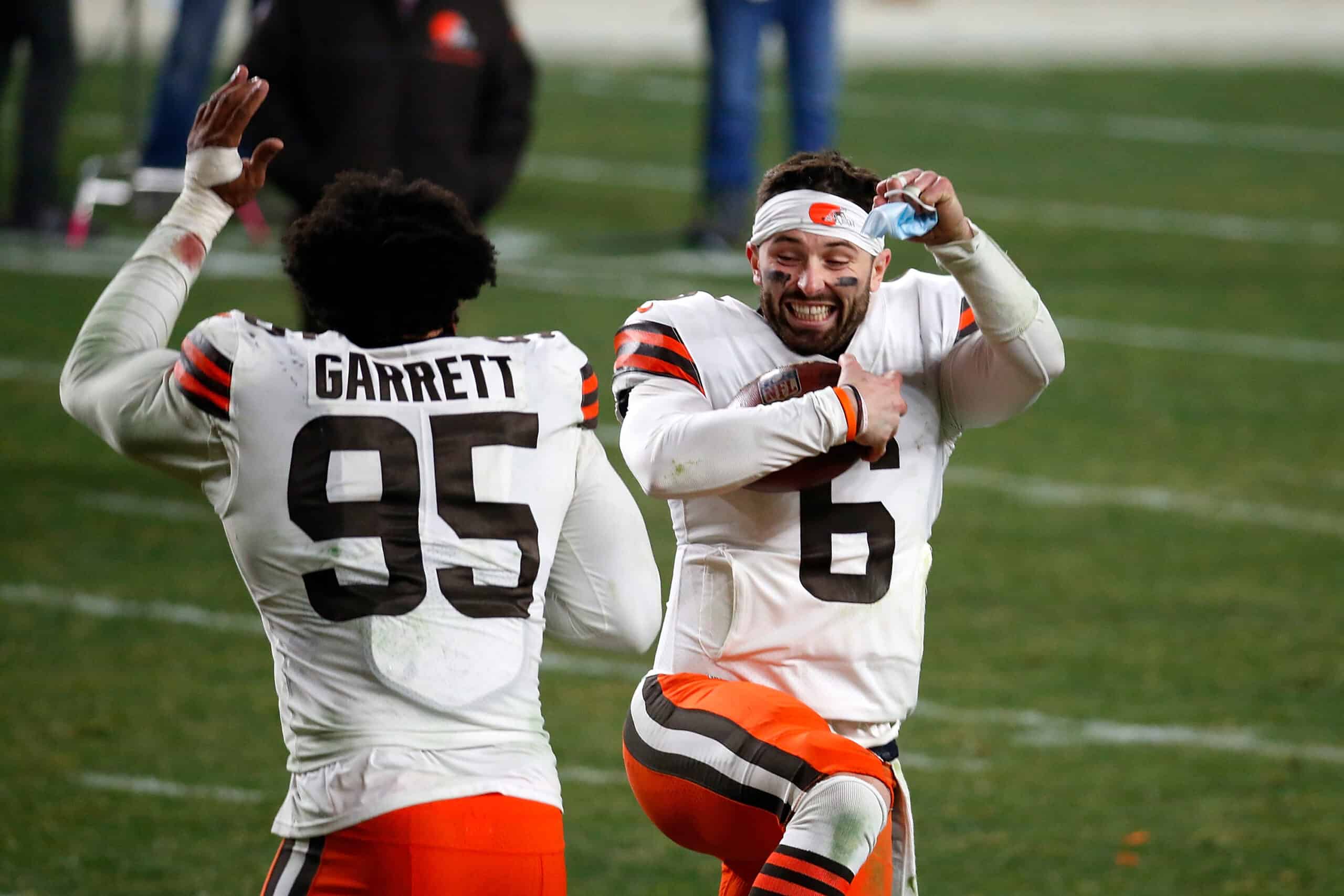 Fans love giving nicknames to their favorite athletes.
Calvin "Megatron" Johnson, "Iron" Mike Ditka, and countless others continue to be a part of the NFL culture.
Following Sunday's win for the Cleveland Browns, defensive end Myles Garrett has a new nickname for his quarterback.
Per Jake Trotter, Garrett's nickname for Baker Mayfield is inspired by former Green Bay Packer gunslinger Brett Favre.
Myles Garrett on Baker Mayfield's left shoulder injury: "The guy is tough. … Brett Favre 2.0." #Browns

— Jake Trotter (@Jake_Trotter) September 19, 2021
This won't be Baker's "official" nickname, if you will.
However, this remark from Garrett is an accurate one.
There are some striking similarities between Mayfield and the Packers legend.
Toughness
In Sunday's win over Houston, Mayfield gave fans a scare when he exited the game early with a shoulder injury after throwing an interception.
The following drive, Mayfield returned to the action, and led the Browns down the field for a score.
No. 6️⃣ is in for 6️⃣. @bakermayfield #Browns

📺: #HOUvsCLE on CBS
📱: NFL app pic.twitter.com/0ws8m9rzgw

— NFL (@NFL) September 19, 2021
The sequence is something football fans watched Favre do many times in his career.
Go down with an apparent injury, return to the game, and lead the offense into the endzone.
This YouTube breakdown revisits one of these instances from Favre in a 2004 contest against the Minnesota Vikings.
Favre suffered a concussion late in the game, yet after just seconds on the sidelined, he returned to the field and lasered a touchdown pass for six points.
That toughness is what helped define the career of Favre.
In 2018, Favre talked about playing through injuries.
He admitted he had played through "probably thousands" of concussions throughout his playing career.
Northeast Ohioans would rather Mayfield not suffer "thousands" of concussions.
He'll avoid one here, and this time, it's a shoulder that took the punishment.
Thankfully for Mayfield, it's his non-throwing shoulder as well.
#Browns Baker Mayfield on his shoulder injury: "It's my left. God gave me two."

— Camryn Justice (@camijustice) September 19, 2021
Not the First Time
Baker hasn't commented about Garrett's remark, but it's safe to assume he appreciated it.
It's not the first time Baker has been connected to Favre.
For those who may not remember, Mayfield recreated an iconic Draft Day photo that Favre originally took back in 1991.
Baker Mayfield recreated Brett Favre's iconic draft day photo and it's SO GOOD 👏

(📷: @bakermayfield) pic.twitter.com/r7yrCiiR3q

— SB Nation (@SBNation) April 26, 2018
It almost seems like destiny for a nickname involving Favre to be given to Mayfield eventually.
Gunslingers
The term "gunslinger" is used to describe the type of quarterback that Favre was and Mayfield currently is.
It coincides with a "go big or go home" mentality.
These signal callers want to take chances, push the ball down the field, and continue to do so even after a couple interceptions.
That last part was integral to Favre's game, who still holds an NFL record for most interceptions thrown.
Sunday's "Favre-moment" for Mayfield involved an interception as well.
Yet, Mayfield shook it off (with his good shoulder) and marched the Browns right back down the field in response.
The turnovers will happen for Mayfield.
As will the bumps and bruises.
That's just the type of player Mayfield is and the punishment that can sometimes come with it.
Cleveland fans aren't eager to replace their quarterback anytime soon.
His resilience in Sunday's win displayed part of the reason why.