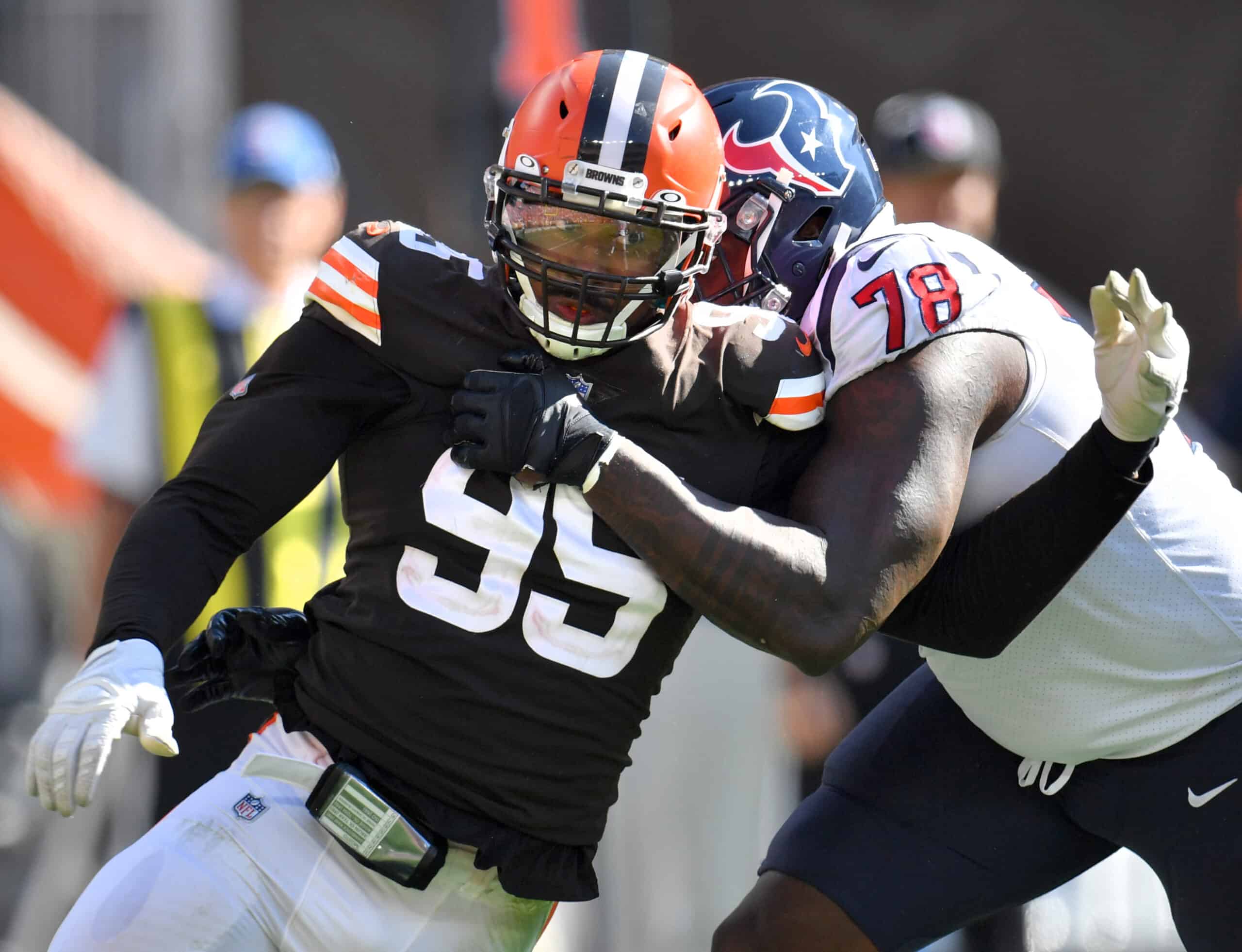 The Cleveland Browns are 1-1.
Thus far, the offense has lived up to its preseason billing and given us everything they had each week.
Then, there is the defense, it was GM Andrew Berry's offseason project.
On paper, it is a loaded and talented roster.
However, it has fallen way short of the capabilities and expectations placed on it.
What is happening, and who is at fault?
Hopefully, these two questions are answered sooner rather than later.
Here are just three of the problems this defense has.
1. Out Of Position
A good defense has the right players at the right place at the right time.
The Browns have not figured out the puzzle of who, what, and where just yet.
Social media has plenty of opinions and suggestions.
Joe Woods Swiss cheese D. #Browns

— Hooper 🏒🏈⚾️ (@munilot) September 19, 2021
Jarvis out and the D playing like crap is not how I envisioned this. #LFG #Browns

— CLEFan4Life (@LaVidaLysandra) September 19, 2021
The #Browns D has to put it together. They hopefully will, and when they do, it's going to be good. There's a lot of guys that are playmakers. Eventually they're going to make plays. It's week 2.

— Joe B (@JoeB_inCLE) September 20, 2021
Here is just one example of being out of position and out of sorts.
Texans quarterback Tyrod Taylor could have spared his soon-to-be injured hamstring by walking in this 14-yard touchdown; he was untouched.
Tyrod Taylor's TD was so smooth pic.twitter.com/OGyf7O8bsy

— Eric Rosenthal (@ericsports) September 19, 2021
2. Predictable
It seemed like the Texans knew where the Browns defense would (and would not) be even before the Browns did.
@KenCarman We really doing the Mayfield vs Taylor this morning? That's the hill we're dying on? No talk about the horrible zone defense? No talking about the non existent pass rush? Terrible defensive playcalling? No? Alright. #Browns #brownstwitter

— Mr Green (@Mr_Green2021) September 20, 2021
The Browns have big and fast athletes on defense.
Playing zone repeatedly with these players is hard to fathom.
We saw Garrett and Clowney sandwich the quarterback one time last Sunday against the Chiefs and Mahomes.
That should be a more regular occurrence.
Where is the pass rush?
The players are good including the rookies, but the plan is bad.
3. Disastrous On 3rd Down
Browns defense struggling to get off the field on third down and play red zone defense. Continued poor situational football by Joe Woods.

— Ellis L. Williams (@BookofEllis) September 19, 2021
Probably the biggest recurrent issue with this defense is they cannot make the stop on third down.
The Browns are the worst in the NFL (literally) at holding teams on third down.
Per TeamRankings.com, so far this year, opponents have converted 62.96% of their third-down plays on the Browns.
Compare that with the Panthers who lead the league; opponents only convert 25% of their third-down plays against them.
The 2020 Browns were better on third down, opponents converted 44.78% of their third down plays.
What Myles Garrett Said
Garrett was clear after yesterday's game that the blame for the below par defensive play rests with the 11 players on the field and Joe Woods.
"It's on both of us.  We've got to play to the best of our ability, whatever calls that he gives us. If we don't make the play, that's not only on him, that's on all of us…You can put the blame on every single one that's on the field, all 11 of us, and him as well. We're a team and we're in this together."
Joe Woods On The Record
Wood's comments after the Chiefs game did not age well particularly since the Ravens cracked the code and beat the Chiefs last night.
"You can't cover them all. There are a lot of weapons out there so again, when you game plan, there are certain calls that take away certain things they do, but there may be some guys who get some one-on-ones."
Hopefully, the Browns have a good week of practice and work out these defensive issues before meeting the Bears in Week 3.