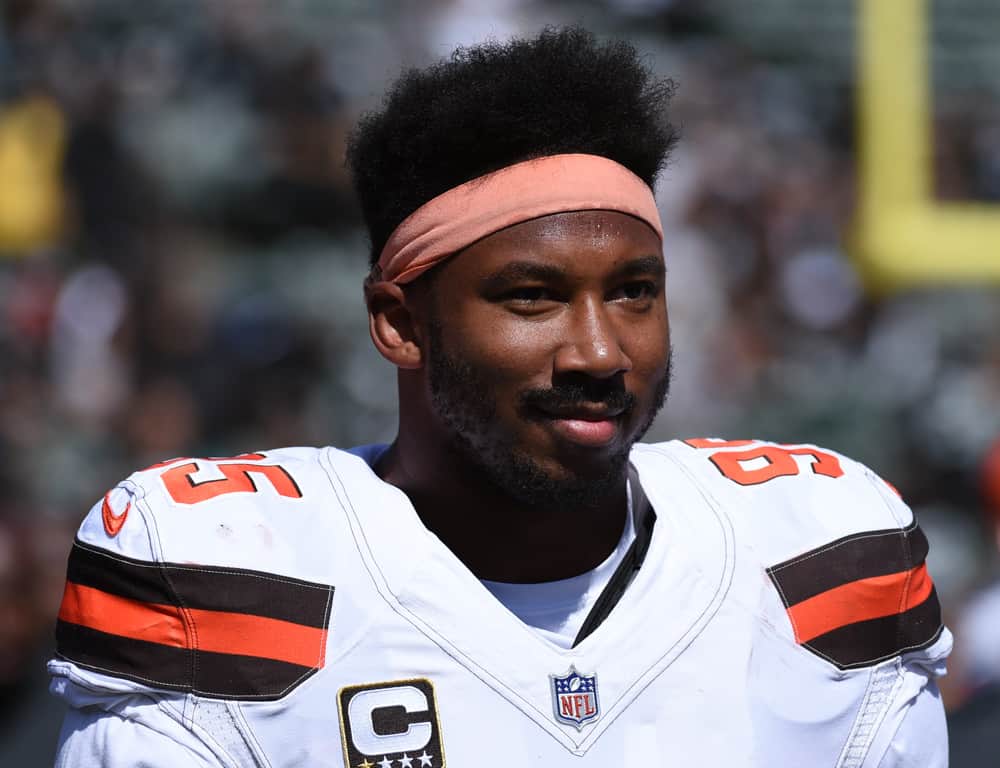 The protests continuing to sweep the country over the death of George Floyd have turned violent in many places.
This has resulted in deaths that have been shared by news outlets and subsequently on social media.
Myles Garrett responded to one death in particular that took place in Louisville.
An African-American man named David McAtee was shot and killed by police.
He was known for his BBQ restaurant in the area and the story has gone around that he used to feed police officers.
Garrett sent out a tweet expressing how we wants to help McAtee's family in this impossible time.
If anyone can get me in contact with the family, I'll take care of anything they need. No body cams??? Not one? Then left his corpse on the street? FOR 12 HOURS? Nah man, this is despicable. He deserved better. #DavidMcAtee https://t.co/Du9QFGAX58

— Myles Garrett ⚡️ (@MylesLGarrett) June 2, 2020
This is a great gesture by Garrett and goes along with the Cleveland Browns' organizational message.
The team released a statement Monday speaking out about what is going on in our society.
Our statement with @ColumbusCrewSC: pic.twitter.com/WtomkIduKu

— Cleveland Browns (@Browns) June 1, 2020
Garrett's 2020 Return
Garrett is a polarizing figure to football fans outside the city of Cleveland.
His infamous helmet shot to Pittsburgh Steelers quarterback Mason Rudolph made news beyond the world of sports and tarnished the defender's name.
However, Garrett has always come across as an intelligent and wise individual for his age.
Times are hard, but it's gonna take everybody to make a change. pic.twitter.com/I9wpH7DvL4

— Myles Garrett ⚡️ (@MylesLGarrett) May 31, 2020
One mistake will not define him and his tweet about helping the McAtee family proves who he is as a person.
In terms of actual football, Garrett was reinstated by the NFL back in February after he was suspended for his hit on Rudolph.
That was an expected outcome, but was still a good sign considering how unpredictable the NFL can sometimes be on those matters.
The Browns then went ahead and picked up his fifth-year option, putting the focus back on the field.
After all, Garret is one of the more elite defensive ends in the entire league.
Responses to Garrett
Garrett trying to help out the family of a slain man should not be a polarizing thing.
Yet the replies to him on Twitter are not all positive.
Unfortunately, that is just the world we live in and that is why protests have been taking place all week.
All Garrett can do is continue to use his platform for good.
❗️❗️❗️ https://t.co/4qs0XjOBgJ

— Myles Garrett ⚡️ (@MylesLGarrett) May 30, 2020
If he can help the family during their time of grieving and help out with costs, such as for a funeral, that will earn him new fans and show the world how he is more than just a great football player.
He is a great human being as well.
Some will never come around on Garrett, even if he is able to deliver on his gesture.
Most Browns fans should be on Garrett's side and those who aren't can choose do to whatever they want to do in their own lives.
It won't stop what is going on and we will continue to look for updates on Garrett trying to get in contact with the McAtee family after the death of a man known well in the Louisville area.