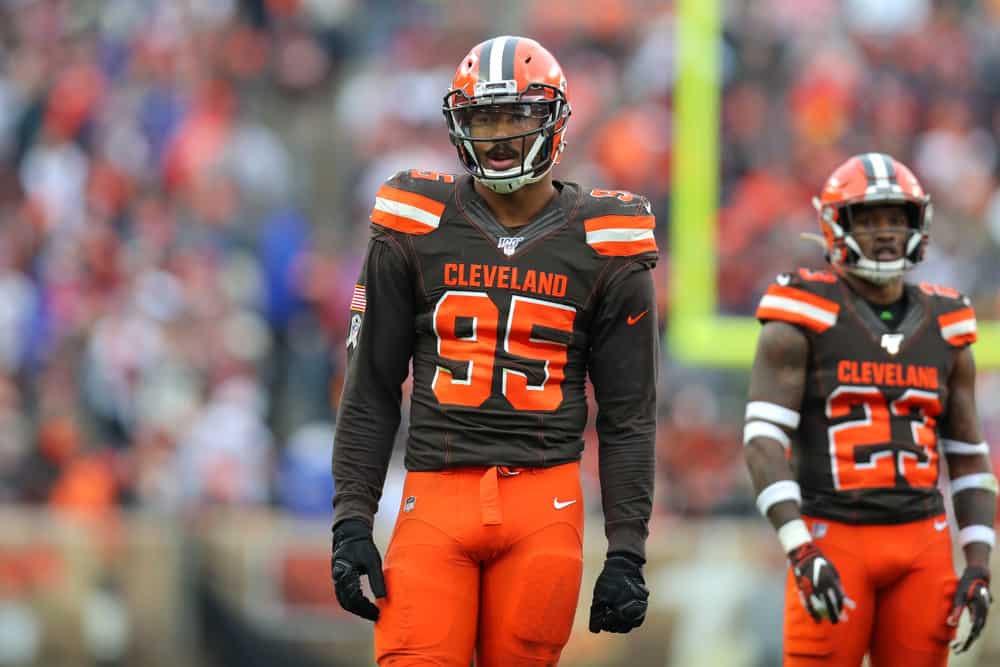 According to a report from Cleveland.com's Mary Kay Cabot, the Browns have exercised the 5th-year options of both Myles Garrett And David Njoku.
The #Browns have exercised the 5th-year options of 2017 first-round picks Myles Garrett and David Njoku, per league source

— Mary Kay Cabot (@MaryKayCabot) April 27, 2020

Garrett is most known for the suspension-laden brawl with Pittsburgh Steelers quarterback Mason Rudolph.
Since his suspended ended on February 12, 2020, it was a no-brainer to exercise the 5th-year option for the 2017 No. 1 overall pick out of Texas A&M.
The Pro Bowl defensive end has a history of receiving fines for his hits, but as long as he does not get into any trouble in the upcoming season, the exercising of the option will look like a smart decision.
Meanwhile, Njoku had an injury-riddled 2019, and the Browns seemingly have moved him to No. 2 on the tight end depth chart.
With the Browns making Austin Hooper the highest-paid tight end in the NFL, Njoku will have to prove himself this upcoming season.
The former Miami Hurricane is ready for the challenge:
Nahhhh man cmon I love competition. We'll push each other and get better together🦾 https://t.co/nmAoz5cgl5

— Chief David Njoku (@David_Njoku80) March 16, 2020
In each of his first two NFL seasons, he scored four touchdowns.
He started 14 of the Browns' 16 games in 2018, and he almost doubled his reception total (56) from the previous season (32).
The 23-year-old Njoku played in Weeks 1, 2, 14, and 17 last year, but he could not get consistent footing on the field, as he brought in just five catches for 41 yards.
Expectations for Garrett This Upcoming Season
Garrett's 16-game NFL season in 2018 was an impressive one.
This happened after he was named to the 2017 All-Rookie Team in just 11 games.
In 2018, he hit the quarterback 29 times and registered 13.5 sacks in his second NFL season.
His sack total and number of fumbles forced (3) both ranked in the top 10 in 2018.
He also was a Pro Bowler and Second-Team All-Pro selection that season.
Before his season was cut short in 2019, he was on pace for 16 sacks, which would have ranked third in the NFL last season.
The expectations for Garrett should be high for 2020.
He should set a new career high in sacks and may be able to with forced fumbles (three) and tackles (44) as well.
He also should be a Pro Bowler and an All-Pro selection.
If he performs well in a Browns uniform the next two seasons, his future contract will be a high one.
Expectations for Njoku This Upcoming Season
The 246-lb, 6'4″ tight end is ready to make an impact for the Browns.
Njoku kept improving over his first two seasons, and he scored a touchdown in Week 1 of 2019.
Although Cleveland lost by 30 points at Tennessee, Njoku was the only Browns receiver to score a touchdown in the contest.
He caught four of his five 2019 receptions in that contest.
The touchdown was also his only one of the season, and that was mostly because of his wrist injury and benching by former head coach Freddie Kitchens.
Njoku, who did not get along with Kitchens, seems ready to explode in Kevin Stefanski's revamped offense.
A modest, but realistic 2020 for a healthy Njoku should be 70 targets, 50 receptions, 600 receiving yards, and four touchdowns.