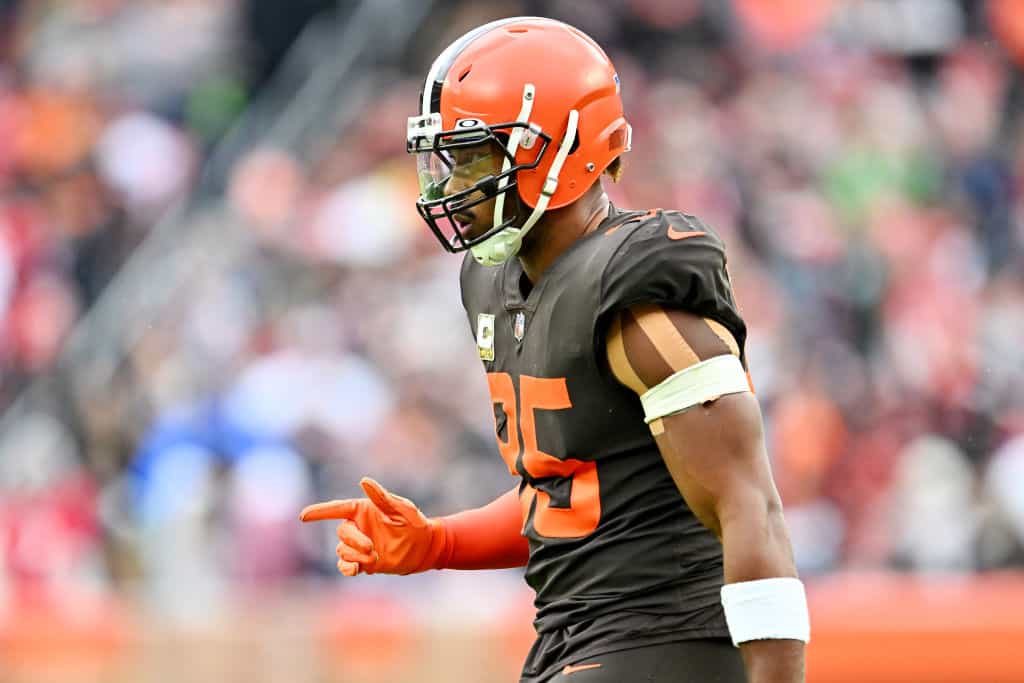 The Cleveland Browns take on a very good and undefeated San Francisco 49ers team this Sunday.
Currently, the Niners boast the NFL's top-ranked defense in points against and second-ranked offense in points for.
Since Deshaun Watson and Joel Bitonio won't suit up for the Browns (and possibly David Njoku and Ethan Pocic), not many people give the team a chance.
ready to play ball with the group we've got@Flash_Garrett | #DawgPound pic.twitter.com/350UXRGUWT

— Cleveland Browns (@Browns) October 13, 2023
Of course, none of the Browns players actually believe that and there is strong optimism for an upset victory, according to Myles Garrett.
"They say to be the best you've got to beat the best," said Garrett, per the Browns. "No matter what your lines are looking like, what the depth chart is looking like, you can't account for that not like they [Niners] can account for that. You just have to go out there with who you got and play ball. Any given Sunday anything can happen. So we're going to go out there…full of confidence and be ready to rock."
Without a doubt, Cleveland will have its hands full, even with Garrett and a solid defense.
San Francisco has a surprisingly good quarterback in Brock Purdy who has already passed for 1,271 yards, nine touchdowns and exactly zero interceptions.
He's not completely indestructible as opposing defenders have dropped him for eight sacks.
Besides Purdy, San Fran has a multi-threat running back in Christian McCaffrey, receivers Deebo Samuel and Brandon Aiyuk and tight end George Kittle.
The Niners' defense is led by Nick Bosa, the NFL's reigning Defensive Player of the Year.
As Garrett said, anything can happen on any given Sunday.
However, unlike in Week 4 against Baltimore, the Browns have to play mistake-free football to have a chance against a talented opponent.