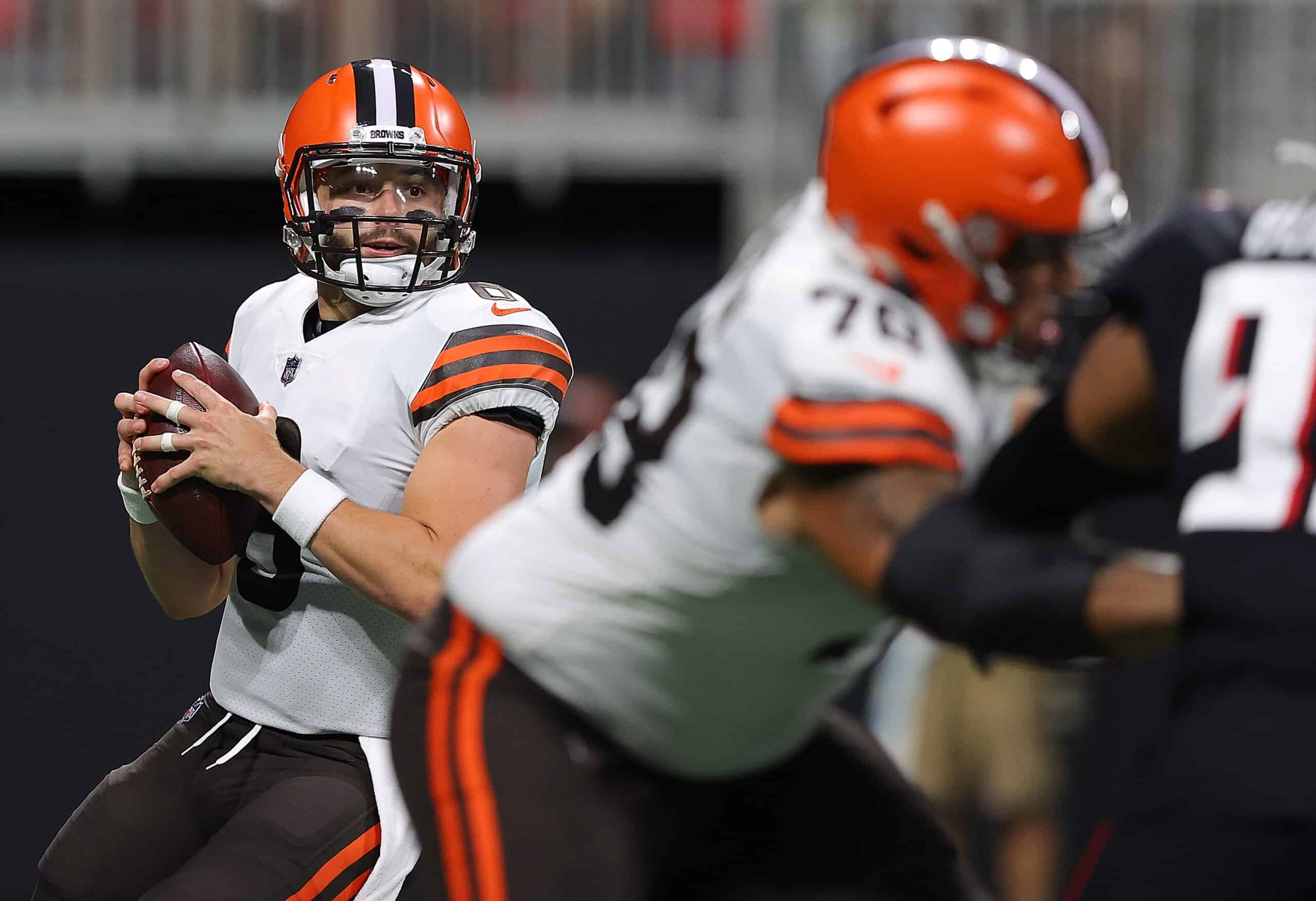 The Cleveland Browns defeated the Atlanta Falcons by a score of 19-13 in Sunday's night final preseason game.
The Browns went 3-0 this preseason, and here are the news and notes from the game.
1. There Is A Big Kicker Problem
Chase McLaughlin did not exactly command confidence as the Browns kicker last night.
He missed a field goal which was a 56 yarder, so it was a reach.
Worse than that, he missed an extra point.
He was 1 for 2 in both field goals and extra points.
Probably one of the first pieces of business on Monday morning in Berea is to call kickers in for tryouts.
Chase McLaughlin doing everything he can to not secure the kicking job…

— MoreForYouCleveland (@MoreForYou_CLE) August 30, 2021
2. Baker Looked Good
The majority of the offensive line started the game along with Baker Mayfield.
Baker completed passes to Donovan Peoples-Jones and Austin Hooper before throwing a touchdown to KhaDarel Hodge.
A thing of beauty from @bakermayfield and @ItsKhaDarel. 🎯#CLEvsATL on NBC pic.twitter.com/MJNvEKl4IY

— Sunday Night Football on NBC (@SNFonNBC) August 30, 2021
Most importantly, he got the necessary game reps in and left the game unscathed.
Case Keenum and Kyle Lauletta did not look as good as they have earlier in the preseason, but they got the job done.
3. Rookies Played
The 2021 draft picks logged playing time.
Anthony Schwartz was out on the field for the first time this preseason, and though he did not pull in the pass, his speed attracted the pass interference penalty from the Atlanta defender.
#Browns with a big gain on the pass interference on Anthony Schwartz, his speed on display early.

— MoreForYouCleveland (@MoreForYou_CLE) August 30, 2021
Demetric Felton saw the most playing time in his assortment of positions.
He is an interesting and versatile player whom the Browns will hold onto, but it is not clear how much playing time he will get in the regular season or at what position.
Demetric Felton makes plays every time the ball is in his hands.

Electric.

— Nick Karns (@karnsies817) August 30, 2021
4. There Were Unusual Sightings
It is a head scratcher why Donovan Peoples-Jones was on special teams.
He is most likely WR3 this season, and the Browns shuffled people on special teams as if to indicate they do not know who will be on punt and kick returns just yet.
It is safe to say DPJ should not be there in 2021.
#Browns Donovan Peoples-Jones back there for punt return. Don't love that.

— Camryn Justice (@camijustice) August 30, 2021
John Johnson III played longer than expected in the game, and it was a relief to see him leave the game finally.
5. Cris Collinsworth Dropped A Tidbit
Collinsworth has his share of fans and detractors; however, he dropped an interesting tidbit during the game last night.
As he and Al Michaels were discussing the hype of the 2019 Browns team that never materialized, he indicated that there were a lot of solo agendas on that particular team.
Michaels did not pursue what he meant or who he spoke to (Collinsworth said he had insider knowledge) so we did not get further detail.
Social media surprisingly did not pick up on the sound byte either.
Whether that comment had to do with John Dorsey, Freddie Kitchens, or players on that team is unknown.
It remains an interesting and somewhat mysterious kernel of information dropped into the hours long broadcast.
Conclusion
The Browns looked okay in Atlanta, but they need to step it up for the regular season opener against Kansas City.
We have not seen all of the starters on the field so that will make a big difference.
In the meantime, the roster cut deadline is looming.
All NFL teams must cut their rosters from 80 to 53 by Tuesday.
The Browns have a lot of tough decisions to make today.