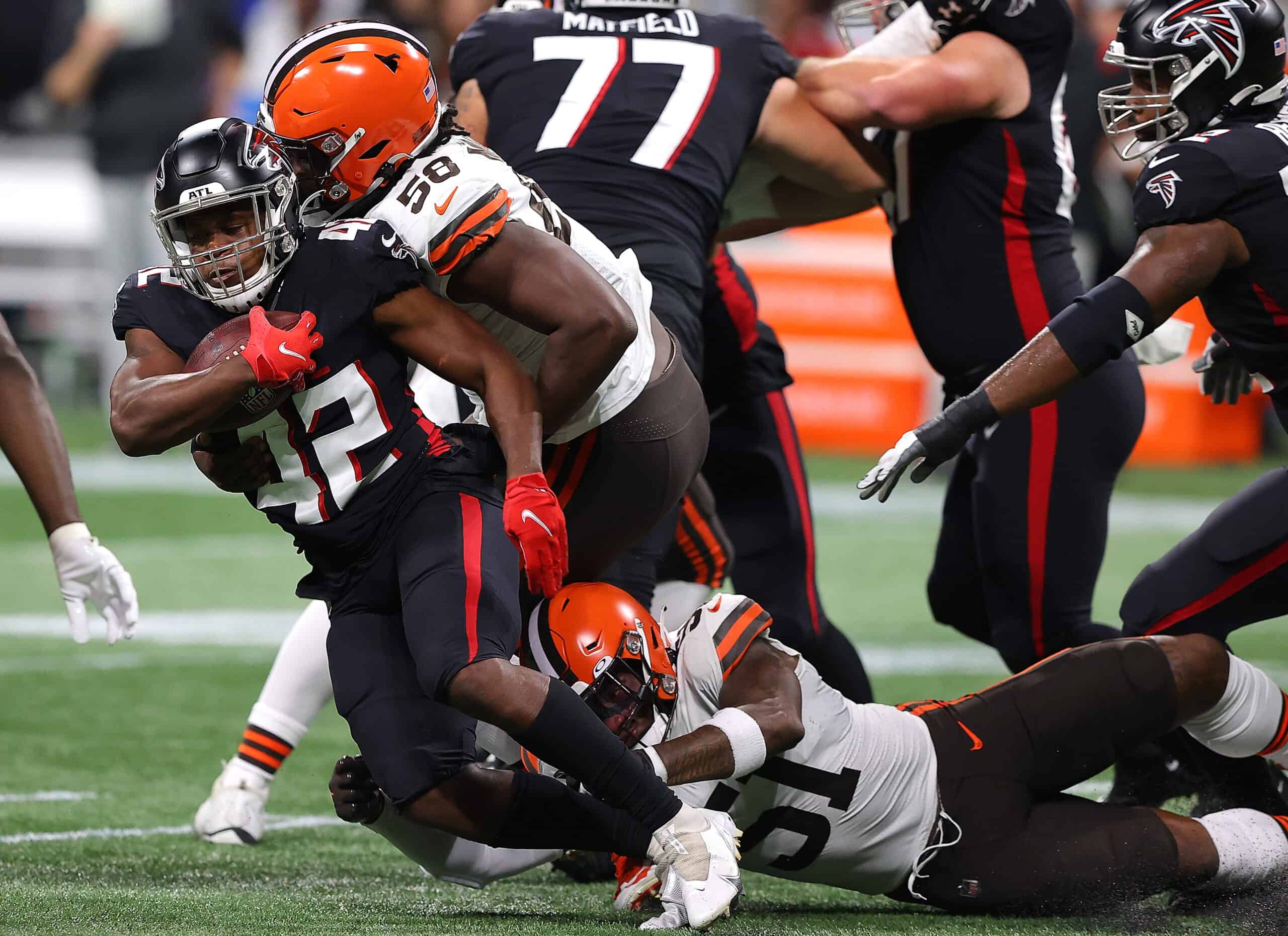 With careers and dreams on the line, the Cleveland Browns took to the field against the Atlanta Falcons Sunday.
And more than a few players stepped up with banner performances.
But despite their best efforts, 27 players have to be let go by Tuesday at 4 pm.
There could be even more as the Browns join teams around the league searching for waiver wire additions.
FINAL.#CLEvsATL pic.twitter.com/uHeyG2WMr3

— Cleveland Browns (@Browns) August 30, 2021
Andrew Berry might save a couple of players from the anxiety of the moment with pre-deadline trades.
Players who know they are unlikely to stick with the Browns worked hard to catch the eye of other teams.
But most were fighting for roles in Cleveland this season.
Here are 3 players who stood out in the Browns versus Falcons preseason game.
1. Edge Cameron Malveaux
Cameron Malveaux might fall victim to the numbers game at defensive end.
But his performance Sunday night will make releasing him a very difficult decision.
Malveaux sacked quarterback Felipe Franks on a 3rd and goal play on Atlanta's second drive.
Many of Atlanta's starters or top replacements were still on the field.
Cameron Malveaux putting together some nice tape tonight.

— Daryl Ruiter (@RuiterWrongFAN) August 30, 2021
And Malveaux didn't slow down after that.
He ended his night with 4 tackles, a second sack, and 3 quarterback hits.
The numbers stand out, but Malveaux was one of several defensive ends applying pressure all night.
And it might have been a good enough effort to make Berry and Stefanski rethink their roster plans.
2. CB AJ Green 
2020 UDFA AJ Green led the team in tackles and had a diving pass breakup to prevent a first down.
But his most memorable moment, a moment we may be talking about for a while, was his punt reception.
Unfortunately, Green was supposed to cover the kick, and he stepped in front of a waiting return man to make the catch.
There might be a game when Green snags a Jaime Gillan punt on the fly and gives the defense great field position.
AJ Green making his presence felt out there… Great breakup and special teamer. Fighting for one of the last roster spots. #Browns

— Mac Robinson (@MacRobinson95) August 30, 2021
But you can't step in front of a return man calling for a fair catch, because that's a penalty.
The good news is Green had a solid game otherwise, wrapping up an impressive preseason as the 5th cornerback.
His 7 tackles and a pass defensed solidified his spot on the final roster.
And he might have thrust himself into the team's punt returner mix in the process.
3. TE Kyle Markway
When the Los Angeles Rams released Kyle Markway last week, it was a no-brainer for the Browns to pick him up.
Cleveland was down to 4 tight ends in camp and needed someone to at least fill a role in their last game.
But Markway was with the Browns for parts of 2020 and it was hoped he'd remember much of the Browns' playbook.
Apparently, he remembered quite a bit of it as he was Johnny-on-the-spot throughout the game.
We've claimed TE Kyle Markway

📰 » https://t.co/l5wALdFGCV pic.twitter.com/8xLQ37suTp

— Cleveland Browns (@Browns) August 25, 2021
Markway would up with 5 catches on 8 targets for 54 yards and several first downs.
There was one play when it appeared he cut the wrong way on Case Keenum, but overall, he played a solid game.
In fact, it might have been solid enough to give Stefanski something to think about Tuesday.
Although we are probably talking about the practice squad and not the final 53-man roster just yet.
Other Notables: Franks, McDowell, Elliott
Justin Franks caught 4 passes, but it was a different kind of play that might win Kevin Stefanksi's heart.
Franks raced far upfield after Kyle Lauletta's first interception, chasing down Kobe Jones and forcing a fumble.
Colby Gossett was also at the tail end of the 41-yard return for the recovery in the kind of hustle play that gets noticed.
Malik McDowell had another good game in his bid to resurrect his NFL career.
#Browns Colby Gossett and Jordan Franks both got some HUSTLE.

— Camryn Justice (@camijustice) August 30, 2021
His 2 tackles and half-sack don't begin to explain how much pressure he brought from the inside.
Likewise, Jordan Elliott probably nailed down a starting role with a tackle for a loss, stuff, and fumble recovery.
And another recent addition, Tegray Scales, made his presence felt with a sack and QB hit to go with 3 tackles.
While a 37-yard kickoff return and 11-yard punt return removed any doubt regarding Demetric Felton's roster status.