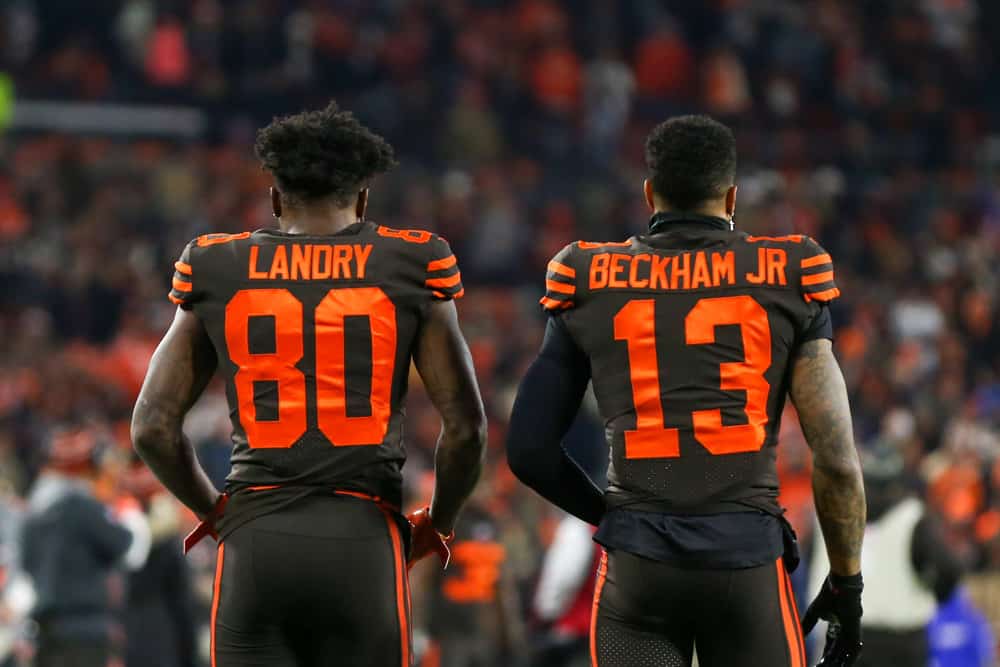 On NFL Network, both Kurt Warner and LaDainian Tomlinson chose the Cleveland Browns as the team with the best pair of wide receivers in the NFL:
Which team has the best pair of wide receivers in the NFL? 🤔

📺: @NFLTotalAccess pic.twitter.com/A5dvBb8ItQ

— NFL Network (@nflnetwork) June 16, 2020

In May, Warner was also complimentary of the Browns, as he said that they are underhyped heading into the 2020 season.
While Warner and Tomlinson were singing the praises of Odell Beckham Jr. and Jarvis Landry being the best receiver duo in the league, former NFL coach Steve Mariucci had a different opinion.
He chose DeAndre Hopkins and Larry Fitzgerald as his best pair of wide receivers.
Interestingly enough, Warner's most recent NFL years were with Fitzgerald in Arizona, and he compares the veteran receiver to Beckham in the clip.
What did Warner have to say about Beckham and Landry?
Warner, a Super Bowl champion quarterback, two-time NFL MVP, and four-time Pro Bowler, knows a great deal about throwing the football.
He has been inducted in the following Halls of Fame: Pro Football, Arena Football, St. Louis Sports, and Iowa Barnstormers.
While Warner was undrafted, he made a name for himself in the NFL with his tremendous throwing arm, and he knows wide receivers very well.
He described how great of a duo Beckham and Landry are by beginning with a comparison to his days with the Cardinals:
"If I'm picking a tandem, I'm going back to when I played with the Arizona Cardinals. And I had Larry Fitzgerald and Anquan Boldin and what I loved about that tandem was that they complemented each other extremely well."
Warner thinks that Beckham can be like Fitzgerald and Landry can be like Boldin.
First, he begins by describing how Beckham's attributes are similar to Fitzgerald's:
"Big-body guy that could go down the field, stretch the field, and open it up for an underneath guy like Anquan Boldin… so, when I look at that and know how that played out for us, I look at the Cleveland Browns and I say to myself, I like OBJ and Jarvis Landry."
During the offseason, Beckham has been working out with Cam Newton, as he gets ready for the 2020 season:
.@obj and @CameronNewton back at it 😤 pic.twitter.com/uzSNtXPjyo

— B/R Gridiron (@brgridiron) June 16, 2020
If it was just Beckham and Landry lining up at receiver, the Browns would be in a good position.
Baker Mayfield, Kevin Stefanski, and Browns fans are very lucky to have many offensive weapons in Cleveland this season.
Warner knows that having two of the best receivers in the league will be huge for the 2020 Browns:
"So when you put those guys together, you put them on the same side of the field, they complement each other extremely well. I know there's a lot of great tandems out there, but I'd love to play with those two guys."
What did Tomlinson Have to Say About the Strong Duo?
After Warner finished talking about the Browns' dynamic duo at receiver, Tomlinson had his turn.
Tomlinson, a Los Angeles Chargers Hall of Famer, five-time Pro-Bowler, and 2006 NFL MVP, knows about impressive pass catchers.
Although Antonio Gates is a Hall of Fame tight end, he and Vincent Jackson had 1,000-yard seasons when Tomlinson was a Charger.
Tomlinson knows how winning teams can succeed with strong pass catchers:
"It helps that those guys are best friends. And they have been best friends since college, so there's no selfish acts going on between those two. They're totally selfless, and they want to see the other have success. And look no further than the stats as the duo. These guys are second in big plays, and they're third in receptions… one of those guys is going to be open."
Tomlinson has a strong feeling that Beckham and Landry are ready to have a fantastic season:
"Either the long threat in OBJ or the short underneath stuff with Landry… it's hard to beat them. I know there's a lot of great ones out there. But these two in my mind are at the top of the chain."
Both Warner and Tomlinson know that this is the year for the Browns offense to be successful.
The fact that the Browns have Nick Chubb and Kareem Hunt will be important going forward.
The Browns are set up for success in 2020.
If Beckham and Landry produce among the best receiver duos, Cleveland will be a playoff team.