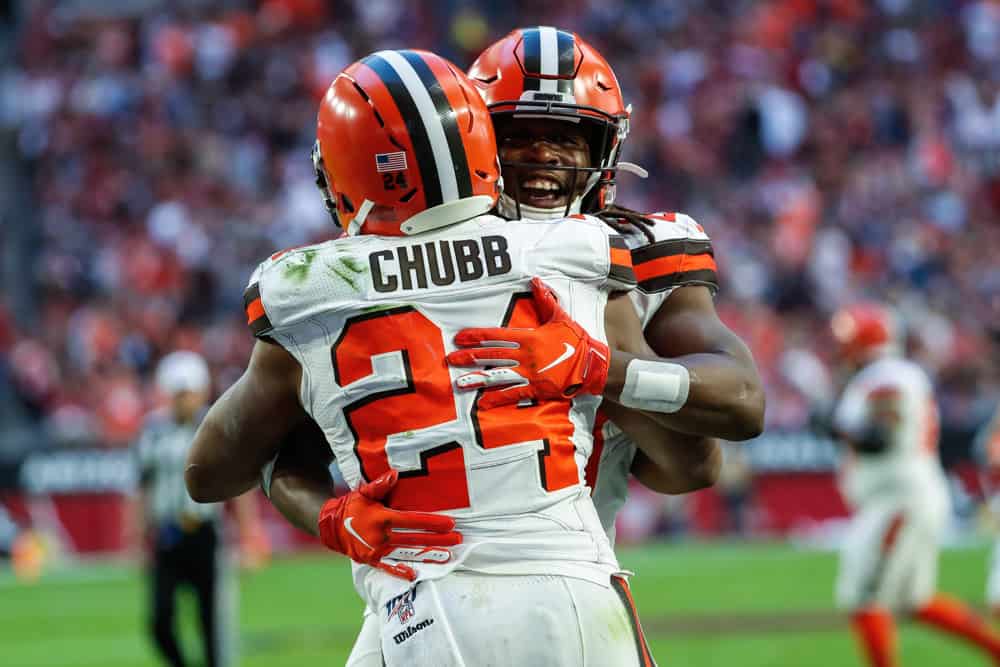 The Cleveland Browns already have one of the top running backs in football with Nick Chubb.
Adding Kareem Hunt was just an added bonus to the offense.
Of course, it is tough to mention Hunt without getting into the off-the-field issues that allowed the Browns to sign him in the first place.
Yet when focusing on just on-the field skills, the young man is an elite running back.
Hunt was limited to eight games and only finished with 179 rushing yards.
He did, however, have 285 receiving yards and should be a much bigger factor in the passing game in 2020.
Chubb, meanwhile, had 1,494 rushing yards after finishing with 996 in 2018.
"Those two guys are jumping off the tape."

Potential of Nick Chubb and Kareem Hunt tandem excites Kevin Stefanski » https://t.co/RGSWmrSdui pic.twitter.com/DaNGNGCIxD

— Cleveland Browns (@Browns) January 16, 2020
Chubb should be a lock to get 1,000 yards this season.
Can Hunt do the same?
A Potential 1,000-Yard Duo
New head coach Kevin Stefanski was lucky enough to have Dalvin Cook on the roster in Minnesota last season.
His offense saw Cook run for 1,135 yards in only 14 games.
Just spoke to Nick Chubb at the Pro Bowl. Said he hopes to keep working with Kareem Hunt. Also said he spoke to Dalvin Cook about Kevin Stefanski's offense and said Cook told him he'll love it.

— Jamey Eisenberg (@JameyEisenberg) January 23, 2020
Second on the list was Alexander Mattison, who ran for 462 yards on only 100 carries.
Hunt is a much more talented runner than Mattison and seeing the production in Stefanski's Vikings offense is good news for Browns fans.
We can safely assume Chubb is going to reach the 1,000-yard mark.
He should have won the rushing title last year but a late charge by Derrick Henry, coupled with terrible game management by former head coach Freddie Kitchens, ruined that.
Henry ended up beating out Chubb by 46 yards.
Combining the yards of Mattison and Mike Boone in Minnesota last season brings us to a total of 735 yards.
Assuming Hunt is the primary backup to Chubb, the quest for 1,000 already looks more than achievable.
Stefanski's Offense
The only thing preventing Hunt from getting to 1,000 yards is if he primarily is used as a receiving back.
That possibility was mentioned by Browns wide receivers coach Chad O'Shea.
#Browns O'Shea said no decisions have been made as to who the 3rd receiver will be, whether it's Rashard Higgins, Kareem Hunt or someone else. "It's ongoing and constantly evolving and when we get on the field, we will narrow it down."

— Fred Greetham (@FredGreetham) June 17, 2020
Hunt's best overall season came in 2017 with the Chiefs when he rushed for 1,327 yards and added another 455 as a receiver.
So perhaps we should not be asking if him and Chubb can both rush for 1,000 yards.
Rather, the ideal scenario may be Chubb getting there on the ground and Hunt achieving the mark through the air.
Jarvis Landry and Odell Beckham Jr. are the clear top two receivers on the team.
After that it is down to Rashard Higgins and Hunt.
Hunt is the more dynamic option because he can be a running back and a receiver and putting him in different formations can help confuse opposing defenses.
Getting more time as a receiver should easily allow him to reach 1,000 yards from scrimmage as well.
Some Browns fans may have lower expectations heading into the season in an effort to maintain their sanity.
However, this offense is stacked and there is no reason why Chubb and Hunt can't have Pro Bowl seasons in 2020.
This is not reckless speculation, but rather an expectation now that the Browns have spent years getting back to a somewhat respectable level on the field.