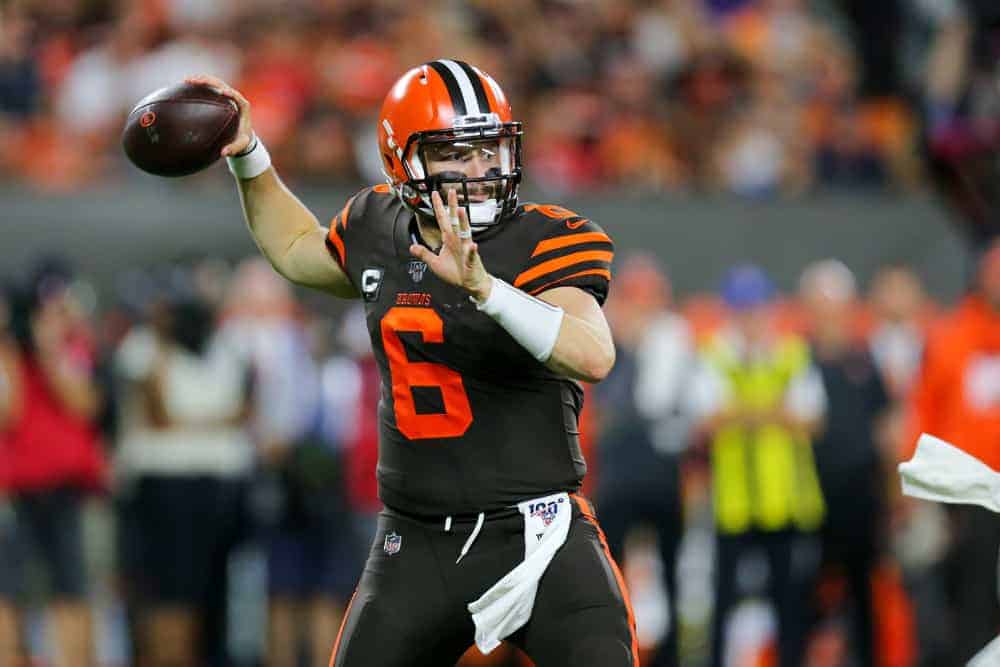 The Cleveland Browns offense is absolutely stacked around Baker Mayfield in 2020.
That is, on paper.
Browns current starting offense:
QB: Mayfield
RB: Chubb
WR: Beckham
WR: Landry
TE: Hooper
TE: Njoku
LT: Wills
LG: Bitonio
C: Tretter
RG: Teller
RT: Conklin

— Jake Trotter (@Jake_Trotter) April 24, 2020
Fans heard the same story in 2019 and are hoping for better results after a disastrous season.
The key addition for the team this year is new head coach Kevin Stefanski.
He may be the biggest reason Mayfield is set up for success after a doomed partnership with Freddie Kitchens.
New leadership and a few key additions on offense make the Browns even better than they were last year.
That means there will be no excuses for more regression from Mayfield in his third season.
The Returning Talent
The odds are stacked in Mayfield's favor.
He has Jarvis Landry and Odell Beckham Jr. as his top two receivers and perhaps his favorite target, Rashard "Hollywood" Higgins, signed a new deal Tuesday.
#Browns Higgins received the vet min of 1 year 910k. Turned down more money elsewhere to return to the #Browns because he loves Mayfield

— Mary Kay Cabot (@MaryKayCabot) April 28, 2020
David Njoku is back as well and had his fifth-year option picked up.
Getting Higgins and Njoku back in full-time roles after both clashed with Kitchens is something for fans to note heading into the season.
Mayfield essentially lost his favorite target to unnecessary drama and was still learning to work with Beckham.
One player who returns after dealing with no drama is Nick Chubb.
We mic'd up our team's biggest trash talker against the Ravens: Nick Chubb 😅

Watch the extended mic'd up » https://t.co/Qo4LZ5YaTu pic.twitter.com/MWHyZ0vtS6

— Cleveland Browns (@Browns) October 2, 2019
He is arguably one of the top five running backs in the NFL and, oh yeah, is complemented in the backfield by Kareem Hunt.
The two form a dynamic duo and Hunt may evolve into even more of a receiving back in 2020.
The New Talent
The Browns were already stacked with talent heading into the offseason.
Adding Austin Hooper at tight end instantly makes him a top target one year after setting a new career-high with 787 yards in Atlanta.
The new front office also upgraded both tackle spots in a major way.
Jack Conklin signed a three-year, $42 million deal and is a former No. 8 overall pick who is slotted to hold down the right tackle spot after Chris Hubbard held the job in 2019.
Congrats @JWills73!! Time to get to work #DawgPound

— Jack Conklin (@Jack_Conklin78) April 24, 2020
But the biggest story comes at left tackle.
Jedrick Wills Jr. was taken with the No. 10 overall pick and has massive shoes to fill.
He will be a rookie starting left tackle in a season when the Browns will be expected to finally return to the postseason.
The 6-4 Alabama product will be hyped as the next Joe Thomas, but for now, he just needs to be a suitable replacement for the recently arrested Greg Robinson.
Using the No. 10 pick on Wills made it clear that the front office sees him holding down the position in the long-term.
His success, or lack thereof, could be one of the key factors in how the Browns do in 2020.
He highlights a class that also features tight end Harrison Bryant and receiver Donovan Peoples-Jones.
There is an absolute surplus of talent for Mayfield, and if he shows more regression, the Browns may be thinking about a new signal-caller in 2021.