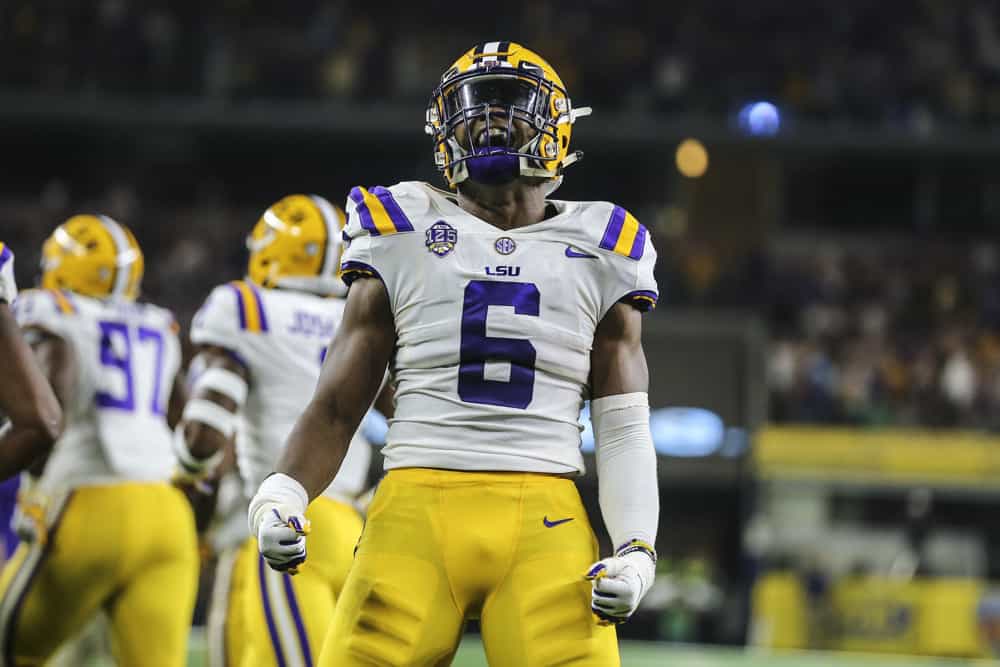 The Cleveland Browns liked LSU linebacker Jacob Phillips enough to select him in the third round of the 2020 NFL Draft with the 97th overall pick.
Perhaps other LSU defensive players overshadowed Phillips at times during the last two seasons, in which he was a starter for the Tigers' defense.
NFL.com draft analyst Lance Zierlein wrote the following about Phillips:
"Phillips is a reliable option but lacks the alpha field demeanor and explosive athleticism teams look for. He has backup talent and should step into a special teams role quickly. Early tape was better than later tape as the competition level increased. He does an adequate job of handling his assignments but won't make that many plays outside of the scheme."
Zierlein projected Phillips to get selected in the third or fourth round.
The Draft Network's Kyle Crabbs wrote the following about Phillips:
"Football IQ – Slow processor that doesn't anticipate gaps to shoot or quickly transition into scrape or drops. He's often caught flowing away from the ball and is late to redirect himself. Lacks confidence in space to carry routes and doesn't appear to illustrate desirable peripheral vision.

"Jacob Phillips projects as a depth player and developmental linebacker at the NFL level. Phillips struggles with consistently processing action in the backfield and too often looks lost on the second level. Without high end anticipation and with only modest redirection and scrape ability, Phillips is going to need significant development to reach starting caliber. . Instead, he can be utilized in kick coverage, where his straight line speed and viable tackling habits can make positive contributions."
The Draft Network ranked Phillips below several linebackers selected later in the draft.
Bleacher Report NFL Draft scout Matt Miller compared Phillips to Malik Jefferson and Darron Lee.
Jefferson — who is now on the Los Angeles Chargers roster — registered one tackle in nine games for the Browns in 2019.
In December 2019, Jefferson signed a futures contract with the Los Angeles Chargers.
Lee had 31 tackles in 16 games for the Kansas City Chiefs in 2019.
Miller wrote the following about Phillips:
"Phillips is a natural athlete who pops off the tape because of his size and movement skills, but his football IQ is low for now. He isn't ready to take meaningful NFL snaps, especially in coverage, without major development and classroom time. He has plenty of potential, but he's a boom-or-bust prospect."
LSU had several other defensive players get selected.
It includes outside linebacker K'Lavon Chaisson to the Jacksonville Jaguars with the 20th overall pick, inside linebacker Patrick Queen to the Baltimore Ravens with the 28th pick, safety Grant Delpit to the Browns with the 44th overall pick, cornerback Kristian Fulton to the Tennessee Titans with the 61st overall pick, and defensive tackle Rashard Lawrence to the Arizona Cardinals with the 131st pick.